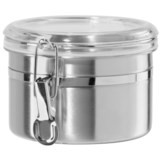 Overstock. Having your kitchen accessories be useful and cute is the best find. OGGI's stainless steel canister provides an airtight locking clamp closure, and its modern finish looks stellar in your kitchen. Plus, the clear flip-top lid lets you see what's inside, which is a huge time-saver!
Average Rating based on
8
reviews
3.875000
0
5
Verified Buyer

Reviewed by cjhenion from California on Sunday, November 20, 2016

Wasn't sure if this would come off looking cheap, but was impressed with the quality and looks great in my kitchen. Functionality is great as well, was the perfect size for my needs.

Verified Buyer

Reviewed by into comfort and ease from North Lake Tahoe on Monday, February 15, 2016

I use this cannister for freshly ground coffee beans. The lid is secure so my cupboard doesn't seem of coffee.
Hold a pound of ground coffee

Verified Buyer

Reviewed by Avid roadie from New York on Monday, January 11, 2016

....even in budget line items, OGGI seems to cut a few corners.

the few models I've tried in OGGI seem to disappoint. I have this type of canister from others, and while not high end, they work as well as I'd expect. OGGI is misaligned (lids from can), so most are not airtight. Also, a battle to just close.

Just bad stuff!

Verified Buyer

Reviewed by formeremployee from northern california on Tuesday, November 10, 2015

No issues, nice looking can. I use these to store coffee in when camping. Works like a charm, great price on sale.

Reviewed by Brian H from Vail, Arizona on Friday, October 2, 2015

lid mounting bracket came with rust in the joints on both sides, as well as the wire section that holds the lid. Very easy to see, and should not have been shipped in that condition.

Not worth the hassle to return, as it's 24 miles one-way to the closest UPS store. Cheap Chinese junk.



Verified Buyer

Reviewed by JJCA from Louisiana on Tuesday, August 11, 2015

This is so nice in my kitchen

Verified Buyer

Reviewed by lorraine934 from Marion, MA on Tuesday, June 17, 2014

I recently went gluten free and bought a bunch of these to store all of the gums and flours involved. It was difficult to get the adhesive labels off.

Verified Buyer

Reviewed by mtinnkeeper from Montana on Monday, June 16, 2014

Perfect size for small quantity of anything, but in my case I wanted it to store ground decaf. The clear lid is a smart feature!