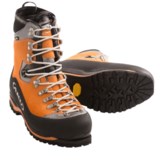 Closeouts. AKU's Montagnard boots are designed for classic mountaineering on glaciers and icefalls. Boasting Gore-Tex® waterproof breathable protection, PrimaLoft® ECO insulation and a Vibram® rubber outsole, these rugged and reliable boots will help you reach new heights.
Average Rating based on
26
reviews
4.730769
0
5
Verified Buyer

Reviewed by Colorado Mike from Colorado on Thursday, May 11, 2017

I purchased these after reading multiple reviews, and they are superb fitting mountaineering level boots. Every aspect is well designed, as are all AKU boots. In my opinion, they are simply the best constructed and functioning boots available.

Verified Buyer

Reviewed by Climber Junkie from Canada on Friday, March 17, 2017

These are high quality Italian made mountaineering boots. Fit is a little small compared to most boots I've owned.

Verified Buyer

Reviewed by Chucky from Seattle on Friday, February 3, 2017

These were an awesome purchase. I loved the feel of the boots even though it took me three tries to get the right fit. I basically went 1/2 size bigger than my longest toe. I did a 5 mile hike with a 50 lb pack up some elevation in snow and it felt amazing. No blisters or toes hitting the front of the shoe issues. I was able to put mini spikes on it with no problem and snow shoes. The only thing we didn't try is my crampons, which I'll have to try next time. The boot felt solid and no issues with coldness all weekend up in the mountains. I'm feeling good about wearing these boots to the summit of Mt. Rainier this July. Climb On!

Verified Buyer

Reviewed by Shannon S. from Montana on Tuesday, January 31, 2017

These boots are awesome! Comfortable at first wear. If I kept them, would give them a 5 star rating. The reason I sent them back is that they are too stiff in the shank for what I wanted which is a pair of really good boots for elk hunting. These are mountaineering boots. I went to the AKU website and learned that they rate their boots as "stiff", "x-stiff" and "xx-stiff". These are "xx-stiff". So it is my own fault for not knowing AKU and doing the research. It would be helpful if STP offered a similar stiffness rating or some relative scale of stiffness in the ankle and toe-flex areas. I guess, one should know better that if they say "compatible with clamp-ons", they are going to be rigid in the shank. Anyway, it was a sad day to realize they just wouldn't work for me despite who much I really liked them in every respect, but for the non-bending flex in the toe. Great boot, great price, wrong application. Thanks to STP for offering these outstanding quality boots, including Asolo, La Sportiva, Scarpa, Zamberland, etc., at outstanding prices.

Verified Buyer

Reviewed by Just Another Climber from In a canopy on Thursday, January 12, 2017

These boots are amazing! I'm an arborist and needed a quality boot to work in everyday throughout the fall & winter. They are definitely true to size and comfortable out of the box. Stiff and little awkward but after working 3 full days in them the break in was well on its way and zero pain or discomfort after taking them off after 10-12 hours! Fast forward 3 weeks full broken in like slippers! I was knocked off a 14 foot ladder by a falling limb and my reasoning for add this to my review is to emphasize these boots ankle support! Coming off the ladder I landed with all my body weight onto one foot breaking my leg on both side right above the ankle... SUCKED a lot! The amazing support of the boot though kept the bones from breaking out of my skin along with holding my ankle and leg in place until I got to the hospital were the doctors explained that even though the breaks were severe the boot kept everything in line so nothing had to be put back or reset which let me tell you this kind of break is painful enough without any of that! So needless to say I love the boots and when I get back on both feet I will were them year round! Amazing product and you definitely can't beat the prices Sierra offers! If your on the fence about them stop thinking and buy them!

Verified Buyer

Reviewed by Swendy from Utah on Wednesday, December 28, 2016

My first impression after trying these on was that they may have been too narrow, but as I walked around in them a little more they continued to more comfortable. I went out and did about 15 miles over a two days in the cold and snow, and I am very pleased with this boot. Not only are they comfortable, but they kept my feet warm and dry, when cold feet is typically a problem of mine. Worked well for winter hiking, snowshoeing, and I can throw on the Crampons if needs be. This is an incredible boot, and for the price tough to beat.

Verified Buyer

Reviewed by Sam the tree climber from Minnesota on Tuesday, December 20, 2016

I bought these boots because I am a professional tree climber working out of Minnesota. as you may know, it can get very cold in Minnesota and I have gotten tired of cold feet. These type of boots are perfect for my job in the deep winter for many reasons. I had been buying winter boots at stores around where i live for some time but nothing would be both durable enough or warm enough. These boots are great for me because they keep my feet warm in sub-zero temperatures, the rubber outsole is durable and waterproof, they are rigid enough to keep me from breaking my ankles, but flexible enough for me to walk around all day in. The slight rigidness and raised heel is good for wearing tree gaffs. They are not super bulky like other Winter boots I have purchased which makes them easier to climb in. Plus the price was right.

Verified Buyer

Reviewed by justanaveragejoe from northern minnesota on Thursday, November 3, 2016

I have other AKU's which I love. I expect to love these too, plus keep my toes warmer in the early and late Minnesota winters. Oh yeah, the price was SWEET!

Reviewed by Kato from Plattsvegas on Wednesday, July 20, 2016

After no break in and 5 miles up and down some steep terrain I am happy to say these are comfortable with no hot spots and it might be my foot shape and I got lucky, but these truly fit like a glove.......The outsole and rand seem tough and durable. Correctly utilizing the lacing set up makes these fit better than any boot I've owned. Love todays technology in making lighter boots like these also........Thank you Sierra Trading Post for acquiring these and making them affordable for us poor hikers.........!!!!

Reviewed by ColdBore007 from Alaska on Monday, June 13, 2016

I purchased this boot for the "sole" purpose of extended backcountry hunts in granite terrain, putting a minimum of 10miles per day. The boots performed admirably and are still in use after a year, as of this review. My only beef with these boots, is the fact that the rubber rand separated on both boots within the FIRST Day of use. Bad glue, bad seam location for the rubber rand and what a pain! Pine needles and dirt and everything else fills up the Gap between the boot and the rand. The Montagnards are hard wearing and will last far beyond most boots in terms of durability, but AKU needs to fix a couple of weaknesses on them first. Purchased on Sierra Trading Post in Summer of 2015.