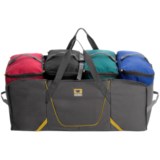 2nds. Haul it, store it, organize it... if you've got a lot of gear, you need the Modular Hauler 4. Durable, Mountainsmith-quality ripstop nylon holds four color-coded cubes and stores easily in your automobile or garage. Great for road trips, too!
Average Rating based on
354
reviews
4.333333
0
5
Reviewed by SarahBeara from Iowa on Wednesday, May 30, 2018

I have the Modular Hauler 3 and 4, and then discovered there was a cooler cube too! They have been in use for several years, and show no signs of giving up yet. I have used them for camping supplies, luggage, doggie luggage, and food organizers on road trips, and I even took one cube on deployment to the Middle East. Since the cubes are tall and narrow, you have to pack a little differently, but I use some Eagle Creek packing cubes to wrangle the small stuff. When the cubes are in the hauler, it can be pretty heavy so I purchased a Mountainsmith shoulder strap. Let's just say it didn't last long, so now we use a carabiner to attach the handles together and then each person grabs a side handle. I would definitely buy again, but I doubt I will need too!

Verified Buyer

Reviewed by Slrbs from Colorado on Monday, March 26, 2018

This is the second MS modular hauler for our family. The first one served us for 5 years (and now will be for off season storage). What I like about the new bags (same size) is the material for the entire bag is the same, so much more durable. The old bags have a plastic top that ripped at the seam- fixable with basic sewing, but the current bags seem much stronger. When bags are full, it is a tight fit in the actual hauler- I do miss the side pocket the old hauler has, but that is a minor complaint. We use these cubes for our family to hold ski clothes, helmets, gloves goggles- fits nicely in car, easy transport and holds quite a bit.

Verified Buyer

Reviewed by XPLORMOR from Vermont on Tuesday, March 20, 2018

Ordered the Mountainsmith Modular Hauler 4 to help organize family outings. With our upcoming third annual trip to North Carolina to help celebrate my brothers Copper Barrel Moonshine anniversary, the timing couldn't have been better! We are a family of four and the individual bags are just the right size to pack for a week worth of clothes if packed carefully. I own several Mountainsmith bags and have had good luck with them. The Hauler 4 seems made well enough, I hope to get years of use out of these bags!

Reviewed by bluemorpho from West Virginia on Wednesday, December 6, 2017

We bought this about 5 years ago for a road trip, and each person in our family of 4 took a different color bag for his or her clothing and personal items. My 15-year-old still uses his bag as his primary suitcase. We were mostly car camping and sometimes staying in hotels. The hauler fit in our cartop carrier (a long narrow one designed for skis). Having our color-coded bags made getting in and out on overnight stops simple. Our bags have plastic tops with clear pockets. These are handy for a packing list, label, etc, or for keeping anything flat that you need easy access to. A couple of things worth noting: first, the handles are attached to the tops of the bags, and this is a weakness. Near the end of the first long trip, my (probably overloaded) bag split along the seam of the lid just above the zipper. This would be very hard to repair as there's not much fabric to work with to reattach the zipper, so that bag is now used for storage. I later found a same-colored, same-sized Mountainsmith bag on sale at an outdoor shop -- and the handles were attached on the sides below the zipper, a much more structurally sound design. So be aware that these bags don't (or may not -- don't know how consistent the product is) have the optimal design for carrying weight, and be careful not to overload -- or if you do, don't lift by the handle alone. Also as others have mentioned, the outer bag does not have any supporting structure, though when loaded it does keep things together. I've used it to corral other sorts of items besides the bags it comes with, such as folding chairs, sleeping bags and pads, tents. It also will fit a couple of cardboard cartons (bankers box or small moving box or apple crate size) and fits nicely in the back of a station wagon, making a secure place to hold grocery bags, etc. Overall we're pleased with the purchase, just a bit disappointed about the broken handle.

Verified Buyer

Reviewed by norge from WY & CA on Tuesday, November 7, 2017

I have three sets. I move from one national park to the other each season. These cubes have replaced all other types of duffle bags, and totes boxes for me. I'm impressed with how much I can put in one cube. I now have 12 cubes and one cooler. I plan to buy another set, just to have on hand.
I bought my mother and brother a set for Christmas this year.

Glad to see Sierra Trading Post continues to carry them and Mountainsmith continues to make them.

Verified Buyer

Reviewed by Lindsay from Beaverton, Oregon on Sunday, October 1, 2017

The description says "2nds", but I don't see any flaws in the set that I received. It's perfect for what I needed: an organized way to store emergency supplies. I had everything in a big duffel bag, and now I have supplies separated by category so that I can see what what I have and what I need. The hauler is a medium-weight synthetic fabric like a backpack, and the cubes are a similar weight rip-stop fabric; both have what looks like a water-resistant coating inside. They do not have any padding or support, so they do collapse until they're full. I love that the hauler has handles on both ends like a footlocker, because when it is full, it is going to weigh enough so that two people will be needed to carry it.

Verified Buyer

Reviewed by Beth55 from Asheville, NC on Friday, September 22, 2017

We used this for our clothing on a recent camping trip. Although each cube was large enough for a weekend's worth of stuff, it was difficult to get to things without unpacking half of the cube. My next plan is to use the cubes to organize my camp kitchen and miscellaneous camping stuff like lighting. I have put the eating related things such as plates, bowls, silverware, paper products, etc. in one. Another has the cleanup stuff such as a collapsible sink, dishcloths, paper towels, etc. A third has miscellaneous things like flashlights, solar lanterns and charging equipment. Not sure what I will put in the fourth. The carry bag needs two people once it is weighted down but everything folds up very small once contents are removed.

Reviewed by KellyGreenThumb from NC on Thursday, August 24, 2017

Traveling without this makes the back of the vehicle looks like a mad mess, but now having it eliminates the hodgepodge of stuff. There are no label slots on the individual bags but that can be remedied with luggage tags if needed.

Verified Buyer

Reviewed by Steamboat David from Steamboat Springs, Colorado on Thursday, May 11, 2017

Best gear hauler ever! Easy to organize and color of bags lets you separate things, and then find them! I love it!

Verified Buyer

Reviewed by Bookhouse Boy from Chesterfield, MO on Tuesday, May 9, 2017

Great for family car camping!