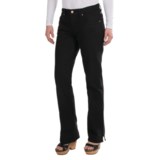 Closeouts. With a figure-flattering slim fit and high-quality denim, Cruel Girl's Georgia bootcut jeans are stylish enough to hit the dance floor after a full day of working on the ranch.
Average Rating based on
33
reviews
3.363636
0
5
Reviewed by Yes. I bought them. from Massachusetts on Sunday, October 11, 2015

My sister and I bought four pairs for Cattle showing. We looked all over for black show pants got the same cut a few years ago at the NWSS and they worked great! Soooo when when these "same" jeans online for 5 bucks a pair we couldn't resist and bought four pair. We put them on and they looked great... AND THEN... After one class at the shows... The seams desinigated... Holes appeared... And my legs were dyed black.
Good news- got two more shows out of them. Also wash them in with other black clothing with cold rinse ONLY- they are excellent to the your favorite black shirts black again:).
Oh and if your a stock show kid make sure you have a can of black paint to hide the newest holes- because there WILL be more there any when you put them on.
I'm buying four more pair for next show season at this almost fair price- because these paper pants are not worth more than $4.
AND guess what, by writing this review they are giving free shipping and 20% discount so these these pants so they are basically the best deal in town and I'll look really sharp for the first 20mins I have them on.
BUY THEM

Verified Buyer

Reviewed by live to ride from NC on Sunday, September 27, 2015

These jeans are not slim fit. They are very baggy in the hips and legs. Also after several washings, the dye is still bleeding.

Verified Buyer

Reviewed by Potter Mom from Virginia on Friday, July 24, 2015

I usually stick to Levi's but these are good quality and well made The fit is good. I like the slits at the cuff for a little extra foot room when putting them on.

Verified Buyer

Reviewed by Cinde from Wyoming on Monday, July 20, 2015

There is no stretch in fabric will be uncomfortable when washed. Was going to cost more than price of pant to return so will wear once and give away.

Verified Buyer

Reviewed by Kt from Iowa on Wednesday, July 1, 2015

Everything seemed to be wrong with these for me.


Verified Buyer

Reviewed by Kt from Wyoming on Wednesday, June 17, 2015

Terrible fit for me. 2 pairs going back.

Verified Buyer

Reviewed by Dee from North Dakota on Friday, June 5, 2015

true to size, nice fit, quality jeans

Verified Buyer

Reviewed by April from Pennsylvania on Friday, May 29, 2015

I'm an average sized woman at 5' 6" / 130 lbs. The sizing of these jeans seemed distorted: waist too tight, seat too baggy, and length too long. The price was too good to be true and it's not worth the effort to return these pants

Verified Buyer

Reviewed by Rachel from SE Idaho on Friday, May 15, 2015

I bought these for $5 and they are cute! I bought a 9 but they are too tight for my postnatal 5'1" 160 pound body but will hopefully fit after my baby weight is lost

Verified Buyer

Reviewed by patti from Boulder, co on Tuesday, March 17, 2015

Thinking the CG sizing was the exact same as another pair of well-fitting CG jean I bought size 7 (5' 108lbs) boy was I ever wrong! Although the rise size and fit at the hip were perfect and identically sized, 34" length also meant 3" more fabric width in the thigh, seat, including a much lower crotch area. I expected these would simply need to be shortened, however these were much larger throughout. This is outside the definition of "slim" like my other similarly defined pair of CG jeans at 32" (which I shortened) did not have proportionate to length sizing throughout and fit really well.
If you are 5'6" or more and have a longer torso these might work better for you than it did for me (have to return). Good quality though, very nice otherwise for the right proportions.