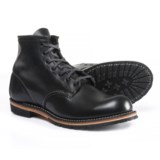 Factory 2nds. These Red Wing Heritage 9011 Beckman boots were born in the USA and are a classic American design, executed in the finest of materials. Custom-tanned leather is lightweight and long lasting, and the ankle-height design offers comfortable versatility.
Average Rating based on
57
reviews
4.526315
0
5
Reviewed by PHIN HOE from abrodie on Thursday, June 7, 2018

it was came in the condition, dusty and 'crumpled'. i know this is second factory but treat it like a second handed isn't proper way to be a seller. Anyway, i just set it right and paste some cream on the leather and everything goes fine.

Verified Buyer

Reviewed by Morris the Obscure from Sierra Nevada on Friday, June 1, 2018

Good boots. Factory seconds mind you but they're basically flawless. Make sure you size down a size as Beckmans do run a bit big. I'm of the mindset that the boots should be a tad uncomfortable at first so they form to your feet over the course of wear or vice versa. Breaking these in and giving them an excellent black patina is gonna be a blast, I'll you tell you what.

Verified Buyer

Reviewed by Red Wing Lover from Taiwan on Tuesday, May 15, 2018

Great quality and really cheap!

Verified Buyer

Reviewed by Loser Name from Taiwan on Sunday, May 13, 2018

I get a prefer 9011 I can not find anything defect
My foot are 27.5 cm long and 10.5 cm wide.
9.5D 9011 is good for me

Verified Buyer

Reviewed by Hank from Portland on Sunday, April 22, 2018

Being very satisfied with what I got. Perfect boots.

Verified Buyer

Reviewed by Jacob Kung from Portland on Sunday, April 22, 2018

The shoe is perfect.

Verified Buyer

Reviewed by Mac from Indy on Tuesday, April 17, 2018

1/2 size smaller than normal worked for me. Dark cherry leather, classic.

Verified Buyer

Reviewed by Mac from Indy on Saturday, April 7, 2018

Beautiful boots at a good price! Started off buying the dark cherry, 1/2 size smaller than my normal 9 size. Boots without an insert were still just slightly long, insert from an old pair of thorogood boots solved the issue.

Next ordered the cigar color, thin odor eater insert solved the tight fit issue.

Note; the left boot on both pairs were narrow, after a few hours of walking the leather stretched.

Love the classic look of the boot! Blessed to have some extra cash, I order the chestnut and black. Rotate and wear, have a classic boot for every causal and similar dress occasion.

These are not work boots for those in the trades, too nice and not enough cushion.

The black pair fit my feet like a glove! Chestnut was the only pair with a cosmetic issue, slight crease is the leather. No big deal, they get worn and crease. All pairs have at least a thin insert for added comfort and fit.

Hopefully this helps. Beautiful boots at a fair price.

Reviewed by Max from DC on Thursday, April 5, 2018

These boots are great. They're super durable, cool-looking, and reasonably comfortable. They deserve five stars, but I'm not really here to review the boots per se. Rather, I'd like to recommend that you go ahead and order these factory seconds that cost $200 instead of $300. With unspecified defects, these boots might seem like a risky proposition. However, I have now ordered two different pairs of Red Wing factory seconds from Sierra Trading Post, and I couldn't find any noticeable flaws. I may have gotten lucky, but there's no reason not to take the chance. If they're scarred in an unattractive way, you can return them. If they're like the ones that I got, you just got a perfectly good pair for 2/3 of the normal price. Wait until STP sends you a 25% off coupon like they do every week or so, and you could end up paying $150 for a perfect, new pair of Red Wings. That's the deal of the century.

Reviewed by Kevin Kao from Taiwan on Thursday, March 29, 2018

2nd but with only some minor defects. Being very satisfied with what I got. Great Deal!