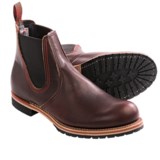 Factory 2nds. Originally developed for American sheep ranchers, Red Wing Heritage 2917 Chelsea Rancher boots offer slip-on convenience and retro sophistication, with elastic goring and contrasting red stitching.
Average Rating based on
12
reviews
4.333333
0
5
Verified Buyer

Reviewed by Jiun-Fang from Oregon on Tuesday, July 10, 2018

This is not the color I ordered. But I still accept it.

In addition to some uneven welts, the condition of the boots is almost perfect. No major defects or problems.

I am very satisfied with the price and quality. I am sure I will get these boots for many years and look forward to placing a lot of miles on them.

Verified Buyer

Reviewed by Matthew, Architect from California on Monday, May 21, 2018

I ordered the Chelsea Ranchers about 3 weeks ago. Great boot, amazing craftsmanship and as a factory 2nd great price with no visible issues. I tried them on and realized the heel slip was more than I could handle. Im not sure what causes heel slip but I was disappointed. I really love the look, style and feel (I know, they would need to be broken in), but I super bummed me out. I really like Red Wing as a company and their products are always well made. I'm looking for a lace up pair now.

Verified Buyer

Reviewed by Clay T from Tennessee on Wednesday, March 28, 2018

I own 3 pairs of Red Wing heritage boots and I was quick to add these to my collection. For the price, I couldn't believe it. It's very hard to find these boots on sale. The "factory seconds" was my one concern. But, upon receiving them, I can't find a single thing wrong with them. They look, feel, and act like a brand new, perfect pair of red wings. Now go buy these.

Verified Buyer

Reviewed by LCBIII from Pennsylvania on Saturday, February 17, 2018

a very nice well made boot but sized much too small for actual wearing.

Verified Buyer

Reviewed by America First from online on Thursday, January 25, 2018

These are real shoes that are handmade on a fitted last. They don't come with insoles. Get a larger size to fit your favorite modern insole.

Verified Buyer

Reviewed by The Booty Pharmacist from Tennessee on Monday, January 15, 2018

This is my second pair of Red Wings. My first took a couple weeks to break in, and those weeks were pain and blister filled. I was put off from wearing boots for a while after that. This pair, however, only took a good 3 days or so of multiple hours each day until they were broken in. They look sharp (I've gotten multiple compliments on them), they feel comfortable as hell, and are my new favorite pair of boots. I love being able to slip them on! I can't tell any flaws in the boots that would make them factory 2nd-worthy. Thank you for a great product and thank you for quick, painless shipping.

Verified Buyer

Reviewed by Brian from Alabama on Sunday, January 14, 2018

These seem to be very well built boots! I cant Tell why they are seconds. Time will tell from a comfort standpoint. I imagine they will take a while to break in. Still very nice.

Verified Buyer

Reviewed by Joey from Portland, OR on Wednesday, January 10, 2018

This is one of my best pair of Redwings and the quality comparable to Aldens and Church's I own for 1/3 of the price. I cannot even find a flaw due to the factory seconds.

Verified Buyer

Reviewed by RVARob from Virginia on Wednesday, January 10, 2018

Exceptionally well made boots. Love this style Red Wing, that is really hard to find in the US.

I cannot find why these are factory seconds at all, they look great! Most Chelsea style boots are too dressy, these are the perfect mix of form and function.

I haven't had them long so they still need a break in. Just like any Red Wing boot, order a 1/2 to a full size down. Also, the heel cup is a tight fit at first but I'm sure that will loosen up as I take them on and off over time.

Verified Buyer

Reviewed by nwk from California on Monday, January 8, 2018

This is a really solid chelsea work boot. Be advised they run a bit narrow, I still sized down half a size. The lug sole is a big step up in traction from the nitrile cork.