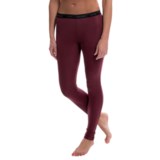 Discontinued. Icebreaker's Everyday base layer bottoms are made of lightweight, itch-free merino wool that wicks moisture, breathes and regulates temperature naturally.
Average Rating based on
64
reviews
4.500000
0
5
Verified Buyer

Reviewed by City Gardener from PA on Monday, December 19, 2016

I have been wanting a pair of merino bottoms for awhile. These fit the bill. They fit nicely and will be very warm as a base layer.

Verified Buyer

Reviewed by Artisticgardener from iL on Monday, December 19, 2016

Have a heavier pair- love them so when I saw this lighter pair I sprang for them. Best hand washed, but truth be told, I wash them with everything else and so far so good. Not itchy on me in the least. A must for hiking- and pretty much every day during the winter.

Verified Buyer

Reviewed by LuxuryOfDirt from Oregon on Friday, December 16, 2016

I've worn these base layer tights during a few different winter excursions (snowshoeing, xc skiing, and backcountry snowboarding) and they have kept me SUPER DRY, warm, and toasty! For years I bought synthetic base layers to save money and wasn't totally sold on the merits of wool based on my dad's older generation wool hunting gear, which always felt punishingly itchy and scratchy. I will say that overall I don't think Ice Breaker is as *soft* feeling as SmartWool, now that I have several of each in my closet. The SmartWool products have a more supple, buttery soft feel and a heaviness to the fabric. By contrast, I find IceBreaker to be somewhat rougher feeling material, but overall still very comfortable and warm. I would definitely not wear these on their own, as you could see your underwear through them and they don't have a particularly flattering shape. They have a nice moderate amount of stretch to them, for enhanced flexibility. This is an improvement upon some earlier ones I purchased which seemed to grow extremely stiff after about 10 wearings and washings, despite hand washing with special wool-friendly detergent. They definitely move with your body no matter what activity your doing. I think for the price, these are an excellent value. Even just a few days ago, snowshoeing up a mountain with a heavy pack in deep snow, sweating profusely, I did not get clammy or moist in these, which is very impressive! I have compared these to the SmartWool base layer tights before purchasing. To me, the SmartWool ones seem a little more stylish and form fitting, potentially they seem as if they could be worn on their own underneath a nice skirt or dress, like as leggings to wear in public. These IceBreaker ones do tend to lose their shape by the end of the day if you wear the tar out of them, and will be rumpled and appear like long underwear....so don't plan on wearing them alone to the bar without something else on top of them after a day of skiing! Just saying. Since I'm such a big fan of things that cross over easily and can be worn for more than one kind of application, the SmartWool ones seem to win on that front. These are great, but keep them as a base layer and you wont be disappointed at all! They wash nicely, but I'll have to be on the look-out for the shrinkage problem that I experienced with earlier models.

Reviewed by Simo from new jersey on Thursday, December 15, 2016

They are lightweight - perfect to wear under the jeans. I used them on a 35-degree day under my jeans and they kept me warm.
Not itchy - very important! and they don't come down under the jeans like some tights do.

I went for size M, because I'm tall and usually SM are too short..and size M are indeed long enough ( I'm 5'9 )

Verified Buyer

Reviewed by KatherineMD from Maryland on Sunday, December 11, 2016

I have a bunch of Icebreaker long-sleeve tees, size large, that fit perfectly so I ordered large in these bottoms. They are kind of on the big side---still ok but I might have ordered a size down if I knew this. The fabric is very lightweight. I wore them under sythentic leggings yesterday and was outside a lot in temps around 30 F. They definitely kept my legs warmer than just the leggings would have. I think they are too thin to wear on their own other than around the house, or maybe as tights if you order down in size. These are a little on the baggy side to be tights for me. I'm 5'6" and about 150 lbs.

Verified Buyer

Reviewed by Tammy from New Jersey on Tuesday, November 29, 2016

Love these Merino wool bottoms. Perfect mid weight and not too bulky. Soft and comfy. Much nicer quality than I had anticipated. Amazing quality for the low price!

Reviewed by MN skier from Minnesota on Tuesday, November 29, 2016

A few others commented on the low waist with these. This was an instant deal breaker as they slid down as soon as I pulled them up. Also, very thin fabric.

Verified Buyer

Reviewed by Vtmama from Vermont on Sunday, November 27, 2016

These are lower riding than some of my other base layer bottoms, which I don't love, but otherwise they are super nice merino wool, light enough to wear under a legging layer for winter running, or on warm days for skiing. I am sure I will get a lot of use out of it.

Verified Buyer

Reviewed by Miki from slc, ut on Saturday, November 19, 2016

I haven't worn these yet, but tried them on. They are very nice, soft and non-itchy.
Winter is just starting in the Rockies, so we shall see how warm they are.

Verified Buyer

Reviewed by jeananne from Littleton,NH on Wednesday, November 16, 2016

These bottoms are warm and soft. They fit well, plenty long enough for me (i am 5'6" and 155lbs).