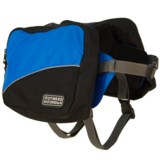 Closeouts. Kyjen's Dog Daypak is a modest capacity pack that is easily adjustable, carries plenty of essentials and increases your dog's visibility on the trail.
Average Rating based on
15
reviews
4.133333
0
5
Verified Buyer

Reviewed by rudibell from WY on Wednesday, August 3, 2016

The backpack works well for our 40lbs Border Collie. We added an additional velcro strap to attach the pockets to the vest part more permanently, as the snaps easily became undone while hiking. Great budget price.

Verified Buyer

Reviewed by Hollis from Cleveland, OH on Wednesday, June 8, 2016

I think this is a pretty good alternative to buying an $80 dog backpack right off the bat. The sizing is straightforward and the straps are easy to adjust. I can fit plenty of food for my 45 lb dog in here.

There are two issues with this bag. The first, which may just be an issue specific to my dog, is that the pack is always slipping off to one side, despite being evenly packed. She does tend to walk a little crooked, so that could be the cause. The second issue is that the main pockets come off extremely easily. If there is any weight at all in there (I'm talking just a couple bags of treats for a day hike) and she jumps over a log, off flies the main part of the pack. My dog stays really close, so I'm not going to lose the bag when it flies off, but if your dog likes to run ahead, you may end up searching.

Verified Buyer

Reviewed by 55+ from Northern California on Wednesday, March 30, 2016

I haven't used it yet but it fits my 50 lb dog perfect. It's a nice design and seems like it will work perfectly for a weekend's worth of dog food which will lighten my backpack :)

Verified Buyer

Reviewed by Charlotte's Web from St. Thomas, U.S. Virgin Islands on Monday, March 28, 2016

Charlotte is a 45 lb. labradoodle. This fits her perfectly. Wonderful quality and excellent buy. Definitely recommend.

Verified Buyer

Reviewed by Randy from Alabama on Thursday, February 18, 2016

Well made, fits a medium sized dog (40 lbs or so) with no problem. Great price!

Verified Buyer

Reviewed by SallyAsh from DC on Friday, February 12, 2016

Well made--nicely stitched, thoughtful design, quality workmanship. Wishing I'd bought the dark red instead if the orange--the contrast is a bit garish and I think my mutt girl would have preferred the classier look. :)

Verified Buyer

Reviewed by Mry from Rogers on Monday, November 16, 2015

The two snaps that hold the flaps down on outer pack are not enough. It comes loose when the dog runs. My dog lost hers in the woods chasing a squirrel. If your dog never runs it might be ok.

Verified Buyer

Reviewed by Adventure man Steve from South Carolina on Friday, October 30, 2015

I was not sure my dog would take to a backpack. It fit well. She seemed to settle in really fast. What a great way to take my best friend hiking and share the total experience. Besides my knees appreciate her pulling some of her own weight. Z

Verified Buyer

Reviewed by Desert Hiker from CA on Friday, July 31, 2015

perfect fit, light materials. My Staffie bull, 35 lbs, fits this perfectly. There is ample strap to both grow into and cut to make for individualized fit. We are using the bottom for a service dog vest as well, and it is light, attractive, 'formal' and handy with it's pockets for ID etc. I have tried several different packs for our dog, and this one is the best: easy to put on, form fitting (easily so), light, attractive, durable.

Verified Buyer

Reviewed by Nebraska Climber from NE on Thursday, March 5, 2015

I haven't had a chance to thoroughly test this yet, but so far it is good. I like the two piece design; the little vest with pockets is still useful if you don't want to carry everything in the world, and it's a nice bright color. The pack itself snaps on to the vest, which is cool, and seems a reasonable size for the size ordered (medium, I think). I can fit a water bottle, small bowl, plastic bags, cell phone in the pack easily. When we tested it, I used two small water bottles on each side to even the load. A large bottle does not fit and would not work well; the pack needs to be weighted evenly. The straps are long, but my pup is on the small side of medium. The adjustments are fine for him on the buckles themselves though, even with a thin waist (30-35 pound cattledog mix). I just have to secure the straps. I was hopeful the feel of the pack would distract him and make him feel like he was doing more of a "job." It took him about 20 seconds to get used to the thing, and then we were off to the races again (he likes to pull). Still, it was useful for bringing a little water on a longer run. The pack did unsnap once--this was because the lead got clipped under the pack somehow and helped unsnap it. So, watch for that, and don't overload the pack. However, I don't think this will be a huge problem.