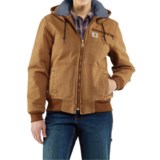 2nds. Reach for Carhartt's Wildwood weathered duck jacket when temperatures drop and stay nestled in the warm sherpa lining. The 12 oz. weathered cotton duck shell is abrasion resistant and built to last.
Average Rating based on
71
reviews
4.774647
0
5
Verified Buyer

Reviewed by Britni from Maryland on Tuesday, January 16, 2018

This coat was everything I expected from a Carhartt. Durable, fits great, heavy weight. The only down side is after reading reviews, they all said the coat runs big for the sizes and people were even recommending getting a size smaller than you usually do. I am usually a medium but sometimes a large, so I got the medium because I didn't want to be swamped in my coat. It fits me well enough not to have to return it for a large, but I think I could have benefitted from the additional length that comes from getting a larger size. So maybe just order your normal size :)

Verified Buyer

Reviewed by Jac from Pennsylvania on Thursday, January 11, 2018

This coat is wonderful, I love it. Warm and comfortable!

Verified Buyer

Reviewed by Conard678 from Gaffney, SC on Tuesday, January 9, 2018

I was a little skeptical about getting a "factory second" jacket.....but honestly I can't even tell where this jacket is so-called "messed up!" This jacket is very warm and I love the inside pocket. The pop-up collar is also a nice feature that keeps the wind off of my neck. Very tough jacket for working outside. Love it!

Verified Buyer

Reviewed by Mamma T from North Carolina on Thursday, January 4, 2018

Bought a large for my daughter who is 5'11 and athletic, big shoulders. It was perfect - can't tell what the "second" was

Reviewed by Stephanie from South Carolina on Wednesday, January 3, 2018

I just got this jacket in and I love it already!! It is a factory second or an irregular and the only thing wrong was the port hole for the ear buds is not there. Definitely not a big deal for me. That is the ONLY thing that I found. It is perfect in every other way. I have the black in 2 XL and for me it is true to size. I'm 5'4, 160lbs. I like my clothes a little big and this is perfect to wear a thick fleece top and the jacket over it. You still have room to move. Sleeve length is perfect. Overall length is below my waist but does not completely cover my rear, kinda in the middle. Perfect for me. If you are budget conscious, you're crazy not to jump on this deal. So glad I found this site before I spent a fortune elsewhere.

Verified Buyer

Reviewed by Rebecca from IA on Friday, December 29, 2017

Even though this is an XL, it fits me (14-16) just right - the L was too tight in the shoulders, the XL is more roomy and comfortable. Sleeves are short on this jacket - perfect for me (5'3"), but could be too short for a taller or longer armed person. Length is good and it is just right around the hips. Love the jacket - especially the collar, which is soft and oh so warm around the neck and face. No obvious flaws...

Verified Buyer

Reviewed by Bear hunter from Virginia on Thursday, December 28, 2017

Great jacket but had to return because the cut(fitted) of this jacket makes it where you can't layer or wear a thick sweater or hoodie underneath, if you order and want to wear something other than a t-shirt order a size larger.

Verified Buyer

Reviewed by runsalot from CO on Friday, December 22, 2017

I wanted a warm jacket for outdoor work and this fits the bill. The fit is just roomy enough to add another layer, light fleece, etc. if its super cold.

Verified Buyer

Reviewed by Amber from Iowa on Saturday, November 11, 2017

I'm 5'5 and 125 pounds and I got a size small (4/6) and it fits perfectly! I can wear a heavy sweatshirt underneath this jacket no problem! I love that it has an inside pocket, and I like how the pockets on the sides do not have any zippers to snag on. The hood is removable and can easily be snapped on and off, but I wouldn't worry about it every coming off by accident. Even though the jacket is a factory seconds product I cannot find anything wrong with it! I would recommend this product even at its full price because of the quality!!

Verified Buyer

Reviewed by Outdoors Donna from Maryland on Monday, September 25, 2017

I realized this item was a second when I ordered it. But, having purchased seconds of other things in the past, I saw the 'flaws' are hardly noticeable. This was certainly true with this purchase as well. I don't see anywhere where this item is a second. It's a great coat for half the cost. Thank you!!