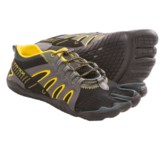 Closeouts. Body Glove's 3T Warrior shoes offer superlight minimalist protection with a comfortable, three-toe design and land-to-water adaptability. Drainage holes in the outsole keep things dry, and a quick-pull bungee lacing system mean easy on-off when you're on the go.
Average Rating based on
20
reviews
4.300000
0
5
Verified Buyer

Reviewed by EJ from New Mexico on Friday, August 25, 2017

I'm loving these. Works for me well both as water shoes and to run in.

Verified Buyer

Reviewed by SUPdawg from NC on Monday, July 10, 2017

I should note these do what they say pretty well. They will give you purchase on rocks and feel minimalistic, so overall pretty successful water shoes. They are tight, but that seems wise for the design, so that is not the comfort issue. I also have long, spread out toes and love vibram 5 fingers, so the toe thing is far from an issue for me. The problem with the shoe is that it is a tight, form fitting water shoe, but the inside feels like it is just unfinished and unlined. The stitching and seams for what you see on the outer next to the laces will rub on your foot. If you dont have to walk much in them or you generally have tough feet it may not be a problem, but for me it will take some serious getting used to, probably including rubbing a few holes in my feet. I plan to use them for stand-up paddleboarding around the lakes in my area to help me scrabble over rocky shores and explore hard to reach areas. While they seem fine for the former, I hesitate to hike around in them at this point.

Verified Buyer

Reviewed by larssonthearcher from Idaho on Wednesday, March 29, 2017

I really like the construction and design of these shoes. The three-toe design is (in my opinion) better than having every toe separate from the others. The sole has drains to let water out, but the drains are covered with a fine mesh, so dirt and sand won't get in. However, the instructions to "round up" if you are between sizes is completely wrong. I normally wear a 10 in every shoe, but here I ordered a 10 and these shoes were much too big. I sent them back and requested a 9, which fits much better. The only other thing I would suggest is that different shoe widths should be offered as well. I have long and narrow feet, and even the size 9 must be tightened almost all the way in order to make them fit comfortably. Overall, however, these are great shoes and I think they will serve me well!

Verified Buyer

Reviewed by Itchy from Nevada on Monday, November 7, 2016

I have never owned anything like this. They perfect water shoes and comfortable.

Verified Buyer

Reviewed by Abel from Costa Rica on Sunday, October 2, 2016

Ounce you manage to fit them well, wich just takes a little time to get use to, they feel like nothing on your feet!
Super light, they fit anywhere, fantastic for travelling on one day missions where a second pair of shoes is normally too much to pack. looking forward for white water rafting with them...

Verified Buyer

Reviewed by JT from ATX on Tuesday, September 27, 2016

For people who are not barefoot hikers but are looking for water shoes, these are fantastic in the water. They're not that difficult to put on (though you probably can't just slip it on in one shot even with practice, but it's a minor adjustment to then get them the middle toe in the right spot).

Once they're on, they stay on well. They seem to be true-to-size (despite half the comments saying to go up a size and the other half saying go down a size, I just picked my size and it fits almost like a [body?] glove). I can walk in the water quite well with them. Tested on different watery surfaces, and did not find much if any slippage.

Walking on land also works, although when I was walking on a really rocky path, I could feel EVERY rock. It's not pleasant walking on rocky dry land unless you're a barefoot hiker and you're looking for that tactile experience. Walking on non-rocky ground was just fine though.

Overall, very happy with the purchase for water sports and would buy again.

Verified Buyer

Reviewed by The 7S from NY NY on Friday, August 19, 2016

I love it....I run with these and even tried it in the beach....perfect

Reviewed by doglover from florida on Friday, August 19, 2016

Great looking design and a decent size fit (just a little wide/roomy around ankle) but definitely a shoe that you might have to send back if you haven't already tried it on in a store because of the toe separations. My right foot doesn't have enough length space between two of my toes without the design jabbing into the skin. So, if you don't have feet that have the cut of the shoe, you might have to send them back.

Verified Buyer

Reviewed by JB from Connecticut on Saturday, July 30, 2016

I've only used once thus far at a beach and worked well and comfortable. I got a little sand in the shoes but should have tightened the laces more. I also worked around house before that and they felt comfortable and good to use for your feet. I'd recommend reading "Born to Run: Hidden Tribe, superathletes.." by McDougal to understand why these "barefoot"-like shoes can help your feet, etc.

Verified Buyer

Reviewed by Bob in NH from New Hampshire on Monday, July 13, 2015

A little weird at first trying to get the toes aligned but once you get the hang of it they fit like a glove somewhat.
I have a bunion on one foot which makes shoes a problem at times for width concerns and these were not a problem.
The left foot stitching around the ankle area had a flaw between the material and was irritating the area. I was about to return them but decided to try and work the material which seemed to do the trick. I use them for kayaking and so far so good or "not too shabby". I would recommend them for water
sports and the price over competitive shoes of this type.