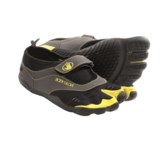 Closeouts. Body Glove's 3T Barefoot Max shoes offer superlight minimalist protection with a comfortable, three-toe design and land-to-water adaptability. Drainage holes in the outsole keep things dry, and a foot-securing strap fastens over the instep.
Average Rating based on
27
reviews
4.481481
0
5
Verified Buyer

Reviewed by ESERD from North Carolina on Tuesday, July 4, 2017

Fits to size. I am a 9.5, I like the shoe to fit tight. I purchased a 9. My big toe on my big foot touches the tip of the shoe. But the fabric is soft and it does not bother. I do not like loose.

The shoes arrived earlier than stated. I have not tried it in water yet so I have no review regarding how it does in water.

Verified Buyer

Reviewed by Greg from Pennsylvania on Wednesday, June 28, 2017

These are perfect. They provide grip and your foot does not slip inside. The toe separation is strange at first but not uncomfortable. True to size if you are a half size go the next size up. I walk my dog through the woods and creeks and these are just what I wanted. They drain quickly no sloshing around. A little hard to put on but you get used to it.

Verified Buyer

Reviewed by Ye Olde Woodsman from State of Jefferson on Monday, June 26, 2017

The shoe runs small. Needed the next size up. Struggled at first to get on. What works for me is to fold the heel down and in and sit in a chair and walk your toes in first. Aligning the toes took some practice and got easier with use. After walking the toes in pull down on the heel to unfold and then pull on/to place. Have a wet body glove and foot does make this easier to get on. With more usage the whole process got much easier. Walking on uneven surfaces has been great. The glove is comfortable and conforms to the terrain with ease. I would recommend this product to others. The four stars result from the lack of explanation of how to get this on at first.

Verified Buyer

Reviewed by nick from Fla on Sunday, October 9, 2016

during our stay / eco tour in Nicaragua. Definitely the right footwear to protect your feet from rocks, shells and walking through the mangroves and sharps pins from the bushes. Sinking in the mud above your ankles you can keep going, forget about flipflops.. :-) My tip... wet the shoes and your feet and they slide on somewhat easier. Once on your forget them... indeed like a glove and barefoot.. :-)

Verified Buyer

Reviewed by Lyse from Florida on Wednesday, September 28, 2016

I was looking for these shoes and I purchased these online, delivery was efficient and prompt and the product is excellent quality

Verified Buyer

Reviewed by Mike from Florida from Florida on Monday, September 12, 2016

I bought these shoes to use paddle boarding and the fit and flexibility are exactly what I needed.

Verified Buyer

Reviewed by Kevin from Indiana on Monday, March 28, 2016

I have looked at these for years wondering how they would feel. Now that I have a pair, they are awesome. I love the way that they feel when you walk in them. I am excited to wear them to the beach. The size was perfect.

Verified Buyer

Reviewed by Hitch from Cape Cod on Sunday, March 20, 2016

Have only had for 2 weeks. This is my second pair of minimalist footwear -- my first was the Vibram product. Because of the drain holes in the sole and the lack of good ventilation these are best suited for in-water use. Not so good for general use or exercise since feet get sweaty. I do like the velcro strap. Note that, unlike some similar products, three toes fit in one sleeve rather than in individual sleeves like in some competing products -- does not provide as much separation but does make it easier to get them on.

Verified Buyer

Reviewed by SS from Minnesota on Tuesday, August 4, 2015

Great shoe

Verified Buyer

Reviewed by The Aquarian from Pennsylvania on Tuesday, June 30, 2015

I am around water constantly, beach, lakes, rivers. I kayak, fish and swim among other things so I have quite a few pairs of water shoes. Each for a different activity. These are now my favorite because they work for everything and they're all black do they go with everything. I'm a female but I buy men's shoes because I'm a women's size 11 so it's easier and cheaper to buy a men's 10. They are true to size, flexible yet snug and the best part is the genius wire mesh holes in the sole to allow water to get out of the shoe. They also have a grippy sole without big cleat like protrusions which can sometimes be slippery in a wet kayak. I should've bought two pair.