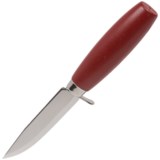 Closeouts. I Morakniv's Mora Classic Craftsman 612 knife is ideal for wood carving and general utility use, thanks to its straight-edge carbon steel blade with finger protection and red ochre Birchwood handle.
Average Rating based on
14
reviews
4.285714
0
5
Verified Buyer

Reviewed by Knife guy from Iowa on Thursday, June 1, 2017

This knife has an old look and feel to it. I have not used the knife but it looks pretty cool in the tool box. The sheath looks like a piece of plastic tubing that got to close to an open flame.

Verified Buyer

Reviewed by river guy from idaho on Wednesday, October 19, 2016

great blade steal, but the handle is cheap plastic. i thought it was wood.

Verified Buyer

Reviewed by Canoe Chap from Ohio on Thursday, June 23, 2016

If you don't have one, get one. If you've got 5, grab one more. If you know outdoor types, keep a few of these lying about as gifts. This is the best $10 you can spend. Really! There is nothing else that you can buy in this price range that will make an outdoors person happier.

Verified Buyer

Reviewed by Joe from Colorado on Thursday, June 2, 2016

Don't know how many other cheap knives I've had that [...] out on me while I was using them. This guys better than a lot of products that cost $50 or more. I feel like this will last as long as I maintain it. An excellent deal!

Verified Buyer

Reviewed by RCzar from Mojave Desert and surrounding area on Wednesday, May 25, 2016

While it is too new to really rate, it is sharp, the blade seems sturdy and it appears to be a decent knife for the price. The sheath is a plastic material and it really cannot be attached to a belt very well - it's just a couple slots cut in the plastic. I'm told these are not full tang knives and you cannot see on this model.

Verified Buyer

Reviewed by Michael, Wilderness Explorer from Houston on Tuesday, January 26, 2016

Anyone who has owned a Mora knife , knows of its qualities. Good steel, Great sharpness and performance, ergonomic handles and a price that is unbelieveable. That said, I have a few complaints or misgivings..
The sheath is different from most Mora's and it just doesn't function as well as I would like. It is hard to draw or extract the blade one handed. but that said, It was super cheap so that problem is not that detrimental.
The biggest drawback to this Mora is the hot spot on the top. If you use it saber grip (thumb up on the spine) it rubs a raw spot that creates a blister in no time. With gloves, this problem would be averted but with gloves, the round handle creates a grip problem. Other Mora's do not have the same issue so I would still get a Mora, just not this Mora.

Verified Buyer

Reviewed by Up on a hill from California on Tuesday, April 28, 2015

Mora makes great knives at a great price but the one we received was in poor shape. The spine (back side of the blade) was horribly pitted and cracked and the bolster had hard black glue all over it. Sending it back and we'll try it again.

Verified Buyer

Reviewed by wainemaine from Maine on Tuesday, March 24, 2015

I bought three Mora knives at closeout price. The other two the companion and the Hi Q are great. This 1 the 612 was not finished at the factory, the spine was very rough and you could see where it was punched out of the billet, the rest including the grind and sharpening was fine. I will keep this knife because of how cheap it was,and i can grind the spine myself. but it was not up to usual Mora standards

Verified Buyer

Reviewed by NW RR Worker from Pacific Northwest on Monday, March 9, 2015

Great steel at a fantastic price! The blade had a somewhat sharp edge to it right out of the box , after using my Lansky sharpener it holds an edge like a razor. I love the lightness and the balance , I would call it a 'quickness' to the blade. The handle fits my hand well ( I wear Medium to Large mens work gloves ) and the smooth texture cleans easily. The sheath is nothing to write home about , do yourself a favor and get a Kydex sheath. The spine on mine was not finish polished , it was left with a rough steel texture. It is a carbon steel blade , keep it oiled to keep rust away.

Verified Buyer

Reviewed by Dave in Frederick from Maryland on Wednesday, March 4, 2015

This is a very good knife at a crazy low price. The blade is definitely the centerpiece (as it should be). Good steel, sharp out of the box. The handle is smooth round birch, although if I didn't know I would've assumed it was some sort of composite plastic. Good length and diameter - fits comfortably in my medium-sized hand with a full four-finger grip. The knife is lighter than I expected (~2.5 oz.), but well balanced. The sheath is frankly what you'd expect with a 15 dollar knife - effective but unexciting. It's just molded black plastic, but the knife fits in very snugly and will not come out accidentally. Overall an excellent blade for the money, but it's meant to be effective, not impressive - this isn't a showy knife.