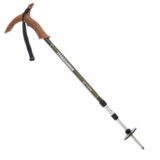 Closeouts. The lightweight, durable and adjustable construction of Komperdell's Walker cane grip trekking pole teams up with impact-absorbing anti-shock to allow you to take the long way back to the trailhead.
Average Rating based on
26
reviews
4.384615
0
5
Verified Buyer

Reviewed by Deepmelon from New York on Friday, March 16, 2018

Came with only 1 screw lock, sent it back
That locking system in general is inferior, upgraded to a clip lock.

Reviewed by Barry from Southeast PA near Philly on Saturday, March 3, 2018

I got this as a backup after I bought the Lekki trekking pole with the composite handle, and I like both a lot, but I prefer the Lekki overall. Simply because the handle is more ergonomic (Lekki has a palm swell), and feels softer in the hand. The handle here is somewhat thinner in cross sectioin, and isn't soft, as it is cork composite, which wears better than real cork, but isn't as soft in hand. But, this one has the anti-shock, if you really want that feature. Sometimes I like it, and sometimes not, but I think it may help with jarring, if you are walking harder.

I would rather this had speed locks like the Lekki, but this works too, only it's not as user friendly for people who have less hand strength. If you're young and strong, it's not a problem. It seems to stay put once it's tightened pretty well, and I'm a big guy. Of course, you need the optional rubber tips if you want to use it on hard surfaces so it doesn't skid away on you!

I plan on buying some real cork bicycle handlebar or fishing rod grip to slip over this handle, so it will be larger and softer. If your hands are small, then it's probably about right for you.

Verified Buyer

Reviewed by Robert from Tennessee on Saturday, December 16, 2017

It's flexible yet strong. This is the second one we have had and would order again.

Verified Buyer

Reviewed by tjack324 from Louisiana on Friday, December 8, 2017

Walking cane has worked well for me. I had back surgery and wanted something that would give some stability. I, also wanted something that was lite and I could easily pack away. This walking cane has met all those needs. Very pleased.

Verified Buyer

Reviewed by Alaska Curmudgeon from Juneau, AK on Saturday, August 26, 2017

This is just the right size and weight for general street use as a cane. The cork grip is nice but since it rains 100 inches per year here, I would prefer that the cork be coated or that it had a plastic handle.

Verified Buyer

Reviewed by P.J.R. from Portland, OR on Friday, July 21, 2017

This is my first attempt to use a cane or walking stick. I bought 2. I've used them about a week and they make a big difference for me, since I have vertigo and osteo-arthritis, and following a recommendation that cane/sticks will help with joint pressure. These are nice...but my first so this isn't a comparison. I like the cork handle, and 2 choices of grip, holding the top part of the handle like a cane, or gripping the handle around the circumference, like a walking stick. I have to open it up all the way to use as a walking stick, and it seems less sturdy to lengthen it, but I notice it gives some, which is actually nice to have the flexibility.
The instructions are minimal, but the adjustment mechanism is pretty straightforward. I bought new tips, but couldn't figure out how to get the original ones off. Will have to figure that out, because they're slippery on some indoor surfaces.
Overall, I like these, and think they'll be a great help.

Verified Buyer

Reviewed by Urban Hiker from Portland, Oregon on Sunday, May 7, 2017

I ordered this trekking pole because I have very painful arthritis in my hands, and thought that the cane handle would be helpful. Unfortunately, the handle offers no advantage over conventional trekking poles. The trick I have since learned is to put all your weight on the strap without grabbing hard - thus sparing your hands.

Verified Buyer

Reviewed by Badlands Barb from Florida on Thursday, April 27, 2017

I've used the Komperdell trekking poles for years--loved them!
However,after 2 back surgeries, I wanted the most secure grip available--these cane grips are ideal; and I know I can count on the safety and reliability of the Komperdell products!
Thank you!

Reviewed by Gimpy Hiker Girl from Minnesota on Wednesday, April 5, 2017

Great product. Have got a second one after I managed to plop my full weight down on and bend/ruin the first one, stupid me! need a cane for stability after an accident and subsequent stroke. I used to be a hiker and backpacker who always used trekking poles. This can be used both ways... 1) Lower the height and use the horizontal, cane-like grip at the top for a typical cane feel. 2) Extend the height and use the vertical grip for a typical trekking pole feel, where one's hand and arm holds the pole at a higher spot. Of course, you can make them smaller. When fully shortened, you can put in the side pocket of a backpack if desired for some reason. Also, you can pack in a big duffel along with your backpack when flying somewhere for a backpacking trip. Getting the accessory rubber tip cover is a good idea to protect floors, but outdoors on natural terrain or ice, the metal tip serves its purpose well. I can't speak to whether the shock absorption feature really works, but I guess I do have it on. All in all, great!

Verified Buyer

Reviewed by I Love Wool from West Oregon Cascade foothills on Saturday, March 25, 2017

If you are shopping STP, you know the value of using coupons and combining with free shipping. So, I took a chance and bought a stick with the cork handle. I purchased my first Komperdell with a cork handle last October. Recently, I ordered two more. Previously, I had a Leki, which still functions, after years of abuse and it held up great, except the handle. The handle is hard plastic with rubber cushioning, which has come lose and deteriorated, thus I tried cork. The Komperdells have been wet from rain and wet from being dropped in saltwater. i am giving them the benefit of doubt for holding up in dry heat.