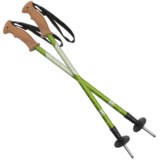 Closeouts. Get the extra stability you need to conquer tough trails with a pair of Komperdell trekking poles, crafted of rugged 7075-T6 aluminum alloy with ergonomic cork grips and adjustable wrist straps.
Average Rating based on
12
reviews
4.333333
0
5
Verified Buyer

Reviewed by HVAC Lady from Colorado on Friday, April 21, 2017

Cork grips give you great comfort and don't get sweaty. Adjustable length is wonderful. Overall -- FANTASTIC trekking poles and the price was too good to be true! Better poles than you can find at 3x the price!!!

Verified Buyer

Reviewed by SJohnson from Georgia on Thursday, March 30, 2017

Price was too good to be true and the quality wasn't up to par. I returned the product.

Verified Buyer

Reviewed by Pat H from Cedar Rapids, IA on Monday, February 27, 2017

Very nice, well made trekking poles with the cork grips that I was needed for hot summer hiking. Good looking, too.

Verified Buyer

Reviewed by Art from Chino on Saturday, February 18, 2017

Good product, a little heavy but great for the price.

Verified Buyer

Reviewed by Trish in Montana from Darby Montana on Saturday, February 11, 2017

I purchased the entire system with these poles. After losing the baskets on my old poles while snowshoeing, I was looking for replacement baskets when I found these. I thought, what the heck, I'll just get new poles that have a better locking system instead of losing my baskets every time I go out. The cork handles are comfortable, but the best part is the unique locking system for the baskets. The winter baskets are 5 inches across which makes a HUGE difference when snow shoeing. The baskets stay on top of the snow instead of sinking in and losing the baskets. So far I love the winter baskets and know the summer baskets will make all the difference when hiking game trails. These poles are adjustable. When you get them the height you like, just tighten them up. Since I started using poles I don't trip and fall over hidden branches and holes on the game trails I love to hike. I highly recommend these for hiking and snowshoeing.

Verified Buyer

Reviewed by Karl from Carolinas on Friday, February 3, 2017

Comfortable, and easy to adjust, these poles are just about perfect. WIth one small exception: the baskets are easy to put on, but not so easy to take off. Perhaps it's an inverse property of hiking poles, but I had cheaper poles that were not as comfortable, but the baskets were easier to change out. But it's definitely not a deal breaker. These poles are great.

Verified Buyer

Reviewed by Maybug from Israel on Wednesday, December 7, 2016

I like it

Verified Buyer

Reviewed by Gray Walker from New York State on Tuesday, February 23, 2016

I've been using a pair Komperdell trekking poles very much like these for at least 10 years. I recently bought these for my adult daughter's birthday. I did a bit of research first to see if there was something out there for less than $100 that might make more sense than Komperdell. Many people prefer walking sticks that use a locking mechanism so that you don't need to twist the parts open and closed when you want to set or reset the length of the poles. Although I know the locking mechanisms make it easier to adjust the poles on the fly, I've had enough fail on me that I much prefer the low-tech "twist". Anti-shock poles also seem very popular, but I find they just add weight to poles. In the case of these Komperdell poles, the cork grip absorbs enough shock to make up for any added mechanisms.

I'm giving these poles 4 stars instead of 5 only because my daughter has not had much of a chance to use them yet.



Verified Buyer

Reviewed by Jeff from SC on Wednesday, February 17, 2016

They seem to be well made and easy to use. Time will tell!

Reviewed by HokieTrax from Mountains of SW Virginia on Saturday, January 30, 2016

I got this for my dedicated search and rescue gear. The orange color makes them visible which in SAR work is helpful. I only use one. The cords on my pack easily secure this length of pole. It came with only one basket - the other apparently came off the packaging clip before it was shipped or perhaps this batch only come with one. They are heavier than my other poles I use for regular hiking but very sturdy for the search and rescue task at hand and once secured for the desired length, they seem to stay. I like the cork grips.