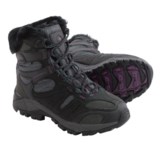 Closeouts. You'll appreciate the outstanding traction and cozy warmth of Merrell's Kiandra snow boots the moment the first storm of the season rolls in. It features waterproof breathable construction, 200g insulation and a supersoft thermal fleece lining.
Average Rating based on
63
reviews
4.587301
0
5
Verified Buyer

Reviewed by Devinjak from SLC, UT on Friday, April 7, 2017

Bought these to glacier hike in Iceland. They were perfect! Warm, waterproof, good traction and no need to be broken in.

Verified Buyer

Reviewed by Judy Sailor from California on Thursday, March 16, 2017

I purchased two pairs of these shoes in two consecutive sizes. They are very sturdy and warm. Both sizes feel OK - my test for good shoes (for bad shoes you can never find the right size)

Verified Buyer

Reviewed by Ryan from Maine on Thursday, March 9, 2017

They are both warm and comfy! The only drawback is that they run pretty big. I ordered a size 8 since they come in whole sizes, and I wear a 7 1/2. Even with thick socks on they feel a bit too big on my feet.

Reviewed by ForestLassAZ from Mountains of Arizona on Wednesday, March 1, 2017

I hesitated to purchase these Merrell Kiandra Snow Boots since they do not run true to size. Many reported they were 1/2 size smaller than stated, I found them to be a full size smaller. I normally wear a 7.5 hiking boot with thick ragg wool socks and purchased these in a size 8 since a 8.5 was not available. Wore them inside for several hours and found them tolerable, although the toe box is narrower and boot length is shorter than my Sorels. I was concerned that the ruff at the boot top may inhibit use of gaiters but they fit well. One poster stated that there was no padding/insulation in the foot and I found that untrue. A snow storm here initiated their use outside and I'm glad I did not return these boots. The fit is already conforming to my foot and my foot stayed warm. Haven't tried with snowshoes yet but I'm confident they will work well. They do not prevent slipping on ice but I don't expect any boot to do that without ice traction devices. In the end, I recommend. I downgraded 1-star for the sizing: 1/2 size larger will certainly work for thinner socks, a full size is optimal for thick wool socks.

Verified Buyer

Reviewed by Northern Ohio outdoor lover from Ohio on Monday, February 27, 2017

I usually wear a regular shoe size 7.5 but ordered size 8 and the fit was good, even with thick socks. I have a pair of regular leather Merrell casual boots in a size 7.5 so I was concerned the 8 would be too big. Boots are comfortable out of the box but have not had the opportunity to test the waterproofedness or if they will be warm in single digit temps.

Verified Buyer

Reviewed by Ana from California on Thursday, February 16, 2017

These boots are very comfortable and lighter then expected.

Verified Buyer

Reviewed by Jo from CA on Tuesday, February 14, 2017

True to size & seems well made despite being made in China which was a bit disappointing. Regardless, I haven't tried these in the snow yet so I can't speak to its performance but they seem sturdy & well made. It doesn't hurt that they're so pretty for snow boots!

Verified Buyer

Reviewed by JulieS from Colorado on Thursday, February 2, 2017

I wear these even if it's nice out because they're so comfy. They worked great on a slippery trail and kept my feet warm all day. They're so light and comfortable that I have been wearing them even when it's not snowy.

Reviewed by Nicknamer from Rockies on Sunday, January 29, 2017

I used to have a pair of insulated winter hiking boots and I have not been able to find a replacement. I gambled on these and won.

They are very warm and not unduly heavy. The fluffy collar helps keep snow out. The first day I wore them around the house for a few hours. The second day I walked outdoors at a brisk pace for an hour. No blisters, no sore spots. It is easy to tighten the laces and they stay put because they are not slippery.

I usually wear a size 7.5, occasionally a 7 and I think only once, an 8. I bought these in size 8 because they didn't have 7.5 and so many reviews said to size up. I have to wear a slightly more bulky sock than my standard issue Smartwools, so my regular size might have worked, but these are fine. My toes have wiggle room and my heel slips only the slightest bit without causing problems, way better than any actual snow boot.

These are perfect for snowy and cold conditions when a full snow boot would be heavy or uncomfortable and a simple hiking boot would not be enough.

Verified Buyer

Reviewed by NJ Hiker from NJ on Saturday, January 28, 2017

These boots appear well made as Merrell is a reputable company. I purchased them for snowshoeing, but alas we've had no snow this season. I had purchased my regular size, but returned them and went up a size. I'm hoping they are warm as my previous snowshoe boots had 400 g of insulation, and these only have 200g. Hence, the 4 stars until I wear them. It was nigh impossible to find a woman's boot with 400g appropriate for snowshoeing. I even tried the largest kids size with 400g.