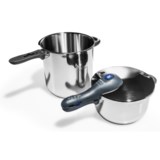 Overstock. Easy to use and able to yield impressively tasty results, WMF's Perfect Plus pressure cooker set invites you to experience the wonders of pressure cooking -- a method that produces more flavorful and aromatic foods and allows for shorter cooking time.
Average Rating based on
2
reviews
5.000000
0
5
Reviewed by Drifting Dreamer from California on Friday, December 19, 2014

I'm new to pressure cooking and was trying to decide which brand to buy. WMF was a top contender, so when I saw this set, I sprang for it, and I am glad I did. There is a small learning curve to pressure cooking, but this system is easy to use, easy to clean, and seems utterly safe. I thought I might find adjusting and maintaining pressure on my slow to react glass cooktop a challenge, but so far so good. These are heavy duty pots. The 8+ quart pot is big, but not unmanageable, and I like that I will have the option of large batches of soup or stock and won't have to worry about having sufficient capacity for big family meals. I like that the pressure can be released from the handle without getting near the steam vents. From what I have read, WMF pressure cookers may not achieve quite the high pressure of other brands, but this difference is effectively negligible when it comes to cooking (and there has been both rounding up and rounding down of pressure measurements in brand comparisons). The manual says it cooks at 239° F. The manual is generally good, though I initially was confused about the three pressure indicator lines, a question which seems to have been addressed in a perhaps hastily added comment in the cooking time chart. "Caution: The ring is given refer to the two orange rings and not to the yellow pressure indicator ring."
Accessories and replacement parts seem readily available, though not necessarily at bargain prices.

Verified Buyer

Reviewed by muskegmatt from Alaska on Friday, December 5, 2014

I'm a big fan of pressure cookers. I salvaged my mother's old Presto from the trash heap and rehabilitated it till I just didn't trust the pressure safety valve anymore and retired it. It's still in the shed, just in case. I used a much newer 4.5 quart Fagor for several years, but found it too small for some things I wanted to pressurize. The WMF 8.5 quart looked like just the thing, and getting a 4.5 along with it didn't hurt.

This is unlike any other pressure cooker I have used. The pressure valve system doesn't vent steam in the way weighted valve cookers do. An indicator valve on the handle shows the amount of pressure in the cooker, and you can adjust the heat to control the pressure, just as you would with the weighted valve type, but without any steam escaping. Cooking times are about the same, but you will likely be able to use a lower setting on the stove. The system works great, but still requires constant monitoring for safety reasons. If all three valves blow, and they will release in a progressive order so you won't be able to say you weren't warned by the cooker as it overheats, you will still have the usual mess. The instructions are clear, and anyone used to using pressure cookers should find this one easy to use.

My only caveat, and it's significant, is the longevity of the valves. Sealing rings are easily replaceable, and there are many that will work with this cooker, but you must buy the manufacturer's parts to replace any of the valves, which are made of a rubber like material. I don't know how long they will last, but the manufacturer recommends replacing them every two years. That's fine as long as parts are available. The cooker itself will last forever, but if and when parts are no longer available, you'll just have a big sauce pan. I think I'll keep that old Presto a while longer. Just in case.