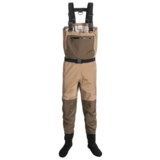 Closeouts. An excellent value with premium microfiber fabric and 4mm neoprene booties, Adamsbuilt Truckee River waders are as reliable as their namesake fishery.
Average Rating based on
11
reviews
4.000000
0
5
Verified Buyer

Reviewed by Joe Outdoors from California on Monday, September 18, 2017

These waders were priced right and appear to be of quality; from that perspective, I'll give them 5 stars.
I have not used them yet so I cannot comment on their function - I'll put them to the test next month in the high sierras.

Verified Buyer

Reviewed by CB from California on Tuesday, February 28, 2017

I bought these as a back up to my Simms waders and put them to use this past week in frozen conditions. I was surprised how well they fit and worked! I great deal for the money!

Verified Buyer

Reviewed by Lifelong Flyfisher from Florida/Montana on Thursday, December 15, 2016

I just received them, and at first look, am very pleased with the overall quality level. I've had Siimms, Orvis, and years ago Hodgeman guide level waders, and these are as good or better quality at a fraction of the cost. I'm anxious to try them, I hope the perform as well as they appear. The only negative I've found is the neoprene boots are form fitting, almost too form fitting and have heat taped seams. I'm concerend that over time, due to the tight fit, the seams may break loose and start leaking. But for the price they're more than worth the investment.

Reviewed by John from Upstate NY on Monday, December 8, 2014

Used these in the fall and they were awesome. Lots of great features for such a cheap price. Only issue is the stocking foot is little on the small side. Didn't affect my use much though.

Verified Buyer

Reviewed by Mr. Bibs from Oregon! on Thursday, October 9, 2014

The feet on these is a bit snug (I ordered Large Longs and have 11.5 feet, not uncommon for someone 6'1"), but not totally restrictive either. The built in phone cord style retractor is a nice touch, as well as the comfy fuzzy handwarmer pockets and built in gravel gaurds. The fabric seems very durable, and I think they'd last a long time. They are not super baggy fitting, and have great articulated knees that ease wading. These have a lot of the same features as the bigger names like Simms, but don't carry the price tag either. If you're into getting in the water, rather than showing off your expensive boutique waders, these are a great choice.

Verified Buyer

Reviewed by Fly fishing addict from NJ on Tuesday, September 23, 2014

These are great. Well built and comfortable. I am using these as my cold weather winter steelhead and trout waders. The fleece lined hand warmer pocket is a nice touch. They run a little small in size, I ordered large tall because they did not have any regular large left but they still fit well. I am 6'1" and 180 lbs. After using them thr first time I went to order an extra pair to save for future use but there were no more large tall left only large stount and extra small. I ordered pair of extra small for my 13 yr old son and he loves his pair also.

Verified Buyer

Reviewed by John W from Billings MT on Wednesday, September 10, 2014

I'm 5-9 175lbs and as the headline says, even the Medium-Longs are not long enough in the legs. Standing still is fine but any upward bending of the knees pulls and stresses the seams in the butt, back and thighs. I 'm almost certain the spec chart said said MLs would fit 34-36 inch inseam. I'm a 32 or 33. Quality of the product is very nice, but waders have to fit right. I have a pair of Simms Headwaters medium regulars that are perfect. They seem to be the only company that gets the legs right. Anyone with a 32 inch inseam or longer should get a large with these - assuming the legs are manufactured longer in a large than medium-longs are - but then the upper body is probably going to be a tad high and baggy unless you're closer to 5-11 and 190 pounds. I do see another reviewer at 6-1' says his MLongs fit except for the tight feet. Buying waders online is such a crapshoot. I've sent back two pairs of Patagonias here, two to Orvis (not here) and now these. The prices are just too tempting with a DealFlyer coupon at STP. If you are reading this in Sept of 2014, do the right thing and spend the money on the Simms Headwaters waders here for $229. Made in Bozeman MT and a great deal on the best waders made in all sizes. Like Apple products, Simms does not discount their waders. The Headwaters are $350 everywhere, though stores like Cabelas will drop them 10-20% sometimes. Not to $229 though.

Reviewed by JDH from Virginia on Tuesday, August 26, 2014

I have been looking for a good pair of waders. I am a size 10 foot and I'm 6-1. I need a ML wader. I got these hoping they would fit and they did, but with many waders I have tried, the neoprene stockings are just a bit too tight, causing my toes to curl and fall asleep in my boots. As soon as I put them on I new they wouldn't work for me.

Verified Buyer

Reviewed by Lar from Montana on Monday, August 18, 2014

These waders look to be high quality. However, when I tried mine on I was shocked at the tiny size of the neoprene stockings. I had a ML size wader which describes foot size of 9.5 to 11. I'd be amazed if a size 8 foot could comfortably fit into these. I returned them for a size LL and the stockings fit my size 9.5 foot better but the seam across the toes still feels a little uncomfortable. For the bargain price, I guess I'm willing to put up with a little discomfort. I hope the waders prove to be as durable as the first appear.

Verified Buyer

Reviewed by oldmanz from Wenatchee on Thursday, August 7, 2014

Haven't had a chance to get in the water, but tried them on anyway. Be careful with sizing. I think the inseam measurement is actually outseam. Tag measurements didn't match company web site sizing chart. I am going to keep them, I just don't have the room I was expecting.