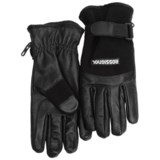 Closeouts. Lightweight and non-bulky, Rossignol's Stretch Spring gloves feature a Thinsulate®-insulated leather and knit polyester shell that won't restrict dexterity.
Average Rating based on
10
reviews
4.500000
0
5
Verified Buyer

Reviewed by Jimmy from Western Massachusetts on Wednesday, December 7, 2016

i've been wearing the rossi spring skiing gloves for many years (over 15). the perfect mid weight glove for me for everyday use when it's not well below freezing. they are meant to fit "close" and the right size will feel like it was custom made for you. the best winter driving glove while the car warms up that i've ever found.

as these have gotten incredibly pricey over the years (just saw the current version in a ski shop at $80) finding them here was amazing, as i lost one of the pair i'd been wearing).

Reviewed by Nick from Vail/Beaver Creek, CO on Sunday, December 4, 2016

This is a great pair of gloves for me. I live in CO so it's a relatively mild winter compared to VT where I grew up and I always follow the motto of more core layers=warmer extremities. That being said they keep my hands warm and are have great mobility. The have a thin layer of what is essentially dense polar fleece and then all the white and palm is genuine leather which after a week or so of wear become super supple and flexible. My hands have yet to be wet at the end of a ski day but haven't really had the day to test that out as it's been pretty dry this winter but in low teans with a wind chill my fingers were comfortable as can be.

For me a person who would be comfortable skiing in polar fleece gloves with grip pads these are super warm (I would say if fleece gloves were a 6 warm these are a 7.5) and all around an awesome glove.

I saw someone asked this so I'll add it in here the "thinsulation" which is just a slightly thicker version of the insulation layer from a good pair of ski gloves without any stuffing behind it. covers the entire inside of the glove. All the white and palm are natural leather which is also good for warmth. The black part where Rossignol is written is a flexible mesh solid but definitely breaths.

The level of insulation of these golves is enough that if there was wind and you held your hand up you wouldnt feel it but if you don't generate heat in your hands naturally you would be screwed.

For a warm blooded soul like me they are a perfect all season glove and the reason I put the level of detail into this review is I these will be my every day glove and I abosultly love them they are flexible light warm and the perfect glove for me.

Verified Buyer

Reviewed by Emm from Seattle on Thursday, November 17, 2016

Bought for spring backcountry skiing and to fit over a very thin liner glove. Size Medium was too tight and a tad too short, even with bare hands (fit like a "glove"...maybe would stretch, but too snug for my purposes). My hand measures 7.5" girth/7.5" length. Strong hands. Female. Returned gloves. Would consider a Large due to high quality and good design. I don't know where the Thinsulate insulation is in this glove. It will not keep your hands warm in winter, but would make a good spring skiing glove, cross country ski glove with a liner, a driving glove, or an equestrian glove.

Verified Buyer

Reviewed by Anonymous from St. Louis on Thursday, November 26, 2015

I got these gloves for cold weather golf and they do the job. They are not too thick yet they're good and warm and I'm still able to get a good grip. The suggested measurements are true. I measured around the palm of my hand and ordered accordingly.

Verified Buyer

Reviewed by theo from portland, ME on Tuesday, October 20, 2015

I have a pair of Rossignol thinsulate gloves like this for women, purchased from STP a couple seasons ago- they are great for driving and much warmer than their weight and thickness, my go-to until I have to bring out the big guns (which are too thick for driving). hoping that these are just as good.

Verified Buyer

Reviewed by Rayman from Iowa on Thursday, March 12, 2015

Nice looking and warm gloves! Can be used for dress or for every day needs! I liked them so much I ordered a second pair!!

Verified Buyer

Reviewed by Adventureskier from New Hampshire Backwoods on Monday, March 9, 2015

Tried out this glove and it kept them toasty touring on a dry day with temps in the teens. Tried them on another touring day with temps in the 20s and kept them on for downhill too. Didn't take long to break them in and they dry nicely. Good buy for something a little beefier than a fleece glove.

Verified Buyer

Reviewed by Sisi T. from NJ on Monday, March 9, 2015

Great men gloves for spring skiing.

Verified Buyer

Reviewed by Rob from Ohio on Sunday, February 15, 2015

Nice gloves, lightweight and well made

Verified Buyer

Reviewed by Mcj from Wisconsin on Saturday, January 31, 2015

I like the feel of the leather, and they have the knie in the right places to allow them to stretch. The sizing was a bit small for an XL, and inconsistent between fingers. Overall I like them and am wearing them for driving and around town.