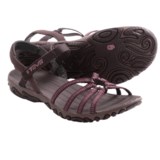 Closeouts. Perfectly suited to summer shenanigans, Teva's Kayenta sandals have patterned webbing straps, Shoc Pad heel cushioning and a grippy, water-channeling rubber outsole.
Average Rating based on
36
reviews
4.305555
0
5
Reviewed by birdgrrrl Beth from Florida's Forgotten Coast on Thursday, June 23, 2016

I have owned many pairs of Tevas in various styles over the years, and have ordered all those I've purchased in about the past five years online. Size 8 in a normal width have always fit me.

Not these! They are longer & narrower than other size 8s (I compared them with 2 other pairs I already own), & they lack the adjustability of all the others I've owned in the past 20 years. The mis-sizing wouldn't have been a big problem if they had incorporated typical Teva adjustability.

Warning: the ONLY thing that's adjustable on Kayenta sandals is the Velcro strap that goes over your foot in front of the ankle. That's it.

I assumed the toe straps were on a ring of elastic or could be moved around the central circle. Nope, they are totally fixed -- so you're out of luck if those straps don't happen to be a perfect fit for your feet.

Also, it looked to me from the website photos as though the heel strap slid through the Velcro strap so there would be some degree of adjustment. Again, nope, totally fixed in place.

Re blister potential, it didn't seem as though I'd have a rubbing problem with the pad on the heel strap as others here have mentioned, but the seams that join the heel strap & the Velcro strap on both sides of the foot are perfectly positioned to rub & cause blisters on my feet.

Just walking around my living room for a few minutes trying to decide if the toe straps might eventually stretch out caused red rubbed areas on my skin where the aforementioned seams were -- not to mention where some of the toe straps rubbed.

They're pretty sandals, but really? These fall far below the normal comfort standard of Tevas. All they would have had to do was design in some of the simple adjustments which I thought were present, & these would been another great pair of sandals for serious walkers like me -- a wildlife biologist who walks many miles on beaches studying shorebirds & wears Teva sandals more than any other shoes except in the dead of winter... when I mostly wear a pair of Teva clogs.

I suppose that if you're one of those girls who wear cute little shoes, don't actually walk anywhere much, & don't care how well they fit, you might like these. Regular outdoorsy Teva wearers beware!

As you might imagine, these are going back. I'm guessing issues like those I cited are why the Kayenta sandals are being offered all over the Internet at deep discounts. Think I'm gonna get me another pair of Tirras in a new color to be my "dressy" Tevas!

Verified Buyer

Reviewed by Suz from Kalispell on Thursday, June 2, 2016

I wanted these sandals to work but there was a cheap little rectangle of vinyl stitched to the inside of the back strap. Why? Totally unnecessary, unattractive & unbelievably uncomfortable; a real blister maker. Thought about trying to remove it but it was stitched on tight. Sandals went back.

Reviewed by Suz from Kalispell on Tuesday, May 24, 2016

There is a small piece of cheap vinyl stitched to the inside of the strap that goes behind the heel. It was unbearable with one step, a sure blister maker. I thought if it could be removed the sandal would work but alas, it is stitched on. These went back.

Reviewed by aireepotter from California on Wednesday, May 11, 2016

Really comfortable walking around, even for longer distances but the strap broke less than a year after purchasing and wearing. I sewed it back together but it broke again. Saddened.

Verified Buyer

Reviewed by akdivine from NJ on Tuesday, March 29, 2016

These sandals fit well and are immediately comfortable. Not as clunky as the old school Teva's I'm used to.

Verified Buyer

Reviewed by Wandering Homegirl from Portland, OR on Friday, January 29, 2016

These sandals feel very comfortable and are flattering for the ankle and lower leg. They look good with shorts or a skirt; much more feminine than the usual bulky Teva sandals. They fit true to size. I haven't had a chance to wear them much yet so I can't rate their durability or comfort with a lot of walking.

Verified Buyer

Reviewed by Tracy S. from Vermont on Tuesday, January 26, 2016

Excellent summer sandal, and even appropriate for work; sturdy, pretty. You can't see them very well in the photo, but the front straps have little gold designs along them, which dresses up the sandal a bit. I am a somewhat narrower size 9 and these fit me very nicely. Wider feet might have a pretty snug fit, though. Good tread.

Verified Buyer

Reviewed by CharBark from Boston on Saturday, January 16, 2016

Got these for white water rafting in Nepal. I swore I'd never own an ugly teva/chaco shoe but in this case they seemed the most practical for adventuring. These tevas are very comfortable and pretty - true to size

Verified Buyer

Reviewed by Linda from Mathews va on Wednesday, December 2, 2015

I've worn the Kayenta sandal for years and have found them to be comfortable and sturdy. I was so pleased to find a black with a metallic thread...a little more "dressy".

Reviewed by Elaine from Arizona on Sunday, February 1, 2015

The sandals are well made and attractive. The size seemed a little long and narrow for me.