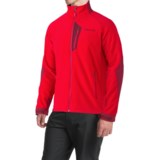 Closeouts. Only the rugged, breezy-weather mountains of Colorado's breathtaking Front Range could inspire a technical jacket this awesome. Up to the task of its namesake, Marmot's Front Range fleece jacket is a wind-blocking, insulating layer in performance microfleece, complete with reinforced abrasion panels and a superlight, layer-friendly design.
Average Rating based on
25
reviews
4.320000
0
5
Verified Buyer

Reviewed by joe from michigan on Wednesday, April 26, 2017

thick, warm, windstopper

Verified Buyer

Reviewed by Richard from Kentucky on Wednesday, April 5, 2017

Good quality, fits smaller than expected

Verified Buyer

Reviewed by StuffsackStu from US of Merica on Friday, March 24, 2017

Size Lg: wanted to love, but good in the middle, too tight in the chest and shoulders. 6' 220 and I actually own the XL = great in shoulders /chest and a bit billowy in the middle, but I'll keep it and return the LG. Every other aspect, from stitching to windproofing to hem tightening via the pockets is top notch and it remains a solid jacket.

Verified Buyer

Reviewed by Hogfat from SE US on Wednesday, March 8, 2017

The fit in the shoulders is *slightly* tight. It fits fantastic with a single shirt under it, but if you were wearing additional layers I could see how it might be uncomfortable. That said, I wear this over single layers, so it's fine. I love the way it feels, although due to the windstopper material it is a tiny bit stiff, but I don't really notice it once you're moving. My only real criticism is I wish the cuffs were elastic or fitted rather than velcro. Due to the stiffness of the material velcroing the cuffs down to a tighter fit creates an uncomfortable "fold" of material. But if you leave it slightly open, it's fine.

Overall, a very comfortable, if slightly flawed jacket. Definitely not worth it's $180 MSRP, but *absolutely* worth the price at STP.

Reviewed by StuffsackStu from Usa on Friday, March 3, 2017

I am 6-foot 220 pounds and I guess one would say athletic build with a little bit of a belly and I got the XL based upon reviews that said it was tight in the shoulder. The XL shoulder and chest fit great for me but it has a lot of room in the midsection, and if I traded in for a large I'm pretty certain it won't fit in the chest/torso but the belly will be perfect. Great windstopping power, warm, and overall I'm going to keep the jacket

Verified Buyer

Reviewed by Fabdad from Colorado on Monday, February 27, 2017

I do live on the Front Range and the coat is soft and warm even during our days of strong wind. I walk to/from work, and am fine even down to the teen temps. Waist adjusts easily, phone/ipod pocket is better than others in that you slide your device towards your arm, then it swings downward into position - so it won't fall out when opened like other jacket pockets have a tendency to do.

Verified Buyer

Reviewed by Average American Apparel Shopper from The United States of America on Tuesday, January 24, 2017

Great for the cold windy days with two to three under-layers of sweat wicking shirts.

Reviewed by Cat from Seattle on Tuesday, January 3, 2017

Marmot is good quality and jacket is very well made. The issue is the fit: my husband is 5'6" and 130 lbs, and yet the small jacket didn't fit. As others have mentioned, this jacket is cut narrow in the shoulders and gives little room in the upper body. The small was returned for a medium which fits his shoulders. It's a lot roomy in the waist and a couple inches longer than needed (and he is long waisted for being 5'6") but will be a good summer jacket for NW Cascades. Honestly the men's small would be a better fit for a boy or narrow built woman.

Verified Buyer

Reviewed by Average American Apparel Shopper from The United States of America on Thursday, December 22, 2016

With two layers underneath, this jacket does not allow the cold to get in during a cold and windy running excursion. Amazingly well-fitting with secure Velcro wrap straps at the wrist. The neck area zips closed tightly to keep the heat in. Very nice with the Goretex which, in my opinion, have never found an equal.

Stops the wind from freezing you to the bone and makes the cold and sweating quite bearable. Gets the job done. A real running partner!

Verified Buyer

Reviewed by Tom from Florida on Wednesday, December 21, 2016

Nice quality construction and material. This is a replacement for a 20year old Solstice windstopper fleece that I used routinely as an under layer on cold days skiing and as a three season jacket (full on Winter jacket here in Florida). I ski about 2 weeks a year in the Rockies. The Marmot is a little snug in the shoulders and longer in the waist. I think it will do its job. I have only had it out one day, but it seems up to the task.