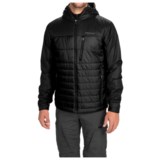 Closeouts. Durably constructed with breathable, high-loft insulation and a low-profile hood, Marmot's Caldera jacket is perfect as a mid- or outer-layer in moderately cold winter conditions.
Average Rating based on
21
reviews
4.428571
0
5
Verified Buyer

Reviewed by Jimmie from Virginia on Thursday, January 5, 2017

The jacket looked great and was warm. It shipped to the house with lightning speed. The only problem is I ordered a Lg and needed a XL. My fault.

Verified Buyer

Reviewed by Adam from Santa Cruz, CA on Friday, December 16, 2016

I live in the coastal mountains of northern California and this jacket is awesome to put on in the chilly mornings. The insulation is great and warms you up quickly without over heating. Worn it in the rain too, does well with shedding a light drizzle but a down pour would not suffice.

Buy one

Verified Buyer

Reviewed by Allen from No. Cal. on Saturday, December 3, 2016

I'm delighted to have gotten this before they're all gone.

Verified Buyer

Reviewed by Swiss Army Bob from West Virginia on Thursday, September 29, 2016

I bought this because I oftentimes wish I had a hood. It was much less expensive than a down jacket and I am rarely outside enough to warrant a down jacket anyway so this fit the bill perfectly. I bought a large (6'2", 190 lbs) and it fits great. I am almost looking forward to it getting cold out to wear it!

Reviewed by LW from Virginia on Thursday, June 9, 2016

I read about the two different jackets and ordered the black on the off chance I would end up with the newer, lighter, and more packable version but ended up getting the older version with wrist and hood adjustments. It's heavier and warmer than what I expected/wanted, but my wife pulled the tags before I could send it back.

For what it's worth, it seems well constructed. The chest pocket is a definite plus and it fits well and true to size. I'm 6'4" 165 with 36" sleeve and the medium is a pretty good fit though the sleeves could be a hair longer.

Verified Buyer

Reviewed by Troutbum from Lexington, KY on Friday, April 8, 2016

The Marmot Caldera is an absolute must have for the active outdoor enthusiast. I am an outdoor nut and a lover of coats. I have way too many jackets, according to my wife, but I am a firm believer in having the right gear for the right situation. I have owned a coat/jacket (yes, i know the difference) from just about all of the big name brands (Marmot, North Face, Mountain Hardware, MontBell, Columbia, Patagonia, etc) out there and have to stand by this one as among the best. I am an avid rock climber and fly fisherman, and this jacket fits the bill perfectly. I am 6' 180 lbs with long arms and an athletic build (read large shoulders, small waist) and ordered the large which fits like a glove. After reading several reviews I decided to take a stab and am thankful. The length of the jacket is a bit longer than most jackets in this category, making it super nice as a belay jacket. It covers my waist and half of my buttocks making it great at eliminating the draft that can steal your heat at a belay stance. If you don't want it to hang low, the waist line draw cords allow for easy adjustment. The hood really makes this coat in my opinion. The three point adjustment system allows for perfect fit with or without a helmet and keeps you from looking like a little kid wearing Dad's coat. One review mentioned that depending on the color you select that the jacket may be different than advertised. For clarity, I ordered the blue one. The only negative, and I know this is picky, is the draw cords have a lot of extra cord to begin with, making any adjustment result in a lot of extra cord. I highly recommend this jacket!

Verified Buyer

Reviewed by Eli in the wood. from New York on Thursday, March 10, 2016

I live in the Catskills and walk the woods every day. High-loft insulation is really more practical than down when you want to control the heat. Insulation is needed but you don't want to much heat as you intensify your walk. The jacket really breaths and is designed to be used in layers inside the jacket or a shell outside.

The hood, the bottom of the jacket and cuffs can be adjusted.

I've been using Marmot for years. They have always been into details in their design and in their construction. This is a great jacket!

Reviewed by Bart from New Jersey on Tuesday, March 1, 2016

This is a great jacket. Picked it up at Marshalls for $49. Can't beat the price/value ratio. It's warm enough, has a great adjustable hood, warm pockets, and most importantly, fits great...not too tight or too loose. I'm 5' 10.5" and 160-165lbs. I have wide shoulders and narrow, size 30 waist. Wear a size 38R or 40R suit jacket (39R would be perfect if they made that size). I use the drawcord on the hem to close it up a bit to keep the warm in/cold out. Use it mostly for casual wear. Blocks the wind pretty well and keeps you warm in colder temps as long as you're moving. Overall a fantastic jacket.

Verified Buyer

Reviewed by lvjbird from Las Vegas, NV on Monday, February 22, 2016

Got this for my husband who is really picky about clothes. He loves it. I got the black, which in the picture is a different one than we got. His came with the velcro sleeves and drawstrings. He likes the velcro on the sleeves so that is good. He is about 6'1", 180 - got the large which is perfect for an outer layer.
The only thing he didn't like is the pocket it packs into (on the inside of jacket). It doesn't really compress it much so he bought a 4L stuff sack for it which is just right. He took it up in the snow this weekend and it served the purpose really well! Came out great after a wash and dry as well. I also bought the White Sierra which is very similar but he liked this one better. The WS jacket is lighter weight, not as thick of a shell.

Reviewed by Johnny RC from Billings, Mt on Thursday, February 18, 2016

I have tried several puffy jackets, And this filled the most roles on top of the best fit. TNF, Armada, Columbia, tried several and either returned them or eBayed them. Some were too breathable, others had strange fits with long arms and inseams, or were fit like 1 or 2 sizes larger that the actual size. I'm Keeping this one. Fit is somewhere between a true Athletic, and Relaxed, and fits like other actual Marmot jackets I own. This fits well enough to keep heat in, and could be used Under a shell, yet I didn't feel restricted. Plus, I could still fit a trim fleece underneath it no problem. I found this piece pretty Windproof and snow resistant, though would not trust it in heavy rain. This jacket fills a niche where I want more insulation than my softshell, still fits a wide temp range ( I was comfortable in windy 25-45F conditions all during one weekend) and could still be packed down as a backup insulation piece to a shell if I wanted. 2 things that could be improved, the Hood fits sloppy, though I bought the blue one with hood cinches, it's still big enough for a Helmet, (Why? Who is wearing a jacket like this over a helmet, get a belay jacket), and a pocket for packing into itself. I can at least buy a stuff sack for it, though I'll most likely roll it into it's own hood. I have been a Marmot gear fan for years, and this continues that trend.