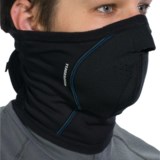 Closeouts. Komperdell's neoprene-fleece face mask provides ultimate cold-weather protection thanks to windproof, water-repellent and warm neoprene and fleece construction.
Average Rating based on
17
reviews
3.588235
0
5
Verified Buyer

Reviewed by Fred from Illinois on Sunday, January 1, 2017

I personally didn't like it. It could be the shape of my face but the mask slipped down to around my neck.

Verified Buyer

Reviewed by Jk from Iowa on Friday, December 30, 2016

Lined on the inside to keep my face warm. Keeps off the wind as well.

Verified Buyer

Reviewed by NYFISHERMAN58 from N.Y. on Tuesday, December 27, 2016

FITS GOOD, TENDS TO SLIDE SOME ON MY FACE. SHOULD HAVE BOUGHT THE FULL HOOD MASK.

Verified Buyer

Reviewed by James from Brooklyn on Friday, October 7, 2016

I don't wear masks often, but I wanted one in my arsenal just in case. This mask wraps around you face and you Velcro it behind your head. It's not terribly comfortable. The nose hole doesn't fit snugly. It generally doesn't fit snugly, and I'm leery of it's ability to stay in place once I'm skiing or moving about. However, it's cheap, it's warm, and if I have to use it, I'll already be uncomfortable. So overall I'm not thrilled or disappointed. If you plan on wearing a mask frequently, I'd go for higher quality or different design.

Verified Buyer

Reviewed by Mike on a hike from Salt Lake City on Thursday, September 29, 2016

Haven;t used it outside yet, but fits great, is more comfortable than my previous stiffer mask and seems like good quality for the discount price.

Verified Buyer

Reviewed by Sled1954 from Massachusetts on Saturday, May 14, 2016

I believe I have finished with my face and head gear for the Appalachian Trail...saw this on here and thought now that is a great idea, can't tell you how well it works yet, but I have faith it will be fine if the snow is coming at me in all directions...I do push myself and I like to challenge myself so knowing I can be comfortable makes it much easier...

Reviewed by Katie from Wisconsin on Friday, February 26, 2016

This is a great idea, but it kept falling down off my cheeks and nose. The velcro back does allow for a wide range of sizes, but the problem is that it sits at the base of the back of my head. This position pulls the nose/mouth/cheek area down. I was constantly tugging it back up. If it actually stayed in place, it would have been fantastic. I suspect that it just wasn't a good fit for my small/medium head/face. A cinch around the upper edge would have helped.

Verified Buyer

Reviewed by Mandy Sue from Colorado on Saturday, February 20, 2016

Every other face mask I've tried has made me feel as if I am suffocating, but this one is both warm and comfortable. The front part, near the mouth and nose, is made of a stiffer cloth, so it holds its shape away from your mouth. For me, this allows fresh air to collect and warm up--I breathe that air instead of the cold outer air, and I don't feel as if I am breathing through a straw. Rather than having an adjustable band at the back, it has rows of velcro set into soft, pliable fleece to let you to simply slap it together in back with the exact tightness and position you want. I like it higher up to cover most of my ears, but you can decide.The fleece is also relatively thin, so you can wear it under your helmet. In short, this mask has allowed me to greatly expand my idea of what makes for a "skiable day" in terms of wind and cold.

Reviewed by viewfromhere from Colorado on Friday, February 19, 2016

I really like the material and feel of this face mask, but it just does not stay up over the nose, ears, and mouth at all. Even with goggles to hold it in place, this mask just will not stay up for more than 2 or 3 minutes- if that.

Verified Buyer

Reviewed by Winter traveler from FL on Sunday, February 7, 2016

This face mask was a softer material than I expected, and was very comfortable, but was unfortunately too big for my face/head. It kept slipping down from my ears and nose. I am 5'5", 125 pounds, and have a relatively smallish face - I have trouble finding sunglasses that don't look to big on me - so this one-size mask may fit most others. It fit my 6'0" 200 pound husband just right, and he ended up keeping it. I got this same face mask in the child's one-size, and it fit me much better.