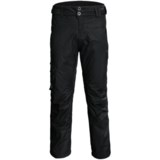 Closeouts. With water-repellent fabric, critical seams sealed and low-bulk Thinsulate® insulation, Rossignol's Atlas ski pants shoulder the weight of winter weather so you can go out and enjoy your day on the slopes in comfort.
Average Rating based on
4
reviews
3.750000
0
5
Verified Buyer

Reviewed by xfooey from Brooklyn, NY on Wednesday, November 16, 2016

Got these to wear when I ride my scooter this winter. They seem well insulated and fit me well. No pinching anywhere. Lots of zippered pockets. Hopefully, I won't have to wear them a lot!

Reviewed by Johnny the Hiker from USA, East/West/S. America on Wednesday, March 4, 2015

Besides it being too long, odd hip bulges shaped for a woman (IN THE MANS VERSION), a short zipper fly, and oddly-placed pockets down on the front and back of the pant-legs, there is no abrasion protection on ankle inseam- that is a MUST for ALPINE SKIERS. So, I am sure this is a suitable garment for that baggy snow-boarder look many are sporting these days but, this is NOT a Ski Pant based on those I have bought, worn, and loved over the past 40-years. Love you Sierra, its just these pants are for youth, dude, dudette, boarders. Not skiers.

Verified Buyer

Reviewed by Vogelflug from Los Angeles on Wednesday, March 4, 2015

These pants are great - they are not baggy and you don't feel like you have elephant legs on the slopes. They are warm and don't have that cheap 'rustle' that you get with budget pants. The only downside is the belting. The straps are a little thin and really don't allow you to cinch down really tight. I'm slim, so this is an issue. If you have a bigger build, it probably won't be an issue.


Reviewed by Griddy from Texas on Tuesday, January 27, 2015

I ordered these in a Small for my husband (5'8" 155 lb) for our ski trip in March. He hasn't used them yet, but says the fit is quite comfortable and not too bulky. Unlike the really baggy, wide-legged look of many snowboard pants these have a leaner look that will work well for skiing. Since return postage costs extra from Sierra I thought I would add some further details about this particular pant that might help others in their selection. First, the generic size chart listed by Sierra isn't exactly correct for this Rossignol brand. The sizing chart on the actual Rossignol site denotes Size S as 82cm (32 1/4 inches). I measured inside the actual waistband on these Atlas pants and it is slightly under 33 inches. He has a 32" waist so they fit well. Because we will ski in March and they are already insulated it is unlikely he will need to add another layer underneath. However, he would have no problem wearing a base layer underneath if needed. The Velcro tabs on the sides can adjust if needed to make to waist smaller by at least 1-2 inches. There are also additional belt loops around the pants if needed. Second, the legs of these pants are far from a "skin tight" or skinny jean look, but if the size of your thighs are above average (whether larger or just more muscular) you may find these somewhat snug or uncomfortable. Sierra doesn't list the waterproof/breathability rating for these pants but they are 5000mm. While these are fine for our ski conditions they might not be the best choice for others. If you need pants for really wet and cold conditions conditions or are new to snowsports and might be sitting in the snow and/or falling down a lot you might want to consider pants with a higher rating. Finally, they do not have zipper thigh vents which might be an issue if that's something you specifically need. There was a specific question about this on the Q and A section. The Sierra response was that although there are no thigh vents these pants have "small vent holes below the lower pocket". Just to clarify…. these holes in NO WAY will work to vent the pants. There is a zippered pocket on the outer right leg of the pants starting just above the knee (you can see in the picture where there is a slight protrusion visible on right pant leg). That protrusion is actually the bottom of the lower pocket. There are 2 very small holes (less than 1/4") on each lower corner with metal grommets around them. Since the pocket is attached to the outside of the pants those holes do nothing to ventilate your legs. I'm sure they have a purpose, but I don't know what it could be. If you fall down a lot any snow or water could seep into that pocket. I will remind my husband not to put his phone in there!
Hope this info helps to avoid any ordering mistakes. I will update my review if there are any problems after use.