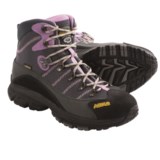 Closeouts. When you want rugged, reliable, waterproof breathable protection for the trails, lace up Asolo's Horizon 1 hiking boots. Fortified with a waterproof breathable Gore-Tex® membrane, made of abrasion-resistant Cordura® nylon and finished with a traction-hungry outsole, these are the boots that keep your feet dry, supported and stable on a variety of terrain.
Average Rating based on
56
reviews
4.428571
0
5
Verified Buyer

Reviewed by SMAK from Texas on Saturday, March 31, 2018

Not my first rodeo with these, my last pair lasted 2 1/2 years with mega miles on the treads. I am not easy on them and they are on for 10-14 hours a day. This has been my favorite color.

Verified Buyer

Reviewed by Cynthia from Massachusetts on Sunday, March 25, 2018

This is my second pair! Purchased a pair for my daughter as well. Stylish and durable. They barely need breaking in! Box to trail.

Verified Buyer

Reviewed by Lindsey from Michigan on Wednesday, January 17, 2018

These boots were really comfortable, but too long. I usually wear a six but I'll be exchanging them for a half size smaller! They also have a strong chemical smell (my husband says "like axle grease"), which I'm hoping will air out before too long.

Verified Buyer

Reviewed by Anne from MA on Wednesday, November 29, 2017

great boots, very lightweight but sturdy

Verified Buyer

Reviewed by Mango on the mountains from Colorado on Wednesday, November 8, 2017

Although many people find these shoes pleasant, i tried to adapt to them but I couldn't. Two things, first, the insoles are thin and stiff, I have to replace them with softer insoles that offer more comfort, but this problem can be fixed. Second, there is a pressure point in the tongue of the right shoe, which is a result of stitches inside the tongue that feel hard like a small stone, this one can't be overcome and I feel so uncomfortable wearing the shoe. The left shoe is fine, I wish the right shoe was like the left. Plus, they don't run small, I bought 6.5 but I could go down to 6.

Verified Buyer

Reviewed by Rifffy from Melbourne Australia on Tuesday, September 19, 2017

These are my second pair of Asolos. The first I loved, but were actually quite a bit too big, ordered these a size down (as recommended) and I'm so pleased with the fit of these! Lovely arch support, sturdy and waterproof. They look great too. 5 starts STP!

Verified Buyer

Reviewed by Allison from Claremont, Western Australian on Tuesday, September 12, 2017

Very pleased with my new Asolo boots. For length, they are true to my size 5 with room for the toes, they are a bit tight in width with thicker socks but am able to adjust the laces to allow more room. Have been wearing them around the house as they are a little stiff but I'm sure they will turn out to be my favourite hiking boots. Nice light weight boot. Thanks STP.

Verified Buyer

Reviewed by JV from Colorado on Thursday, August 24, 2017

I took these on a 10 mile hike right off the bat and they did great!

Verified Buyer

Reviewed by Hiker Dog from Washington State on Monday, July 31, 2017

I agree w/the previous reviewers, order 1/2 sz larger & there's plenty of room for SuperFeet... the toe guard is great for stumbles on rocky terrain, and the hooks for the laces keep them cinched up on long hikes, no adjusting needed. Very comfortable and waterproof.

Verified Buyer

Reviewed by Symba from East Coast on Thursday, July 27, 2017

I needed boots with stability to work in our steep, rocky yard. With these, I've also found TRAVEL boots! We've just returned from Italy-had NO trouble this time with the cobblestone streets, and left my taller, usually faster, husband in the dust at the airports with what he now calls my "turbo boots"! I LOVE them so much that I bought my 87 year old Mother a pair for stability in her walking... and I've bought a second pair, for myself, so I can use them in the yard without worrying about getting my travel/everyday boots dirty!

Just a note: Italy was scorching hot, but I wore these under nice linen pants, and they actually looked really nice! Another note: I did put a cushioned Spenco arch support in them, on top of the existing boot insert... and I wear super comfy, hiking socks with them, too. Personally, I find these two things essential to add to the comfort for my feet. I've told so many people about these, I'll be surprised if they last long! My Husband is even going to buy a similar pair from this company, mostly to be able to keep up with me in airports!:-)

Everyone's feet are shaped differently, but these REALLY work for me. There is PLENTY of room in the toe area. But, if you have toes that "stick up higher" than normal, and want to put an arch support in, you MAY need to remove the existing insert... but there is a lot of toe room to begin with!

Oh, and one last thing... I actually RAN in the airports twice to catch train shuttles with NO trouble... and I am not really a runner!

In the end, they may have to pry these off my cold, dead feet. (Actually they'd be warm because of my boots!);-) LOVVVVVVVE THEM!!!!!