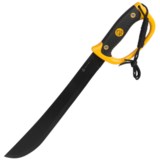 Closeouts. Built for clearing brush (and conquering pirate ships), Puma Knife Company USA's Bush23 XP machete has a long-lasting cutting edge built from 3CR14 stainless steel and includes a ballistic nylon sheath.
Average Rating based on
4
reviews
4.250000
0
5
Reviewed by Davey Crockett from Tennessee, California on Saturday, May 13, 2017

The machete itself is OK, but disappointed that I received green instead of the yellow I ordered. Plus disappointed that the logo disc was missing thus leaving a circular area in the handle with the glue that apparently was supposed to keep it on. Cheesy quality control, and poor workmanship.

As for the sheath... absolute junk that ripped in about three places after wearing it on my belt for about half a day of hiking.

Would not recommend.

Verified Buyer

Reviewed by shopper guy from Michigan on Tuesday, March 7, 2017

5 stars for the STP price. I have seen better but not for under 20 bucks. Not the sharpest blade out of the box but it's nice and solid.

Verified Buyer

Reviewed by Gadgeteer from SoCal on Tuesday, September 30, 2014

Although I have had a Puma knife for several decades and it is heirloom quality I wasn't expecting much from the machete given that its price was about the same as discount and tool store versions. I was pleased and surprised to find that it was thicker and sharper than the junk you get routinely. A few moments with a steel and you can shave with it making it literally razor sharp although you wouldn't want to trade in your 5 blade razor. Machetes are the ultimate survival knives and you can find many videos on how to use them for emergency shelter construction etc. They are especially valuable in California where open carry of firearms is illegal and a very real threat from lions and coyotes exists. I'll take a razor sharp machete over a rock or a stick or harsh language thank you very little. Plus if the lion wins then you get to go straight to Valhalla carried by Valkyries. Nothing else in your backpack carries that kind of guarantee.

Verified Buyer

Reviewed by Old Tireman from Western PA on Monday, August 25, 2014

Excellent, well made product but then you expect that from Puma. I bought it because I was tired of bushwacking to get to different parts of my favorite trout stream. You should be able to hack down everything up to and including small trees with this. Sheath is very nice.