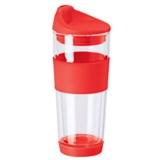 Closeouts. Keep your beverage hot and your hands cool with OGGI's Double-Wall glass travel mug. The non-slip grip and easy-drink spout makes this mug a real winner.
Average Rating based on
31
reviews
3.774193
0
5
Verified Buyer

Reviewed by Mary from Massachusetts on Wednesday, August 24, 2016

Exactly what I needed! Keeps my tea hot. Easy to clean.

Verified Buyer

Reviewed by Matt from California on Sunday, August 21, 2016

They seem to keep my coffee hot. I'm still afraid of what will happen when they get dropped; we shall see. My wife wanted several to customize with a glass etching kit she has to give to friends and family. This kind of glass won't etch.
Of the 12 cups we ordered 3 or 4 have issues with the bottom piece of rubber staying on. So that's why the 4 star rating. I'm still deciding whether to return them or not.

Verified Buyer

Reviewed by Nor Borp from Utah on Wednesday, August 10, 2016

I like being able to see my (usually gross) coffee residue, so this glass tumbler is great for me! The lid is a little weird, doesn't seem like it's guaranteed to stay on. Kind of makes me feel like a kid drinking from a silicone sippy cup. But overall, holds heat for enough time and is easy to clean

Reviewed by Florinda from California on Friday, May 27, 2016

As a serial tea drinker, these mugs are the bees' knees. Tea tastes gorgeous, stays at the right temperature for longer. No weird taste from plastic or stainless steel. Would give more than 3 stars EXCEPT: They come with a silicon fitted botton - in my experience this feature does not make them any more 'grippy' on surfaces. The design is slightly tapered at bottom, a design flaw in my opinion, because the silicon cover adds weight on top & does something to the balance. One bump and they tip over. They can be very brreakable this way, and when they break it's to smitherreens. I've broken 3 this way. But I still adore these mugs, because I love my tea; tea brews just perfect in these mugs. I try to be more careful with them than I would with a normal travel mug, they are glass after all. Would not recommend if you had small children around or pets that could jostle, etc.

Verified Buyer

Reviewed by Shopper from Nc on Friday, April 22, 2016

Great for hot and cold, I use this daily, good quality

Verified Buyer

Reviewed by Shopper from Nc on Tuesday, April 19, 2016

I ordered this thinking it was the same one I seen at a Tj maxx store, it is a little different, the lid is soft silicone, I haven't had any problems with it

Reviewed by sallykayak from foothills of the Adirondacks on Sunday, February 21, 2016

I drink hot tea, and tea tastes terrible in both plastic and metal. So I was glad to find this one of glass. You have to be careful when putting the top on, as it likes to get a wrinkle in the inside part, which will make it drip on you, but since the cup is clear you can easily see if there is a gap. I put a cheap foam can cozie on mine to give it a little added insulation and a firmer grip in the car's cup holder. Other comments say it is not microwave safe, but I put mine in the microwave every day with no ill effects. The silicone band seems to have stretched a bit with repeated removals and placements, but it's not a big deal.

Verified Buyer

Reviewed by karla from cv ca on Thursday, March 26, 2015

used this for coffee and it did not keep coffee hot for as long as my thermal mug but I do drink my coffee slowly. like it better for keeping drinks cold.
I may buy more of these for gifts

Verified Buyer

Reviewed by Dog Lover from New Mexico on Wednesday, March 25, 2015

The glass tumbler feels good in the hand and keeps the coffee warm. I am not impressed with the way the silcon bottom and top fit to the glass container. It is distracting yet workable. I purchased it with a 40% off coupon making the price extremely attractive relative to other travel cups. At that low price, I would buy it again.

Verified Buyer

Reviewed by Sue from Evansville IN on Thursday, March 19, 2015

Not so happy, the lid is loose as a goose. Have not tried it yet but I am afraid to drink with the lid on because I don't want to wear my drink. The bottom is loose also and drops off. I will probably look at gluing the bottom on but don't think there is much of a fix for the lid. I am disappointed because I expected more from this brand.