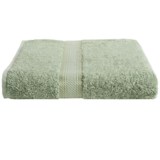 Closeouts. Stage your own bath time rhapsody with Chortex's Rhapsody Royale bath towel, soft and highly absorbent in luxury-weight 600gsm Egyptian cotton.
Average Rating based on
11
reviews
4.181818
0
5
Verified Buyer

Reviewed by Isabella from China on Wednesday, January 4, 2017

very good

Verified Buyer

Reviewed by StevieB from CA on Sunday, January 1, 2017

I Loved these bath sheets. I ordered 4 more towels!
Definitely recommend!

Verified Buyer

Reviewed by Goldie from CAlifornia on Monday, December 5, 2016

This bath sheet is a pleasant color green and a generous size for bathing. I have washed these and theyndo not seem ultra plush or soft but not stiff either, just okay. I have both other Choetex towels and these are comparable but not as soft after washing.

Verified Buyer

Reviewed by StevieB from Ca on Sunday, December 4, 2016

I bought two bath sheets and absolutely loved them!
I had to get more so I purchased four more towels. This way everyone one in the household has one to use!!
I would definitely recommend these towels.


Reviewed by Anna from St. Louis on Thursday, November 3, 2016

These towels shed a HUGE amount of lint & fluff. I've washed them according to directions 8 times. They still shed, everywhere, all the time. Unfortunately I bought the turquoise color and have bright turquoise lint/dust all over the bathroom and all over our skin. At this point I'm going to bundle them up and donate them all (8 total). Yes, they are soft and fluffy, but that fluff is impossible to get rid. I found them much LESS absorbent than I would have expected. AVOID THEM LIKE THE PLAGUE.

Verified Buyer

Reviewed by Teri from Florida on Wednesday, November 2, 2016

Very soft & large..

Reviewed by wbb from California on Saturday, October 22, 2016

I bought a set of these bath sheets (undersized they are) and a hand towel to go with them. The color is nice but as for the towels themselves, not impressive at all. Lots of loose threads all over the place and I dread having to wash them as they shed lots of lint. I'd recommend buying the 700 gm ones as they are of a superior quality and provide the coverage one expects from a bath sheet.

Verified Buyer

Reviewed by Average foot from TX on Sunday, September 4, 2016

Nice and soft, though not as thick as I was expecting. Color is nice, but not quite what I was expecting from the pics. Good absorbency. Main problem was the stitching. It's loose along 12"+ lengths and will need to be trimmed along two of the edges. A couple loose/broken loops as well. On one edge, stitching ran over the first row of loops. I was expecting a little more quality and a towel that would last a number of years. Because of the stitching problems, it may only last a year or so. But for the $15 I got it for, it'll do. I've always chosen the Turkish Towel Co. towels and have always been impressed with the quality and construction, so I'll be sticking with them the next time I need a replacement.

Reviewed by WindDancer from Indiana on Wednesday, June 22, 2016

I am very pleased with the quality, durability, color and style of the Chortex towels and bath sheets I purchased. The Noble purple color is exactly what I was looking for. Thanks for offering a quality product at a great price.

Verified Buyer

Reviewed by WindDancer from Indiana on Tuesday, June 14, 2016

This is exactly what I was looking for- Deep purple high quality towel at a great price. They are very soft and solidly constructed. I am looking forward to enjoying these for years to come.