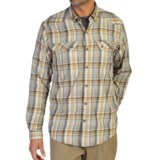 Closeouts. A bold plaid with serious technical treatments, ExOfficio's Minimo Plaid shirt is a step away from heaven. The mesh-lined ventilation system, UPF 50+ sun protection and seriously light, fast-drying fabric combine to pack a powerful punch o' trail-ready action.
Average Rating based on
11
reviews
4.636363
0
5
Verified Buyer

Reviewed by Stevan from NC on Wednesday, July 20, 2016

Tested the ExOfficio Minimo Plaid Shirt over 5 days on 2 separate occasions, a day hike on the Mt. Mitchell Black Crest Trail and a 3 night trip on the AT, from Unaka Mtn to 19E on the NC-TN border. Pros: super-lightweight, dries crazy fast, cool in direct sun, and feels great while wearing. Cons: lack of sleeve tabs and lackluster durability.

On the day hike the shirt performed well, providing excellent ventilation and sun protection while drying quickly. Noticed a loose thread that needed to be re-stitched and a few frays where a thorn or stick had caught the super-light fabric, but overall the shirt was in excellent shape after a rugged day on the trail.

On the AT, the shirt again performed well against sun, rain, and sweat. The sleeves stayed up well despite the lack of tabs... thinking I only had to re-adjust the rolled sleeves twice the entire trip. As this was the go-to-shirt for hiking on the trip, it saw 4 consecutive days of use and managed odors well.

The shirt definitely performed as advertised, but I am disappointed with the lack of durability. The left sleeve near the shoulder has thinned and is heavily "picked", with the material clumped in small knots (attempted uploading picture). Not sure exactly sure as to the cause of this issue, but due to the location thinking it was not due to friction with the pack strap. Overall this is a great shirt and performs extremely well, just don't plan on using as a casual shirt after a few days on the trail.



Reviewed by Roger from New York on Friday, June 24, 2016

This is my new favorite shirt and I wear a lot of long sleeve active / hiking / low profile and breathable shirts. This one is by far my favorite, ultra light weight, feels like silk and very breathable! I am definitely going to buy more. I think the size fits fine and is true to size. Great look and amazing feel. You will not be disappointed.

Verified Buyer

Reviewed by Van Man from Arixona on Sunday, June 5, 2016

I saw this shirt and decided to give it a try. The weight and the UPF of 50 were the main factors for this choice. I am a native Arizonan and outdoors person. I have had several skin cancer surgeries and probably at lest 300 burned off. I don't go out now without a long sleeved shirt. right now it is 109 degrees and I just got back from an a\outing. The shirt protected me and wasn't excessively hot. I have found the best shirt for me.

Verified Buyer

Reviewed by Michelle from Denver on Wednesday, June 1, 2016

Tissue weight, wash and dry quickly. Looks dressy for a technical performance shirt.

Verified Buyer

Reviewed by keep it simple from AZ on Thursday, May 19, 2016

Super lightweight, rugged fabric. Great quality. I must say it would be nice to see a more subdued color selection. This shirt is really brighter than I would prefer.

Verified Buyer

Reviewed by Mark NE from Boston, MA on Friday, May 13, 2016

It's hard to explain this fabric, it's like an ultralight high-thread-count durable fabric, almost silk-like but a bit more substantial. It can be worn with nothing underneath and is still very comfortable. The fabric is breathable yet the weave is so tight it blocks wind really well, and I'm talking as good as a soft shell. Throw a light merino wool base layer under it and you'll be good down to the 40s if you're active. Every design detail is solid, from the pockets to the stitching and hem locations. You could backpack with this, then go straight to a nice restaurant. I have multiple patterns and they're all gorgeous in person. The contrast panels in the collar and cuffs are stylish and comfortable. The waist hem is cut so it can be tucked in but also can be worn untucked and still look great. It is insanely packable. The whole thing packs into it's own chest pocket, and can be compressed to the same size as a light glove, no exaggeration. You could easily fit this shirt in an 8oz coffe cup. It also weighs close to nothing.
Fit: a little large...I'm 6'1", 180lbs, athletic, and I got medium. I have full shoulder range of motion with no tightness in the chest or shoulders.

Verified Buyer

Reviewed by Joe from Florida on Friday, May 6, 2016

Fit is tight for Ex Officio sizing due to nylon material. Color not close to image shown.

Verified Buyer

Reviewed by andy_r from Washington on Wednesday, April 27, 2016

This is by far my new favorite shirt. I bought 3 of them. Super lightweight yet still UPF +50! Exactly what I needed and I highly reccomend this product for anyone looking for comfortable hot-weather sun protection. Excellent.

Verified Buyer

Reviewed by Don from Rochester on Wednesday, July 15, 2015

nice looking

Verified Buyer

Reviewed by River from Flagstaff on Monday, July 13, 2015

I wore this shirt and another like it on the river in hot weather. The protection was great and the shirt helped keep me cool. The fabric is very comfortable and light on my skin.