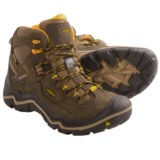 2nds. Enjoy the trek through the woods and over the mountain thanks to the comfort features in Keen's Durand hiking boots. The KEEN.DRY waterproof breathable protection allows the journey to continue even while the creek waters rise.
Average Rating based on
25
reviews
4.000000
0
5
Verified Buyer

Reviewed by Homemaker in Nevada from Gardnerville, NV on Thursday, August 27, 2015

I love Keen's Hiking Boots! They're wider in the toe area; a better fit for my feet.

Verified Buyer

Reviewed by Skye from Kentucky on Wednesday, July 29, 2015

True to the description; waterproof. Very comfy. Will buy another pair.

Verified Buyer

Reviewed by Nina the hiker from skokie on Wednesday, July 8, 2015

A bit rough boots. They need lots breaking in. Usially KEEN are good with little down time, but not this boots. d bootsStill goo

Verified Buyer

Reviewed by TJC from Colorado on Thursday, July 2, 2015

I finally was able to get a pair of Keen hiking boots 5 summers ago and they turned our to be the best pair of hiking anything I had ever gotten. Liked in Page, AZ and did make hikes in the area including Buckskin Gultch the most beautiful hike in the area done in the winter months. My feet got a half size bigger after the birth of my first baby so I needed to get a new pair of keens. Settled on these as you can't beat the price. First big hike will be end of this month. Can't wait!! Gone on a few long walks with these new boots and I love!

Reviewed by ADKHiker from Adirondacks on Tuesday, June 30, 2015

I love Keen shoes, and was looking forward to replacing my worn-out Patagonia hiking boots with this pair. Unfortunately, the seam along the toe of the shoe ripped during my first hike in these boots, making the boots unusable. Because they fell apart while being used (something which has *never* happened with my Patagonias, I might add...), I cannot get a replacement from STP or Keen.
Very disappointed in these boots, and am upset that I wasted my money on a pair of shoes which I now have to replace.
Other Keen shoes and boots might be fantastic, but these are a huge disappointment.
Save your money, and do not buy these, regardless of how nice they look.


Verified Buyer

Reviewed by HikingGalapagos from Savannah, GA on Tuesday, June 23, 2015

These shoes were not seconds with cosmetic damage, as advertised, There was excess lining in the toe of one shoe making it much too small and dangerous to wear. Keen sells good shoes, but these never should have been shipped to Sierra or to me. They were clearly defective, not seconds.

Reviewed by Anonymous from Chicago on Tuesday, June 23, 2015

I have several pairs of Keen shoes and boots and love the way these look. I couldn't decide which color (brown or gray) so I got both! STP has such a great price, I could afford them. As soon as they arrived, I tried them on and they made my feet very happy. :) I think they are true to size.

Verified Buyer

Reviewed by Snakee from Monfingtana on Tuesday, June 23, 2015

Could be a little more padding in the heal but otherwise amazing

Verified Buyer

Reviewed by natch from Oregon on Monday, June 22, 2015

On quick glance these boots appear just like the first-quality Durand boots but upon closer inspection they are different in the heel counter. These 2nd quality boots have sloppy fabric stitching. My daughter used them on a hike and developed a blister pretty quickly on one foot at the back of the heel. I had her remove the boot so I could do blister care and discovered a rather pronounced fold of fabric on the interior surface of the heel counter. Once home we compared these boots to a pair of first-quality Durands from a local retailer and saw that the first-quality boots have a very smooth surface in comparison. The exterior material is also different and appears more finished on first-quality boots. We ended up purchasing the first-quality pair from our local shop. Since she used these boots we are now unable to return them. Sometimes you win, sometimes you lose...


Verified Buyer

Reviewed by Bob's Your Uncle from New England on Thursday, June 18, 2015

I got such a great deal on these boots I really feel like I stole them! I never owned Keen shoes before, so it was a leap of faith ordering my regular shoe size. Thanks to previous reviewers who said they fit true to size. They did for me, as well. And there is plenty of room for a thicker hiking sock. Even though they are seconds, I didn't notice any issue with my boots. I am really pleased with them and can't wait to ditch my old, uncomfortable hiking boots!