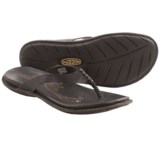 Closeouts. Earthy-casual summer style is but an "ahh" away in Keen's Alman flip-flop sandals. With a handstitched, laser-cut leather upper and super-supportive footbed, these babies have beach time written all over them.
Average Rating based on
10
reviews
2.500000
0
5
Reviewed by Happy Indy Mommy from IN on Tuesday, March 22, 2016

These are such gorgeous flip flops........buuuuut, the other reviews aren't alone. Mine too were to long in the front and I have long toes. Making the back so my heal hang off the back. As I am a "day one" they started selling keen, I have several pair and buy all my bare foot shoes in keen a size 7.5 others in 8 I'm thinking 8.5 in these....I'm so crushed they don't fit :(

Reviewed by arblebeedie from seattle on Monday, January 4, 2016

These must have been 2nds, the right and left fit differently. A beautiful sandal, sad they weren't the same. I ordered the 9.5 since other reviewers said the toe area seemed too far back and i have long big toes. Usually I'm a 9. One fit fine, although tight over the instep on top. The other was waaay too far back and so tight it was painful and I have medium-narrow feet.

Verified Buyer

Reviewed by Erica from Florida on Tuesday, August 25, 2015

These were well constructed shoes but the sizing was way off.

Verified Buyer

Reviewed by Erica from Florida on Tuesday, August 25, 2015

These were well constructed shoes but the sizing was way off.

Verified Buyer

Reviewed by ljkonkol from Wyoming on Tuesday, August 18, 2015

Sandals are stylish, but way to narrow to fit over feet. Like the look but simply to narrow so gave them a two and returning them.

Verified Buyer

Reviewed by Allaboutcomfort from SE Oklahoma on Monday, August 10, 2015

I figured since these are basically just flip-flops, and since I have a pair of Keen flip-flops that fit great, these had to fit, right? Wrong. They were basically the correct length, but the toe strap held my feet back way too far so that my toes where more than an inch back from the end while my heels hung off the back just a bit. So they looked way too big in the front, but too small from the back - very odd. Maybe this would work for somebody with really long toes, but not me. I knew I would never wear them, so I sent them back.

Verified Buyer

Reviewed by LFletch from Colorado on Thursday, April 23, 2015

Nice shoes. I have had a pair of Keen leather flip flops for a few years and they are amazing! I was so excited to find these. My only issue with them is that the foot band sits really far back so there is a lot of room in front of the toes and not much at all for the heel. I had to order a 1/2 size larger because my regular size had my heel hanging over the back. I hope that they stretch out some and they should be great.

Verified Buyer

Reviewed by jillybeans from MO on Tuesday, April 14, 2015

These would be really nice sandals if the manufacturer had set the piece that goes between the toes 1/4 of an inch or so forward. As it is the foot sits back a little too far. If you have really long toes this might be good but if you don't then you are going to have too much empty shoe sitting in front of your foot. I compared them with other flip flops and found it to be consistent that these sandals had the toe thong sat back further in the sandal than any other flip flop.

Reviewed by Wisco from Wisconsin on Saturday, February 21, 2015

I buy a lot of Keen sandals and the pair I was sent I couldn't even put them on my feet. I think the strap is too far back on the sandal. Maybe a manufacture defect. Bought my size 10 and couldn't get my foot in the sandal. I have never had this problem with any Keen sandal or any other shoe from Sierra for that matter.

Reviewed by Epsilon from San Francisco on Tuesday, October 14, 2014

The sandals looked very sturdy and well made. They seemed like they'd have better traction than the average flip-flop and looked nice enough to be a bit dressy. Unfortunately, they were just too narrow for my feet.