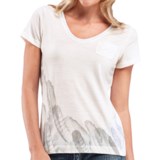 Discontinued. Lest it slip your mind how truly light the Icebreaker Harmony 150 T-shirt is, there's a softly rendered plume print at the bottom to reinforce its feather weight. Perfect in warm weather.
Average Rating based on
9
reviews
4.111111
0
5
Verified Buyer

Reviewed by 2342nb from Connecticut on Monday, September 5, 2016

No cleavage showing for me, please, and the color of my bra is my business, not anyone else's.
However, it smells fine after a hot and sweaty day.

Verified Buyer

Reviewed by Adventurous from Tupelo on Tuesday, August 30, 2016

Shirt held up to its standards. Was able to mix with several bottoms I purchased. I layered with other merino wool top, and both kept me at comfortable temperature.

Verified Buyer

Reviewed by Just a Traveler from California on Monday, August 8, 2016

It feels very high quality. A few other wool tshirts I have tried feel too clingy. This one has a nice drape. Very flattering.

Verified Buyer

Reviewed by KoalaPhoenix from Phoenix, AZ on Sunday, April 17, 2016

I have the white one. The neckline seems to be a cross between a U and a V. I own many Icebreaker tees and I think this one adds something different to the collection.

Reviewed by Jenny Bee from Tennessee on Friday, November 6, 2015

I wanted this shirt because of the color but put off buying it for a long time because I hate pointless pockets. Finally, after not seeing any more bright colors come available in my size, I decided to bite the bullet. A few minutes of careful work with a seam ripper took the pocket right off and the needle holes disappeared in the wash. There is gray piping at the neckline which I didn't notice in the product photo - a nice finishing detail that convinced me to take a deep breath and start snipping the pocket stitching.

Verified Buyer

Reviewed by BatCave29 from Seattle, WA on Tuesday, June 16, 2015

I am so excited on their new everyday collection. Finally they make t-shirt that is not body hanging. It keep me cool and dry at the hot day, warm when the wind pick up. Just can't get enough of icebreaker wears.


Verified Buyer

Reviewed by Elli from Asheville, NC on Wednesday, April 8, 2015

I like this shirt. Dressier then most tees but so comfortable with the wool. Feels nicer wearing to work then cotton tees - just a bit dressier. This cut is bigger on me then other Icebreaker tees. I'd try a small if they had it. The v-neck t is more fitted. This cream color is definitely see through. I'm wearing it with a tank underneath.

Verified Buyer

Reviewed by Neophyte Runner from Minnesota on Thursday, February 26, 2015

Love this shirt! Feels very good and looks better. Thank you Icebreaker for making great clothes from natural fibers.

Reviewed by pltk from Michigan on Wednesday, January 14, 2015

I was hoping for a white shirt to layer over, but this one is would need another layer underneath. I can clearly see my beige bra underneath. Otherwise, the fit is fine--large was relaxed on my 160 lb 36C body.