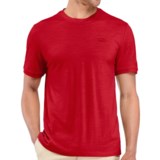 Discontinued. If you thought merino wool was only about warmth, think again! Icebreakers's Superfine 150 Tech T-Lite shirt is made of ultralight merino wool, an adaptive fiber that's perfect for regulating your temperature in variable weather (it's super soft next to skin, too!)
Average Rating based on
30
reviews
4.600000
0
5
Verified Buyer

Reviewed by Long Walk from Northern Idaho on Wednesday, March 29, 2017

After using this shirt for multiple hikes, including 5 days on the Colorado Trail, I have grown to love it. It is comfortable, wicks moisture, and most importantly, keeps the stink out. After a hard day of hiking in it I was able to lay it over a rock to air out and could barely smell any body odor after the next morning when I put it back on. The only thing I that bothered me was it was a bit itchy the first time I wore it. After a wash cycle it was much better.

Verified Buyer

Reviewed by Mama Rita from Washington on Monday, March 6, 2017

I have been wearing merino clothing for several years and my husband would tease me about wearing wool in warm weather. Now I have purchased several pieces for him and he sees the light now. I bought 4 icebreaker tshirts from Sierra Trading Post for our trip to Florida. We just got back and he didn't wear any other shirts besides Icebreaker. The fit was perfect. He takes an XL and that's what I purchased. The only thing he mentioned was that he is used to a fuller cut sleeve. He seemed to adjust to the sleeves. I definitely recommend this shirt, the price is excellent.

Verified Buyer

Reviewed by jim from Michigan on Friday, March 3, 2017

A great product the new wools, a temperature control garment with no sweat no smell and no itch. Have switched to the wools, for all the polyesters the big brands can not come close.

Verified Buyer

Reviewed by Peter from St. Paul on Friday, March 3, 2017

Despite being only 150 weight, this shirt has a feel an look of a thicker, heavier material. This makes it nice to wear as a going-out t-shirt rather than just as a baselayer or athletic shirt.

Verified Buyer

Reviewed by MSugar from Tucson, AZ on Thursday, January 14, 2016

This was given as a gift to a friend. The friend loved the color and the material but didn't love the boxy fit through the torso; the shoulders/chest/arms fit well buy the stomach/abdomen area was to big.

Verified Buyer

Reviewed by rl from Las Vegas on Saturday, December 12, 2015

Soft, comfortable, anti-odor. I'm 6'2" 170 lbs and the large fits me perfectly. I wear this shirt as a baselayer when hiking as well as for everyday use.

Verified Buyer

Reviewed by Asbury from Missouri on Thursday, December 10, 2015

This is a great shirt to wear under just about anything. Can wear it for days without any stink.

Verified Buyer

Reviewed by Bubbah from Tennessee on Monday, August 17, 2015

I'm building quite the collection of Icebreaker wool products and this Tee is one of my favorites; good fit, good feel, no problems!!!
Highly recommended!

Verified Buyer

Reviewed by The Milkman from Northern Wisconsin on Wednesday, July 1, 2015

This is everything you expect from Icebreaker in terms of a comfortable, quality shirt. It does all the things you'd expect from merino wool. I love the color and the cut. It's not too athletic as to be tight fitting, and not baggy either. The reason for 4 stars and not 5 is that the feel is not as soft as some other merino wool t-shirts I own, even shirts from Ice Breaker. I don't really notice it while wearing it, but it's noticeable comparing other shirts by rubbing the fabric between my fingers.

Verified Buyer

Reviewed by JV from Wisconsin on Wednesday, May 20, 2015

The shirt works like it should in every climate condition, but I don't know whether it will hold up as well as other merino wool t-shirts I have. It seems a bit too light to be durable for regular use over time. I'll hold off on giving it a 4th star for now.