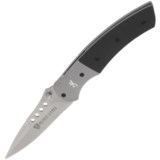 Closeouts. A low-profile folder, Browning's Black Label Sliver pocket knife delivers tactical performance with a hollow-ground 440C stainless steel blade and a G-10 handle.
Average Rating based on
3
reviews
4.666666
0
5
Verified Buyer

Reviewed by Skibikefish from Colorado on Tuesday, July 21, 2015

Good knife for the sale price. If you have large hands it might be tricky to open

Reviewed by Jeff from Connecticut on Monday, July 13, 2015

I've had more time to check out this great knife. Yes, the Black Label series are well-worth the money, especially when on sale. I commented on my previous review about my assumption of a blade tension set-screw being under the bolster (#8 Torx?). After taking the cover off of this area to familiarize myself further with the knife, it appears the Torx screw located there effects the centering of the blade, not so much for adjusting blade tension.
These knives are all fine-tuned by Browning before being sent out, both of my Black Label knives having perfectly centered blades. But after loosening, lightly oiling & then re-tightening the set-screw, the blade was noticibly easier to open & close. Just make sure the blade is re-centered & back off VERY slightly to allow more movement. My blade is centered & even easier to use.
As far as having a reversible clip, I don't see how this is possible? There are only clip holes for positioning as-shown & the bolster cover on the opposite side has no holes for the clip either. So it appears to be for right-hand carrying but ambidextrous opening due to dual thumb studs on the blade.
Still, a great knife especially when on special.

Reviewed by Jeff from Connecticut on Thursday, July 9, 2015

I just received 2 Browning Black Label Knives I purchased during a clearance sale. These are extremely well-built, high-quality tactical knives that would be fitting for any occasion due to the "classy" design. For less than $13+ $0.99 shipping, I'm literally blown away by this knife! Even at 3x the price, it would be worth it. Razor-sharp right out of the box, excellent blade lockup upon opening, the G10 scales very comfortable & but slightly too smooth for a great grip. This is a manual-opening knife, actually a good thing due to the extreme sharpness of the blade. I collect knives & have been hesitant about trying one of the "Black Label" series knives having no experience other than reviews from other knife sites. These sell for $75+ on some, a little high compared to STP prices. The knife sits low with the clip in my pocket, a plus when carrying a knife like this.
It seems that it could be used for any light-use purpose besides for protection if needed. Using a knife for protection is always a last-ditch effort but this knife has an intimidating look due to the "sliver" shape of the blade. I always carry a knife & the more it doesn't stick out, the better. You get less looks from people that don't get why having a good knife is always a good thing.
This knife has holes drilled in the blade to remove some of the weight & actually helps with opening it using the thumbs stubs located on both sides. Everything with knife screams CLASS but is scary-sharp! Put some high-end light oil in the pivot area, work the blade for about 5 minutes & opens so smoothly.
You DEFINITELY need to pick a few of this series of Browning knives up when at clearance prices with special shipping costs. Next time they are reduced again, I'm picking up 3-4 to give as gifts that would be for family members. Also bought a "Turning Point Carbon" version that I plan on reviewing.