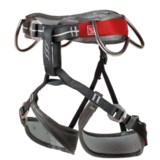 Closeouts. An all-purpose design built for a woman's figure, the Ocun Twist Lady climbing harness has fully adjustable leg loops and a fully padded waist with a wide size adjustment range.
Average Rating based on
5
reviews
4.800000
0
5
Verified Buyer

Reviewed by Kelly Rose from California on Tuesday, February 2, 2016

I'm so happy with this harness! My last harness was not woman-specific, and it was fine, but this one is actually *comfortable*. I'm delighted. The leg loops adjust nicely to fit my cyclist legs, and there's plenty of space for the waist to adjust more if I needed it. One thing, though; there's no weight-bearing loop on the back of the harness. This isn't really that big a deal, but if I were climbing outside where I might need rescue on the regular, I'd want the rear weight bearing loop to make rescue easier.

Verified Buyer

Reviewed by Kari from Iowa on Tuesday, October 13, 2015

I'm a beginner climber and have only used at an indoor climbing gym, but this product has worked great for me thus far!

Verified Buyer

Reviewed by Beth from North Carolina on Monday, February 23, 2015

When I received this harness, my first reactions were that it was going to be too small, and that it didn't look as beefy as the Mammut Ophira I'd been using. I've changed my mind.

First, it is amazingly adjustable. Not only was it not too small for me (I usually fall somewhere between L and XL when it comes to women's sports equipment), it would fit someone larger than me, and it also would fit someone much smaller. Aside from having lots of adjustment room in the leg loops, the waist is constructed so you can center the front loops no matter how much you tighten it. You could make this harness comfortable for most average to large adults. If you have a hard time finding a harness that will fit both your waist and your legs, or if you're in the process of losing/gaining weight, or more than one person plans to use it, this is ideal.

I've only used it in the gym a couple of times, so I can't speak to durability, but I did fall MANY times during those two gym sessions, and it didn't tighten up and dig into me, nor did it stretch or slip, so I can say it does what it's meant to do just fine.

It doesn't have a plastic shield to prevent friction between the belay loop and the tie-in loops like some harnesses do, so be sure to check the insides of the loops frequently.

And color isn't very important in a piece of safety equipment, but I do like the dark red. It's neither plain black nor blinding neon, and its easy to tell your harness from your friends'.

Verified Buyer

Reviewed by XENA_AZ from Arizona on Friday, January 16, 2015

Very solid construction yet comfortable and easy to adjust. The waistband moves around allowing you to position it where you want. Nice gear loops too. An all around great harness, very hard to top this one for the price. It is a total winner from this Czech Republic company.

Verified Buyer

Reviewed by Rup from CA on Sunday, December 28, 2014

Fits and she loves it. Tried several harnesses at REI but could not get the proper leg-loop to waist ratio OR the waist belt tightened up and was off-center (makes the belay loop off-center too). This fit both ways and the padding slides around so you can still center the front loops.

Solid quality, not too girly a color (she does not do pink), and the adjustments are easy.