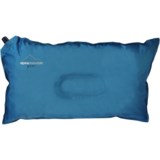 Closeouts. With its compact design and cushioning open-cell foam, the Alpine Mountain Gear self-inflating camp pillow is ideal for backpacking or car camping with the family.
Average Rating based on
20
reviews
3.950000
0
5
Reviewed by USAtravelermom from CA on Thursday, August 10, 2017

My son basically "camped" for two months on his mission trip to the Philippines. He said this pillow made a big difference to his comfort as he had not wanted to take it at first. (Mom was loading him up with too much gear). Unfortunately, it got a tear in it, but instead of de-flating, would simply stay In-flated. I guess that's better than the alternative. But they were moving island to island, so packing it up was problematic. He scrunched it in to the sack and it would inflate to the size of the sack. It would have been helpful if a patch kit had come with it. Now that he's home, the pillow is not unusable. We will probably patch it so he can camp with it.

Reviewed by Surg from Texas on Thursday, July 6, 2017

Purchased this pillow on my 3 week trip from retail store. Used about 3 times before it developed a small leak on one of the seams. Pillow felt great and it would have been definitely 5 stars if it had just worked more than 3x



Verified Buyer

Reviewed by Hallie Rose from Washington on Thursday, June 15, 2017

Recently bought this guy for a car camping trip. It was quite comefortable. Doesn't take up as much room as a real pillow, but would probably be a bit too large to take on a backpacking trip (compresses down to about the size of a roll of toilet paper). Worked well for what I needed!

Verified Buyer

Reviewed by Justknow from Kentucky on Tuesday, May 30, 2017

This pillow is the perfect size for camping, etc.
I like that it is inflatable and folds up small.
Will be trying it out this weekend camping.

Reviewed by ipartner48 from Alberta on Saturday, October 3, 2015

Yes, it's large - like a roll of toilet paper but you know that when you see the specs beforehand. I was looking for something that packs reasonably small but is insulated for car camping use. As soon as you open up the valve, you can hear the air sucking in. I gave it a couple of more breaths so it was about half inflated and put in the hood of my sleeping bag. Awesome, very warm and comfortable. Highly recommended for car camping or comfort backpacking.

Verified Buyer

Reviewed by Ski the East from VT on Friday, September 11, 2015

This pillow is ideal for adding a touch of firmness inside a traditional poly-filled camp pillow. I just shoved it into the bottom of the pillow case/stuff sack of the poly pillow and it made an ideal firm base for the softer fill on top. Then you can just open the valve and roll them up together. Doesn't pack down really small, but it's light and well worth bringing along if you want a really comfy pillow. A bit of luxury on the trail, a no-brainer if car camping.

Verified Buyer

Reviewed by Jetdoctor from Seattle on Friday, September 4, 2015

Nice sized pillow for car camping. Comes in a bag approximately the size of a large roll of toilet paper. This is not a replacement for an Exped or Big Agness pillow for backpacking. Remember to bring a pillow case. Overall good quality, but the foam inside is fairly stiff. Add a few breaths of air and sleep well.

Verified Buyer

Reviewed by Ed from Broadview Heights on Thursday, September 3, 2015

It's not the lightest or most comfortable pillow around but it's comfortable, especially if you find that sweet-spot of how much to inflate it, and it's definitely better than using a waded up t-shirt. But use that t-shirt to wrap around it because the polyester fabric with polyurethane coating is slick. Like others have said, the foam is lumpy but if you inflate it then you don't really notice. I'd buy it again, at the right price.

Reviewed by Marc from Massachusetts on Monday, August 31, 2015

The foam filler prevents this from getting small so there isn't a huge difference between it having air or not. I'd recommend getting one without the foam interior if you want to backpack with it. I'll likely return mine. I just can't justify the space it takes up in my pack for the very small pillow it becomes. Geez, just ball up your jacket.

Verified Buyer

Reviewed by Rick from Jordan on Monday, August 24, 2015

Pillow appears to be well made. Nice fabric on exterior. Valve works and seems robust. What I do not like is the fact it is lumpy. You can feel the square pieces of foam on the inside. You can even see the lumps when it is deflated a bit. For the money I paid(deal flyer) I think this was a value. At regular price I may have felt less satisfied. I do like the fact it is rectangular rather than square. Makes it seem a bit more like a pillow.