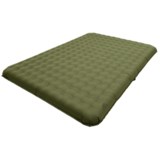 Closeouts. About as close as you can get to your Posturepedic in the wilderness, ALPS Mountaineering Velocity Queen air bed has strong coils that provide a solid and comfortable sleep. Handy rechargeable pump inflates and also deflates so you can easily get it back inside its carry bag.
Average Rating based on
17
reviews
4.294117
0
5
Verified Buyer

Reviewed by Anioakly from Summit County on Thursday, May 18, 2017

Very impressed...mattress is solid when inflated, lots of baffles, inflates quickly... And it comes with rechargeable pump with car charger, really slick.

Reviewed by RopeBurn from Arkansas on Saturday, December 17, 2016

this air bed is solid. inflates/deflates super quick. packs down pretty nice. pvc free, so it doesn't have that weird plastic death smell. slightly inconvenient charge then use pump (can't use pump while it is charging).

Verified Buyer

Reviewed by S. K from California on Monday, October 10, 2016

Took a first time camper and spent five days where the temperature dropped into the low twenties, compounded with the fact they have a bad back. The mattress inflated very quickly and held its firmness throughout the trip. It was also very light and folded up compactly. I highly recommend this mattress due to the comfort and how it exceeded my expectations.

Reviewed by Dinomatic from Texas on Friday, September 23, 2016

We bought this air mattress before a 9 week tour of the National Parks. Slept on in most nights. The mattress is very comfortable and didn't lose air during the night. Also, the rechargeable pump worked great, we could get 1-3 inflations with each charge. We charged the pump with the included car charger in between stops. It is a little bulky and best suited for car camping but really enhanced our comfort on the road. Truly one of the best camping gear purchases I've made!

Verified Buyer

Reviewed by Patty from Bellingham on Tuesday, September 13, 2016

We have taken this on one long camping trip. It slept me, my husband and my dog. It was comfortable and seems very durable. We had one Alps inflatable before and it was good. This one seems tougher and durable then our previous model.

Reviewed by Carly from Portland OR on Friday, August 12, 2016

Was super excited about this camping mattress for our recent cross-country road trip as it fits perfectly in the back of our small SUV and in our backpacking tent. The material is very sturdy and it felt comfortable to lie on when first inflated. Unfortunately the first night we actually slept on it, we woke up on the cold hard ground due to a slow leak which we could not locate. We thought maybe we just didn't screw the valve cap all the way closed, so we double checked everything and tried again the next night. Same thing.

When I contacted the returns department I clearly described the issue and requested they refund me the return shipping fee since the item was defective, and to credit my card directly instead of giving me instant online credit (after receiving 3 defective products in one order, I did not plan to shop here again). They said they would, yet weeks went by without receiving a refund, any notification that they received my return, or a credit for the return shipping.

Today when I reached out again, they confirmed that they did receive the item but that I have to use my online instant credit to shop with them again, or wait 60 days for it to refund my card. They also noted that they wouldn't refund the return shipping since the returns department did not find the item defective. It's nearly impossible for someone to find the item defective since the leak is so slow that it takes 6 hours with two people (120 and 160 lb respectively) sleeping on it to fully deflate. The customer service agent was rude and unhelpful, and only when I said I would not be shopping here again did she offer me a $6.95 "e-deals" card as compensation for the shipping. Fun fact - you can only use this e-deal with Sierra. It seems to me that Sierra profits by selling defective merchandise and then making returns or exchanges a total nightmare and/or forcing you to shop with them again. I don't care how good the deals are, I will not shop here again after this experience and I urge you not to either.

Verified Buyer

Reviewed by karlos from idaho on Friday, July 22, 2016

have been using inflatable mattresses for years for car camping. inevitably you end up on the ground as they usually leak. watched alps' video and researched quite a few air beds. when it arrived, i skeptically charged the charger and inflated the mattress, threw a memory foam topper on it and hit the hay. woke up and no noticeable air had escaped. slept on it all week and was shocked that it didn't seem to lose air. it's super light, has a great charger, stuff sack and is pvc free. at stp prices, it can't be beat. just ordered another one to turn the entire tent into a bounce house. great product!

Reviewed by Mw from Nc on Monday, July 11, 2016

can't believe how little this air bed weighs. It's so light.
It pumps up tight and holds the air all night. very happy with how it did on our 4 night camping trip recently. i've also used it at home for guests.

Reviewed by Hayduke from Black Hills on Sunday, June 5, 2016

Very comfortable. Pump works great, a solid three fills before recharge.
Here is the down side: ZERO insulative value. Would recommend a fleece blanket underneath your bag/bags.
Otherwise, I dig it.

Verified Buyer

Reviewed by Joyfulheart82 from MI on Thursday, April 28, 2016

I only slept on this one night so far, but it was comfortable and held the air. The seam looks really durable. It is also light.