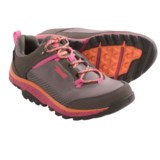 Closeouts. Trail-ready and built for mud or loose dirt, Teva's Surge trail shoes feature an eVent® waterproof breathable membrane. The cushioned insole and Spider365 outsole provide generous comfort and support on a variety of terrains.
Average Rating based on
46
reviews
4.239130
0
5
Verified Buyer

Reviewed by Alishia from Rhode Island on Monday, January 11, 2016

These shoes were comfortable out of the box. I have yet to wear them hiking, but I've been wearing them to work where I am on my feet most of the day. They are a little odd looking due to the Tevasphere under the arch, but if you are willing to trade in on looks for comfort I would definitely recommend these shoes.

Verified Buyer

Reviewed by Anonymous from Hawaii on Saturday, December 26, 2015

Size: I ordered size 7 (after measuring my feet in cm it should be the right size but it was little bit too tight). Recommend measuring your feet - then get half size larger.
Waterproof: I put the shoes on and stick my feet under the stream of water - shoe remained completely dry inside.
Hiking; very comfortable when walking in them, very steady when walking on rocks.
Look; they look better then hiking shoes usually do, I ordered black, wouldn't order any other then black color though as they look too funny with other colors.

Verified Buyer

Reviewed by Go hike! from NC on Friday, December 11, 2015

No breaking in period, comfortable right out of the box.

Verified Buyer

Reviewed by Cactusannie from New York on Sunday, November 29, 2015

These shoes were comfortable right out of the box. And they really are waterproof. I like them a lot.

Verified Buyer

Reviewed by Early rising walker from Oregon on Monday, November 16, 2015

I bought these for wet weather walking and am pleased with them so far. I have a pair of the Teva Sphere trail running shoes that I bought last year and love. I appreciate the stability and support in the arch and grippy soles. They do have a slightly narrower toe box than many other brands, but fit well. This model has more lining that my other pair making them seem to fit more snugly.

Reviewed by Bert Blood from Colorado on Sunday, November 15, 2015

Beware if you have a neoprene allergy. I only touched them getting them out of the box before I had an allergic reaction. The old description does not mention neoprene but it mentioned a copyrighted material. I guess it's got neoprene or an ingredient that is similar.

Reviewed by Alectra from Whiteface Mountain on Friday, October 30, 2015

I live in the high peaks region of the Adirondacks. My everyday walks are rugged. These are the best trail shoes I've ever had. I have Keen, Merrill, Salomon shoes/boot. The inside is soft, I don't wear socks. The insole grips your foot. My heel never slipped. I was just walking on lightly snow covered slight frozen leaves with rocks and roots underneath and never a slip. The tread keeps your foot flat, prevents rocking to the side or rolling your ankle.There is alot of cushion in there without the bulkiness alot of shoes have. It was in the 30's and I was toasty warm without a chill from sweating and no socks. Not only was my foot dry but they didn't even look wet. They are also comfy enough to walk on pavement. They felt great right out of the box, no need to "break them in". Order 1/2 size up for barefoot and a whole size up in you like thickish socks.

Verified Buyer

Reviewed by Park adventurer from New Jersey on Monday, October 19, 2015

Just got these trail shoes last week after sending back the first pair since they were a little tight. I am very pleased with the fit and started wearing these almost everyday instead of my sneakers. Very comfortable, flexible, well-made, top quality shoe.

Verified Buyer

Reviewed by lilyredcloud from Texas on Tuesday, September 22, 2015

I love these shoes. They provide the right support and don't look too bad.
The only thing I don't get is why purple laces? I know I can change them
but it seems kind of odd on a serious hiking shoe like this.

Verified Buyer

Reviewed by banana from Washington on Wednesday, September 16, 2015

This shoe has one of the best arch supports I have ever experienced. I've logged about 30 miles of trail hiking over 5 days wearing these babies and they did not disappoint. I couldn't feel any of the rough or sharp gravel on the trails! They also grip really well when crossing over slippery rocks or driftwood. Tevas are the best! These are my second pair of trail shoes and I continue to be impressed. The only new thing I noticed is that due to the extra tread under the arch, it makes me correct my walking position - for the better! My achilles are still trying to get used to this though.