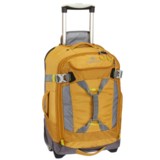 Closeouts. Eagle Creek's Load Warrior LT upright duffel bag is built from reinforced and durable fabric to handle the stress of travel. The expandable main compartment features compression straps so the size of your bag matches the size of your gear.
Average Rating based on
12
reviews
5.000000
0
5
Verified Buyer

Reviewed by potatofisher from South Dakota on Thursday, July 14, 2016

My husband and I recently got back from three weeks in Australia, and we each packed one of these for the trip. They were dragged through 11 airplane flights and a week of camping in the Outback in that time, and aside from being a bit dirty, they're still as good as new. No impending rips or tears or anything (and I was definitely pushing it trying to squish in some souvenirs in for the trip home). There's also plenty of space--everything I needed for 3 weeks was in here. The wheels are more rugged than usual, which is great when you aren't just pulling your bag around an airport, and the different pockets and straps are great for packing and organizing everything you need. The bag itself is also quite light compared to some others, so it won't cut into your airline weight limit as much. So glad I bought this.

Reviewed by BJ from MA on Monday, June 6, 2016

I've traveled with Eagle Creek bags for years, and recently I went through a period when I didn't have one that was carry-on size. I used other bags that were fine, but not great, and they've since fallen apart. I bought one of these Load Warrior 22's, and then a second, and am very happy with them. They're going to Canada and Micronesia this summer, and I have no doubt that they'll be roomy enough to accommodate all my son and I need for a 3-week trip. I actually bought a Dakine bag and returned it. The quality was completely sub-par compared to the same sized Eagle Creek.

Verified Buyer

Reviewed by MT girl from Montana on Thursday, April 7, 2016

Seriously love this bag! Perfect carry-on size, light weight, sturdy, awesome color, smooth zippers and handle pull, large wheels and love all the handles. Worth every dollar. Now I want the biggest one too! My new favorite luggage.

Verified Buyer

Reviewed by Redfisher from Florida on Saturday, February 27, 2016

This is the best carry on I have ever owned!

Verified Buyer

Reviewed by DrMark from Minnesota on Saturday, February 20, 2016

The dimensions of this bag satisfy carry-on for domestic and international carriers. Right out of the box it seemed too small for trans-oceanic carry-on but as I packed it, it was wonderfully roomy. Most smaller Carry-ons have close set wheels and often flip as you wheel them. This Eagle Creek bag has a wide wheel-base and solid straps. Inner straps serve as tie-downs and outer bag straps tighten the bag. It has all the features Eagle Creek is known for and is a great bag. The top part of the bag can unzip to add 3 more inches of depth and still meet airline rules. This is a winner!

Verified Buyer

Reviewed by Anonymous from WI on Monday, March 16, 2015

Has the large rugged wheels that I love. They will bounce along cobbblestone streets without a worry of losing the wheels. Especially like the attached strap to haul another bag and the attached bungee strap. The extra pound + they shaved off this bag with the lighter fabric will be welcome when hoisting it up in the overhead bins on the airplane. The fabric is not as substantial as that on some of the other Eagle Creek Lines, but that is not as important to me with a carry on bag.

Verified Buyer

Reviewed by tommyboyks from Kansas on Saturday, January 31, 2015

This thing is great! Well made and well designed. If I have a criticism, it would be that I wish it it was ever so slightly larger and had straps to carry it like a backpack if need be.

Verified Buyer

Reviewed by Seefly from Seattle on Friday, January 30, 2015

Rugged, handles everywhere, great looking. Such a nice duffle!

Verified Buyer

Reviewed by Still Hiking from Santa Fe, NM on Thursday, January 29, 2015

My last travel carry on cost $40 and lasted 10 years; I gave up trying to find a comparable bag and used the Eagle Creek for a 12 day trip. It has more bells and whistles than I'd like, but its very sturdy, well designed, and easy to spot in baggage claim. For some reason, it was always one of the first bags down the delivery ramp.

Verified Buyer

Reviewed by Deb from Providence from Rhode Island on Wednesday, January 28, 2015

Haven't tried the bag out yet, but having used eagle creek bags for over 20 years, I'm sure this will do it's job well. It's replacing an osprey ozone and is almost as light. The ozone had a fatal flaw, that being a single handle. Nothing can stack on that and I'm an older traveler and don't need to muscle my other under the seat bag. This bag will stack, meets international regs as far as I know, and is lightweight and sturdy. Should work out well when I need to travel with carryon only.