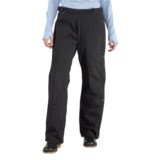 2nds. Enhance your comfort level in the rain with Carhartt's Cascade pants. These Dura Dry® waterproof breathable pants are easy to put on and take off thanks to full-length leg zippers on both sides.
Average Rating based on
11
reviews
4.181818
0
5
Verified Buyer

Reviewed by luvsplants from Idaho on Thursday, September 22, 2016

Love the 34 inch inseam.

Verified Buyer

Reviewed by Tony from NM from New Mexico on Wednesday, July 27, 2016

They are described as rain pants, but unless the temp was below 50 degrees, these pants are too heavy. I ordered these thinking they would be good to take along backpacking, but they are too heavy, insulated, and bulky. If you want Ski pants, these would work. If you want something light that will keep you dry, look elsewhere.

Verified Buyer

Reviewed by KDE Marie from Iowa on Tuesday, May 24, 2016

I bought a pair of the Carhartt Cascade Waterproof Rain pants in the fall of 2015. I work outside in all the weather conditions, hot, rain, freezing temps, and ice or snow. I can put these pants on over my jeans and stay warm and dry no matter how hard it is raining. For my work I put them through hell and back, and I just ordered my second pair just to have. I predict I will get about another year out of my 1st pair before I need to use the 2nd pair. Excellent quality like always from Carhartt.

Verified Buyer

Reviewed by Garden Girl from Rhode Island on Monday, May 2, 2016

Wow- the problem with rain gear is that it you don't know if it works until it doesn't. I work outside. Hard. In the rain. This was comfortable, durable, breathable, and completely dry. I am 5'10" and 160lbs and ordered a medium long and the fit was amazing- didn't look like a plastic garbage bag. I couldn't be happier.

Verified Buyer

Reviewed by sparklepup from Pittsburgh on Thursday, January 28, 2016

Good, tough. easy-on rain pants. Great that they come in different lengths as no one wants to shorten legs with zippers and snaps at the bottom. I got both L and XL. The L was too snug with jeans for the purpose I wanted them for (walking shelter dogs, lots of bending), and the XL was way too big, with long crotch and too-big waist. Not a good waist design, doesn't tighten well - rectangular plastic piece that Velcro strap slips through turns sideways when least expected, loosening the waist. This could be fixed with a needle and thread, I think. Sadly returned because neither fit.

Verified Buyer

Reviewed by City Gardener from PA on Friday, November 13, 2015

I usually wear a size 6-8 in pants, but almost always err towards a medium. I was going to order these just in a medium, but after reading some other reviews I decided to get a small as well. The medium are too big and the small is just about perfect! I like that the pants have zippers all the way up the leg. Makes it easy to get them on and off over shoes. I wore these yesterday while working outdoors in the rain and they kept me nice and dry.

Verified Buyer

Reviewed by PatF from Westcliffe, Colorado on Tuesday, August 18, 2015

Nice pants, pretty thick and heavy duty (Carhartt typical) compared to regular light rain pants. Couldn't find a men's pant so I had to settle on a women's, only difference was slight shape and no front zipper. I'm 6'0" and 150 pounds and got a 34 inseam and medium waist, length is fine but waist was so large I had to sew it shorter. Not a great belt system, only velcro which doesn't give you much room to tighten. Otherwise, repels the rain well so far...

Verified Buyer

Reviewed by KateGoesHiking from Boston on Thursday, May 14, 2015

You think the title is kidding? I'm not kidding. As a "lady of a certain height," it's tough for me to find pants long enough for me, and STP was the first (and only!) place to offer ones that would fit. And these fit like a DREAM. They're maybe a bit heavier than I need, but they fit so well and are so easy to get on that I won't complain!

A THOUSAND BLESSINGS UPON YOUR HOUSE, CARHARTT.

Verified Buyer

Reviewed by Lily Ponder from Swamps of Jersey on Saturday, March 28, 2015

These pants are made for working! If you need protection and a rain pant, these are great. I returned them because they were too bulky for my needs. I did love the zippers along the outside of the legs, but the snaps seemed like overkill and would take too long for quick on/off. Definitely construction worker type of clothing. Seem like they would also keep you warm as they are heavyweight material.

Verified Buyer

Reviewed by RuralGrl from San Francisco on Wednesday, January 14, 2015

These are so versatile with the full side zippers and snaps. The waist is flexible and easy to work in. They are waterproof but not insulated. Size up if you want to wear jeans under them, but a base layer works fine. Will wear these a lot.