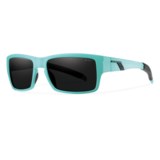 Closeouts. With clean lines and a refined look, Smith Optics Outlier sunglasses help you stand out in a crowd.
Average Rating based on
11
reviews
4.454545
0
5
Verified Buyer

Reviewed by Steve Lynn from Arizona on Thursday, February 25, 2016

AS with all the smith products I have used over the years, these Outlier Sunglasses are superb. Couldn't ask anything more. But I would like to see them Made in the U.S.A.

Verified Buyer

Reviewed by tj from St. Louis on Sunday, August 2, 2015

Great looking & feeling!

Verified Buyer

Reviewed by spany from Texas on Monday, July 20, 2015

Great glasses. Light and clear. Just as good as my Oakley's and Ray Bands

Verified Buyer

Reviewed by Aaron B from NH on Monday, June 29, 2015

That's right, you're bucking the trend.. you're an Outlier! ...A word which Chrome thinks should be replaced with "Outlive".. which would also be a good name for a sunglass frame design. But I'm not here to review the 'Outlive' - glasses you're supposed to be buried in, such as to shade your eyes in the afterlife; I'm here to review the 'Outlier'! Glasses for people who think outside the box and march to their own drumbeat resulting HUGE success!

Thus far, I'm still awaiting the promised 'huge success', but I'm optimistic I'll get the shipment notification for that shortly.

These glasses are a nice update on classic "Wayfarer" styling, so you can feel like part of the Don Henley 'Boys of Summer' song, if you're so inclined. While you're cruising the boulevard breaking hearts and bro-ing out, you can enjoy the great lenses in these (I also bought a pair with the green Sol-X lenses - and i like those lenses more than the blue Sol-x) as is the comfort level. The glasses are very light as well, so they're comfortable for several hours of continuous wear.

The mirror coating on them is, however, fragile and prone to scratching. It's highly recommended by THIS boy of summer that you only use the supplied cleaner bag to wipe them. This should be fairly obvious, however, because I'm an "Outlier" I was like 'that won't happen to me!' so I cleaned them on my zippered sweatshirt. The result was clean lenses... apart from a 1/2" long, very deep scratch. Sadly, the scratch was directly in front of my eye (because why wouldn't it be?) and as such, they were not salvageable.

I liked the glasses enough to buy another pair (with green Sol-X which I like more), and will hopefully keep my self-congratulatory 'Outlier-ism' reigned in enough so as to not scratch them this time.

Verified Buyer

Reviewed by Jonny Hiker from Idaho on Friday, May 29, 2015

Could be more comfortable on the bridge of the nose.

Verified Buyer

Reviewed by Jc from PA on Wednesday, May 27, 2015

I Got these at a good price and they are ok, not crazy about them. A little fancier then I normally wear, and very square and kind of big on my face. They are well made but I just can't get excited about them. Comes with a bag, no case like my older Smiths. They almost look identical to my Smith "tactical lock harts" which I may go back to wearing,

Verified Buyer

Reviewed by Lefty from Portland, OR on Thursday, April 16, 2015

Great glasses. Love the green lenses. Fit perfect for mid sized face. Love Smith!

Reviewed by DAR from Guatemala on Monday, April 6, 2015

I bought this to wear while trail running. They are extremely comfortable and stay in place.

Verified Buyer

Reviewed by DAR from Guatemala on Monday, April 6, 2015

I bought this shades to do some trail running. So far they have worked like a charm. They fit really well and stay in place.

Reviewed by rock012182 from Wyoming on Saturday, February 28, 2015

I have been trying to find some glasses to fit my narrow head, and these aren't it. I have been a die-hard Smith fan but all of their new glasses are so square and wide (Chemist, Mastermind, Outlier) and fit funny and have a big gap between the bottom of the glasses and cheek. I tried the Mastermind and the Outlier. The Mastermind is a bigger eyepiece than the Outlier, but the frame is the same shape. They would probably look good on a wider face and head but not a narrow one. These glasses have no curve to the front of the frame and I wouldn't consider them a wrap around type glasses. The positive side is they have nice glass in them. They just aren't for me.