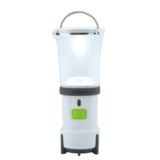 Closeouts. Black Diamond Equipment's Voyager LED lantern provides lots of illumination in a lightweight package, with a dimming switch, a flashlight bulb and a collapsible, double-hook hang loop.
Average Rating based on
18
reviews
4.611111
0
5
Reviewed by KP from Boston on Saturday, August 26, 2017

Great little lantern/flashlight. Very versatile! One of my favorites for camping trips. Highly recommend!

Reviewed by Car Camper from Detroit Area on Thursday, August 24, 2017

I purchased the 140 lumen model in store. This review is for the 140 lumen model. The design has not changed, just the light output. The Voyager works great for car camping. I hung it from a dining canopy over a picnic table. It lit the table area well. The downward facing flashlight helped brighten the table top while the lantern portion provided area light. The size of the lantern is smaller than I expected. The concealed power switch is great to avoid tuning on while packed. The Voyager seems well made and practical. The light does have a few flaws. 1) It is not bright enough to light a campsite. But it is adequate for a seating area. 2) The lantern is not especially effective when sitting on a table. It is usable and not blinding on a table but the light output spreads further when hanging. 3) Much of the light is directed upward. The top of the lantern is opaque and blocks some upward light. But the design does not seem to maximize horizontal light output. Overall I am happy with the Voyager. I have not found another perfect lantern. This one seems to be better than most.

Verified Buyer

Reviewed by Dark Cloud from Michigan on Wednesday, August 17, 2016

This lantern is fun for traditional backpackers, but the 4 required batteries make it heavy. Its outer shell does not fit snugly on the inner shell, feels cheap that way. I do like that it is both a flashlight and a lantern, and the hanging aspect is nice. I had a gift card, so it was $12 after shipping, but wouldn't pay full price.

Verified Buyer

Reviewed by DEW from Virginia on Wednesday, August 3, 2016

Fantastic little product. Compact and bright.

Verified Buyer

Reviewed by Chuck S from Signal Mountain. TN on Thursday, November 5, 2015

This is a great little lantern. It was smaller and brighter than I thought it would be. The built in flash light is a nice feature and when it is on with the lantern it dose a good job of lighting up a table top area.

Verified Buyer

Reviewed by oceandrifter from Texas on Sunday, October 25, 2015

This little lantern packs a lot of punch. I found it to be very useful for car camping trips and even power outages. Illuminates a large area and I love that you can convert between flashlight and lantern modes. Since it is lightweight it is easy to hang in a tent at night.

Verified Buyer

Reviewed by FastEddie from South Carolina on Friday, October 16, 2015

The Black Diamond Voyager lantern is the perfect size for camping. I especially like the flashlight function. It's not the brightest lantern out there, but it's more than adequate for lighting a tent or table. It's light enough for backpacking.

Verified Buyer

Reviewed by Peaches from Colorado on Friday, October 2, 2015

Am happy with the amount of light that it creates. Compact. versatile.

Verified Buyer

Reviewed by Pine Cone from Western Washington on Monday, September 21, 2015

I have several of these. Got this one after our latest power outage last month when we had guests visiting and ran out of lanterns. These have a nice dimming option, and work as either a flashlight or lantern. Took one last week to a music camp where I was in a large dorm room and needed a smaller light to use when the main lights were out. Very convient since they collapse down to a small size for transport and storage.

Verified Buyer

Reviewed by petpal from TX on Sunday, August 30, 2015

Good light. Puts out a lot of light for it's size. As usual, good price and fast shipping form STP.