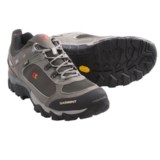 Closeouts. Garmont Zenith Gore-Tex® trail shoes offer hiking boot support and a superior fit in a low-cut design. The waterproof breathable nylon mesh upper features the Web Lock system to help secure the heel, and a Vibram® Morlin outsole offers outstanding grip in any terrain.
Average Rating based on
91
reviews
4.285714
0
5
Verified Buyer

Reviewed by Flyphihsr from PA on Saturday, February 18, 2017

A little tight, I would order a size up. Great shoe at a super price.

Verified Buyer

Reviewed by Edward Abbey from New York on Thursday, February 16, 2017

I've had these "shoots" (shoe/boots) for about 3 weeks. I'll update stars and information as I get it. I feel like you can't really give a thorough review of any footwear until you've put it through a year of solid work. Here are my first impressions.

Good fit. Hint: Figure out your European size (mine is a 44) and use that instead of the U.S. size. It's way more accurate. I've had boots and shoes that said they were 9 to 10.5 US, but all said 44 EUR and they all fit. Why is this? Because we're the last holdout that doesn't use the metric system I'd guess. So look at all your best shoes and check the EUR size. Stick with that. None of your shoes are made in the States.

I bought a US 10.5 EUR 44 and it's a solid fit. I have low volume feet and there is enough spacing so I'm not cinching the shoot laces flush: I can tighten with thin socks and it fits my foot with a heavy smartwool sock. If you have very big round feet, I might suggest going up a half size. If you are average volume to low volume, you should get a true fit.

The "shoots" are heavy. This is, as my name for it implies, not a running shoe or house shoe (even though the title calls it a "shoe"). These are boots with a shoe cut. Due to this, a little break-in has been required. I had some soreness around the front of my ankles, but that's dissipating now. The traction is excellent. It's even good on wet ceramic floors. It's very aggressive so not ideal for city walking, but very good for snow, mud, wet grass, and dirt. A little slippery on ice (go figure), but not horrible.

The waterproofing is excellent. They've kept my feet dry. They are quite warm, even with all the poly mesh ventilation between the leather. They have very good support. My feet have been comfortable with a daily walk to and from work of about 3 miles, and then a workday on my feet most of it. The inner removable insoles are thick and mold nicely to the foot, adding excellent cushioning to the stiff Morlin outsole. Heel to toe flex is boot stiff (Can't turn it into a "U" easily). Torsion flex is boot stiff (Hold heel and toe, try to twist the "shoot". It won't flex easily). Again, don't confuse these for shoes. Pricey to acceptable at $160, but not a must-have at $100 if you find it on sale.

That's all for now. I've thus far used them on steep terrain in snowstorms, hard rain, ice, mud, slick pavement, working deliveries for kitchens, and a hike now that they've broken in a bit. I would certainly recommend them so long as you understand what you're getting into...not shoes! That's exactly why I bought them and they are working out thus far. Three stars now as I don't know how they will hold up durability-wise. I'll update later. Could be a 4 star boot.

If you want something higher-end, go with the Lowa Renegade II GTX Lo. It's all-around better by a little bit.
If you want something lower-end, go with the Men's Terrebonne OutDry Extreme Shoe. It flexes more like a shoe.

I hope that helps.

Verified Buyer

Reviewed by RTF from Texas on Tuesday, February 14, 2017

These are the most comfortable trail shoes I've ever had! Highly recommend

Reviewed by Ben from South Korea on Wednesday, February 1, 2017

Great traction on rocks as well as loose leaves and rocks on trails. A bit heavy, but the weight is a trade-off for superior grip and durability. I have worn these for about a month, hiking 400-600 vertical meters 4-5 days per week, and they show no true wear. I am normally between a 9 and 9.5US and the 9.5 fits perfectly. The toe box was a bit tight at the ball (big toe) for the first few days, but they broke in and are really comfortable now. Recommended and would buy again, without question.

Reviewed by LFH from FL on Thursday, January 19, 2017

I had this for about a year, only took them to light hikes and the shooting range.
On December I took them to hike a volcano in Guatemala and my feet were killing me, it was a 10K hike with steep descent and uphill. I think if I bought this again I would probably size them like a sneaker and go 1/2 size up, when I wear mid weight socks they're just too tight on the toe box.
The show is well constructed and the sole grips dirt and loose rocks adequately.

Verified Buyer

Reviewed by DKINY from Upstate NY on Monday, December 12, 2016

Have an older model, size 9D fits perfectly in length and width.
Ordered these in 9D again, found them to unwearable by 2 reasons.
First, size 9 is too long. Second, the toe box is humongous, the volume of it is nothing like the older pair I have.
Built like a tank, very hard but thin sole.

Verified Buyer

Reviewed by Adil X from Istanbul on Saturday, November 26, 2016

Good looking, and gore-tex. The vibram sole probably is good for nature, but not for daily city llife; it is very slippery.

Reviewed by Don from Western NY on Wednesday, November 16, 2016

In a time when many hiking shoes lend themselves more to trail running and ultralight backpacking, these are a throwback to stiffer last, a more sturdy footbox, and a more traditional tread design ... you will not mistake these for trail running shoes! The midsole feels stiff and supportive enough to manage a 40lb pack, no problem. Waterproof as advertised. A good option for people who are looking for a stable hiking shoe but don't like full boots, or for all purpose wet weather kicking around town.

Verified Buyer

Reviewed by Puppy from SLC on Wednesday, October 26, 2016

These are not sneakers, thank goodness. These are sturdy hikers. I liked so much I bought another pair although the first should last me quite a while. Great fit and quality.

Verified Buyer

Reviewed by Missions/Disaster Worker from Eastern Oklahoma on Monday, October 10, 2016

I haven't had these boots very long, and haven't had the opportunity to really test them. I did a 1 hour hike on a mountain trail, and they seemed to do great. They seem rugged, but again, my final test will be in remote areas of the world where hiking has a different meaning. Another comment: my left foot is about a half size larger than the right, so I usually buy a fit for the left foot. I ordered a size 10.5, which I usually wear, and it is maybe barely large enough. The right shoe fits well, but I wish I had ordered a half size larger. The lacing system is a little cumbersome too, but I've already figured out a way to help that. I will post again after a true test.