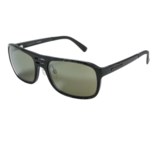 Closeouts. Serengeti's Lorenzo sunglasses are a functional fusion of cosmopolitan style and unbeatable optical performance. Glare-cutting polarized glass lenses offer optical clarity, and photochromic technology adjusts the lens tint to accommodate changing light conditions.
Average Rating based on
14
reviews
4.071428
0
5
Reviewed by Tom Bueno from Los Angeles on Friday, May 19, 2017

Love the mirrored finish and the red/black crackled finish. They fit great and the lenses are perfect optically.

Verified Buyer

Reviewed by walker from OH on Thursday, April 27, 2017

These are typical high quality Serengeti sunglasses. One caveat is that they are large glasses and would not fit or look good on a smaller head. But for someone for whom they do fit, they are a remarkable buy. I still cannot understand how STP could sell these for their remarkable sale price.

Verified Buyer

Reviewed by PSUBiker1 from VT on Wednesday, April 26, 2017

I purchased these sunglasses because they have glass lens. I only wear them for walking around, driving or hiking... and so far, they have been perfect for these activities.... Very soon, I'll be using them on my motorcycle... they should offer good protection and light control....

Verified Buyer

Reviewed by The Dude from Western Oregon on Sunday, April 23, 2017

I bought these because I needed some sunglasses to keep in a lesser used vehicle. Serengeti is apparently famous for their driver glasses, and for $30 seemed like the pair for me. I just didn't appreciate much from these. The glass lenses were nice I guess, but the static charged sticker left a permanent square outline on one lense (not viewable while wearing, just anyone looking at you wearing them) I couldn't find a nose piece setting that didn't feel like the glasses were floating far away from my face (and therefore letting in more light than I like around the edges of the frames) I also can't confirm that the photochromics work on these as all my "tests" came up without noticing any change or adjusting to light. To boot the hard case fell apart as I opened it the first time. I don't know or care to prove it, but I would almost assume what I recieved were knock offs or fakes... But I will again admit, I don't know that much about this sunglasses company to say much really beyond they "seemed" like $15 shades and not the supposed $240 msrp that I saw mentioned....

Verified Buyer

Reviewed by Bud from Alabama on Thursday, April 20, 2017

Ok i have too many sunglasses - one of my vices. These sunglasses have superior optics. Comfortable but my only complaint is that they don't curve slightly around my face - fit is straight so i see light out of sides. Probably my fault for choosing this style but again they are great glasses.

Verified Buyer

Reviewed by Big A from New Hampshire on Tuesday, April 18, 2017

These work fine, although I can't notice the photochromic properties. They are very heavy and the weight uncomfortable on my nose. For the price (I payed $30) they are fine.

Verified Buyer

Reviewed by Chris from Portland Oregon on Thursday, April 13, 2017

Fast shipping and great product!

Verified Buyer

Reviewed by Kauai Bound from Indiana on Wednesday, April 12, 2017

Excellent fit and good protection. Really like them.

Verified Buyer

Reviewed by Curly from wisconsin on Wednesday, April 12, 2017

To big for me

Reviewed by Sportfish247 from California on Friday, March 31, 2017

I bought these glasses on a whim because they had good reviews and are polarized glass. They are extremely clear comfortable and don't slip. I wish the lenses where larger but they work just fine. Great in direct sun and adjust will in low light. Will definitely purchase again and recommend to anyone considering.