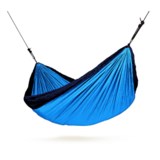 Closeouts. Enjoy a touch of rest and relaxation wherever your travels take you with the breathable, lightweight fabric and integrated suspension of this double travel hammock.
Average Rating based on
21
reviews
4.523809
0
5
Verified Buyer

Reviewed by Momof3 from Maryland on Monday, March 5, 2018

This is the second La Siesta/Chillax double hammock we've had. It's perfect for our family. The kids mostly use it and enjoy being able to have 2 in it at a time. The parachute like fabric is comfortable. This is an all around great double hammock.

Verified Buyer

Reviewed by CMay from Georgia on Monday, December 11, 2017

I received this ite very quickly. It's a gift for my husband for Christmas, so it has not been used yet. I'm sure he'll love it though.

Verified Buyer

Reviewed by Happy shopper from North Carolina on Saturday, March 18, 2017

My daughter really likes her hammock its just what she was looking for. The price was lower than the top brand but lower price doesn't mean lower quality in this case.

Reviewed by Christina O. from San Francisco, CA on Sunday, December 11, 2016

My friend was so impressed with my hammock she went to Walmart to her own hammock. Mine was way more comfortable and QUIET! hers was loud and not very comfy somehow.

Reviewed by Motorcycle Camper from Northern VA on Tuesday, November 22, 2016

I originally started with La Siesta's single hammock version and was totally not familiar with the brand. I was so surprised with the quality, compactness and utility of this brand. It includes a full suspension system which is easy to use. I have found this system simple to use and does NOT damage trees. I base that on about 30 nights of use on a trip out West. I purchased to relax on my motorcycle camping trips. The hammock was so useful, I started using as my main sleeping system, dumping the tent altogether. Once you add rain fly, bug net and accessories, I don' t think it is a significant weight saving option over a light 2 man tent. However, it is just so easy to use and comfortable. I also took this hammock to Mexico to position between palm trees to relax all day on the beach. Personally, I think everyone should keep a hammock in their trunk to use when the situation arises. I ordered several to give out as gifts. When you consider that you get a complete hammock system that is about the size of a 16oz soda can, you can not lose. Add into the equation that the hammock can double as an impromptu blanket, this is just priceless. Note: the material is not indestructible. Be careful when smoking cigars :) I am 6'1 and weight about 210lbs and have experienced no problems.

Reviewed by The Hungry Cardinal from PNW on Sunday, July 24, 2016

Comfortable hammock for 1 or 2 people. Minus a star because the rope-and-hook style straps it comes with are too short, awkward to use, and not adjustable enough--plus, rope eats into tree bark worse than webbing. I replaced them with webbing straps more like my boyfriend's ENO set-up and am much happier.

Reviewed by Amber from Colorado on Wednesday, May 18, 2016

It's a La Siesta brand, model Colibri double travel hammock.

Easy to set up, great colors, quality matches the other prominent brands. Nice proprietary hanging system, though it's a bit heavy (weighs as much as the hammock itself). Fits 6'4" guy easily. Get the double even if you only plan to lounge alone.

From manufacturer's site:
Parachute silk is a top-quality functional fabric made of nylon trilobal. It is ultralight, extremely robust, breathable, and fast-drying – characteristics that make this fabric the perfect material for travel hammocks.
The integrated suspension solution EasyAdjust allows for swift suspension and demounting of your hammock. The system includes two polyester ropes (3 m each) and two weatherproof SmartHooks made of glass fiber reinforced polyamide.
Thanks to its detachable suspension loops, COLIBRI travel hammock can easily be turned into a picnic blanket.
The distance necessary between the two suspension points can be determined by a simple rule of thumb: The suspension height (y) should be approximately one half of the suspension distance (x). If the distance between the suspension points is greater, the hammock must be mounted somewhat higher.
Depending on the size of your hammock, the trees must be at least 3 meters apart and strong enough to bear the weight. In order to mount the hammock between two trees, a rope is looped around the tree trunk and attached to the hammock.
When you lay in the hammock diagonally, your body expands the surface area so the fabric does not constrict. In the diagonal position, there is optimal support of the back and pressure is removed from the spine. This position also makes rocking more pleasant.
This hammock can be machine-washed: delicate cycle 30 °C (86 °F)! In order to preserve your product, line dry. Do not machine dry.


Reviewed by Christina O. from San Francisco, CA on Tuesday, April 5, 2016

(FYI I didn't use the ropes that were given, but bought the Eno straps sold here so that I wouldn't harm the trees.)

This hammock is huge, sturdy, and looks great. Although the dark color looks black in the photo, it actually is brown.

Verified Buyer

Reviewed by Tadpole from WY on Monday, March 14, 2016

This may change in rating after my daughter takes this camping in the warmer months to come. If so, I'll have to send an update. She seemed totally delighted to get. She especially loves that it is lightweight and dries quickly.

Verified Buyer

Reviewed by Tilly from Texas on Thursday, February 18, 2016

I got the single one and my (larger) boyfriend got this double. He loves it. It is a little light fabric so it kind of feels like it might not last too long but for the price it's well worth it. We unfurl them under palm trees at the campground after work and relax the day's worries away. The ropes to tie it up are fantastic and hold their spot well without slipping. Great product well worth the asking price.