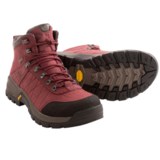 Closeouts. With a waterproof breathable eVent® membrane, ShocPad® heel and Spider365 outsole, Teva's Riva Peak hiking boots are built to handle alpine ascents, long-distance treks and just about any weather you may encounter.
Average Rating based on
33
reviews
4.424242
0
5
Verified Buyer

Reviewed by OH Hikers from Ohio on Tuesday, August 25, 2015

The fit was true to size. Ordered a 7.5, which fit great. Good looks...nice Vibram sole. Priced under $80 was a good deal. The only reason they don't get 5 stars is the crummy laces, which are way too thin for hiking boots. What's up with that Teva? Where do you find nice laces that will go with the boots? Hmmm...these might be going back.

Verified Buyer

Reviewed by The Greemster from Upstate NY on Thursday, August 6, 2015

GREAT BOOTS. Color is awesome, gives a more feminine touch. Very sturdy without being too heavy, extremely comfortable and true to size..

Verified Buyer

Reviewed by Ljsteedley from Louisiana on Tuesday, August 4, 2015

I am partial to the Teva brand, and these boots, so far don't disappoint. I bought 1/2 size up and they fit perfectly.

Reviewed by amyk from Ohio on Tuesday, July 21, 2015

I bought these for a weekend backpacking trip and I'm very happy with the purchase. I ended up putting Superfeet insoles in them based on the advice of experienced backpackers. I also laced them using a 'window' and a 'surgeons knot' to refine the fit after wearing them in the weeks ahead of my trip. These boots felt great on the trip. My feet felt wonderful and my legs were comfortable too. We hiked through a lot of uneven terrain and these boots definitely saved me from twisting my ankles a few times.

I wear either a 7.5 or an 8. I ordered these in an 8 and they fit perfectly. I also like the way they look.

Reviewed by RB from CA on Sunday, July 19, 2015

Just got back from backpacking (6 miles round trip) w/ these after wearing them around the house for hours. First time EVER I had no heel blisters (of course I always use moleskin or molefoam as a preventative...but all other boots turned my heels into raw hamburger). So thanks, Teva, for making boots with heels that fit and aren't gigantic! And a nice big toe box so your toes aren't cramped. However, the tongue could definitely use more padding; I did feel some minor pain across the tendons on top of my foot. If you were hiking 10 miles a day it might be a problem and you would want to pad under the tongue, I'd expect. I also used another reviewer's advice to wear tennis wrist sweatbands around my ankles to pad them more. Great Idea, so I did that (also helped keep debris out of the top of the boot). I bought the size 10 and was worried it would be too small as I usually wear 10.5 or 42, but it felt fine during the trip (although I did wear slightly thinner socks this time, to compensate). The color is a little strange, but who cares...nice to have a wild color instead of brown or black. And all with a good Vibram sole, too. I have been backpacking with various ill-fitting boots for about 40 years.

Reviewed by kbee from Illinois on Thursday, July 16, 2015

I have not had these boots long enough to comment on durability, but would like to comment on fit. After reading the reviews I chose to order my original shoe size of 7 1/2, but had to exchange them for an 8. My feet are not extremely wide, but I have a high arch and instep which often creates a problem for the fit of my shoes. Unfortunately I should have ordered 1/2 size up because while length was fine, the boots were much too tight with a mid-weight pair of socks. The left boot was a bit tighter at the bottom grommet above the big toe, and was still that way with the larger size, but maybe it's just my feet. All in all, if you are planning to wear a mid-weight sport or hiking sock, I would order 1/2 size up unless you have narrow feet.
While I have not yet done any major trekking with these boots, they are proving to be quite comfortable and I sloshed thru a few puddles and walked thru the wet grass and they kept my feet dry. I particularly like the 2 grommets at the ankle, allowing me to keep the arch a little looser and yet keep the ankle tighter for support.

Reviewed by Irene from WA on Sunday, July 12, 2015

I bought these two months ago. It took me a few runs to break them in but then they were nice and comfy. However about 3 weeks in they started peeling a little at the top of the rubber toe band, next to the stitching, then just peeled off and the rubber fell off at the stitching. By 1.5 months in, the rubber is completely falling apart at the toe. They look like i'd been walking in acid instead of dirt.

The good: leather is nice and comfy, waterproof holds up, the color is pretty.

Going to try to return these since 2 months is way to early for shoes to fall apart.

Verified Buyer

Reviewed by grammie in nh from nh on Tuesday, June 30, 2015

great boots, true to size, well made. Waterproof, good traction. Sized up 1/2 size to allow thick socks.

Verified Buyer

Reviewed by Tammy S from Wisconsin on Monday, June 22, 2015

Wow, I could not be more impressed with these boots. I received them days before a week trip to Colorado. With no break-in time I wore these babies for hiking and biking over 30 miles in the mountains with zero discomfort. I wore them in rain, sun, snow, through puddles and streams and my feet stayed perfectly dry and comfortable. While my partner started getting blisters and raw spots on his feet, I had none! After days of use, my boots where caked in mud and I still had someone randomly stop me to ask about my boots and where I got them. They feel great and look amazing. I am a size 8 and these fit true to size. LOVE THESE!

Reviewed by Cubicle dweller from Washington, DC on Wednesday, June 17, 2015

I wore these boots for an 84-mile hike along Hadrian's Wall in northern England. They kept my feet warm & dry through rain and hail, and were comfortable from day one.