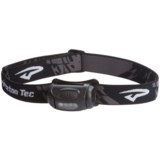 Closeouts. The low-profile, ergonomic and reliable Princeton Tec Fred LED headlamp offers optimized versatility with four light modes, a pivoting lamp, and the combination of white and red LED lights.
Average Rating based on
26
reviews
4.346153
0
5
Verified Buyer

Reviewed by Kelly from VA on Tuesday, April 18, 2017

Works well. Easy to use. Comfortable.

Reviewed by CaveSAR from nr Ithaca, NY on Wednesday, March 15, 2017

I'm glad I got this headlamp - it starts, stays with the red LED, low then cycles to high. You have to hold down the switch for a couple of seconds to switch to white LED, low then cycles to high. Turn it off and red LED is again the default. The yellow body makes it easier to see in your pack or if you drop it. I am getting several more - camera bag for night photography, my EMS bag, my ski patrol and SAR packs. Even for the computer bag - when you are using a projector and the room lights are low.
Read the directions about changing batteries! To get the red LED to come on first - you have to discharge the capacitor by removing the old batteries then holding down the power switch for several seconds.
Warts: Looks like the seam for the two halves of the body might not be sealed very well. So put some super glue or PLASTI DIP on the seams. I have had the battery door clip crack on other Tec models - I then wrap them with duct tape. So if you are going to be using this light a lot, changing batteries on a regular basis, you might want a different headlamp. The rotation is stiff - one needs two hands, one to hold, one to rotate, even on your head. Since I hang them around my neck, pull them down over my head, this isn't an issue.

Verified Buyer

Reviewed by Wiskidude from MN on Wednesday, March 1, 2017

Light bright light

Verified Buyer

Reviewed by Disappointed customer from Maryland on Thursday, February 16, 2017

This is a lightweight headlamp with a low profile and is comfortable to wear. It's fine as an emergency back-up but don't expect to get a lot of use out of it before some part of it breaks. It is rather flimsy and poorly designed. Princton Tec has made several different models for LL Bean which are designed much better. I've owned and heavily used two of those different models for years without any part breaking. This particular model can be adjusted up or down, like the others, but it requires two hands to do it because it does not operate smoothly or easily. The lamp rotates but only one end of it is anchored, it is like turning a dial, and it has a more limited adjustment range than other models. Other PT designs are hinged and operate much more smoothly. The battery case clip is really flimsy and it takes a bit of looking to figure out how to correctly install the 3 required batteries. You have to cycle through two red light settings to get to the lowest level white light setting. Not a major impediment, just annoying. The rubberized button that you have to push to cycle through light settings is not very sensitive and it requires considerable force to operate it.




Verified Buyer

Reviewed by Susie from Colorado on Saturday, January 21, 2017

I bought this just to have in case of emergency or for possible outdoor night adventures. I have nothing to compare to but from what I can tell, the light is very bright and the red light is bright enough for outdoors without being "intrusive" in somebody's eyes. When I tried them indoors in the dark, my cat's eyes reflected, in case one needs to know when in the wilderness and come across a critter...

Verified Buyer

Reviewed by SandraT from North Carolina on Wednesday, January 11, 2017

I like it because it is functional, and lightweight.

Verified Buyer

Reviewed by Enjoying the Outdoors from Utah on Tuesday, January 3, 2017

Great headlamp, as described. Would buy again

Reviewed by Lost in the Hills from Texas on Thursday, December 29, 2016

This is a headlamp you can afford to own, lose, break and still be happy, so buy all of them that you can (right now, it's only $13)
1) it's an LED headlamp - actually 2 - so it uses less energy and lasts longer than those old-fashioned headlamps
2) the first cllick is a low beam red - so you don't blind that critter on your way to find the bathroom in the middle of the night
3) the pivoting lamp lets you point the beam downward and not in the eyes of your friends
4) the bright white is bright enough for getting you down the trail to find a campsite

If it used only 2 AAA instead of 3, I'd be a satisfied camper. I still love it!



Verified Buyer

Reviewed by Doug from Seattle on Tuesday, August 30, 2016

I didn't really need another headlamp, but this seemed to be the lowest cost per lumen of any light out there. I have other Princeton Tech headlamps that have gone for many years without problems. My BD headlamps all break after about 2 years, but these PT ones take a beating. I have not had a problem with the battery clip breaking, probably because I always put in batteries indoors before my outing.

I only have two minor criticisms. I don't appreciate that you have to click it twice to get to the white light. The first click always gives you red. I'm sure this is so you don't wake your tent mate, so I get it. I just don't like it. The other thing is that it doesn't have a nice broad diffused round beam. The beam rather oblong and oriented vertically. Again, another minor flaw.

For the price it has to be one of the best lights or there.

Verified Buyer

Reviewed by DWH from DWH on Saturday, August 20, 2016

Bright light, catch for battery cover could be a little stronger. Decent overall for the price.