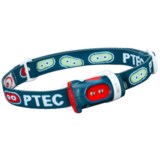 Closeouts. Princeton Tec's Bot headlamp lights up the night for young adventurers, campers and players. The two-LED lamp features three light modes and a comfortable, adjustable head strap.
Average Rating based on
9
reviews
3.666666
0
5
Verified Buyer

Reviewed by Rivergirl from Pa on Friday, December 29, 2017

Shes been wearing it around since christmas and blinding us all. Cant wait for camping this summer.

Verified Buyer

Reviewed by Eheilner from Colorado on Monday, July 17, 2017

Simple and straightforward perfect for my kiddos to navigate the night when camping.

Reviewed by Long time Scouter from Tennessee on Thursday, November 3, 2016

I have purchased several of these at different times on sale. Have not had any problem with the battery door and I appreciate the fact that it is secured with a screw. In the past, I have had six other models of Princeton Tec Headlamps for higher $. Love this brand. But, the models that have plastic clips have broken when dropped and because of the spring's pressure it is impossible to fix them even with duct tape. I have had to glue them - then they are only usable until the battery dies. We are hard on gear! These, I have given to most of my family & friends who don't care what they look like, just so they are functional. When you need light...Keep in your day pack, car door pocket, fold it up in your tent.

Verified Buyer

Reviewed by Landiego from Wyoming on Thursday, September 1, 2016

Difficult to rank this one. Battery access panel screw was stripped on blue model. Pink model was fine using a smallish Phillips head. Of course, we only found this out enroute to trailhead. STP was terrific about replacing blue model when we got home, but, alas, it too had stripped battery compartment screw. Price is right on considering kid loss factor.

Verified Buyer

Reviewed by grandpa mike from idaho on Saturday, December 5, 2015

I bought 2 of these for gifts for my 2 grand daughters, easy for them to operate. they are 4 and 2, and run off with flashlights. this way they have their own, and its hands free so they can't set down and walk away from

Verified Buyer

Reviewed by Todd from Michigan on Thursday, October 15, 2015

I bought this for my 4 year old son when we go camping. I thought it was light purple but it is definitely pink. My son doesn't care though. I had no problem installing the batteries and it worked great. I wish it was another color though.

Verified Buyer

Reviewed by carolyn from New York on Monday, August 31, 2015

I couldn't open the battery compartment - I tried with two different, appropriately sized, screwdrivers and was unsuccessful. I do not know how anyone is expected to use this headlamp.

Reviewed by Anonymous from Outside US on Thursday, August 27, 2015

Bought this for my daughter, she's very excited and happy with it.

Was very surprised to read that it's difficult to insert batteries that are included - only one screw holds battery compartment, absolutely no problem to do that. Guide is here (hard copy of the same guide is also included): http://princetontec.com/omi/bot_omi.pdf

Verified Buyer

Reviewed by Vanessa, avid camper from Upstate NY on Tuesday, July 28, 2015

We have been trying repeatedly to open up the battery compartment, but no luck. We have tried several different tiny screwdrivers and even went out and got one of those eyeglass repair kits with the tiny tools. No way to open it and insert batteries! Too bad, because my 6 year old was really excited about having her own headlamp for camping.