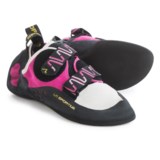 Closeouts. La Sportiva's Katana climbing shoe is a women-specific design optimized for a wide range of routes: Bouldering, sport and face climbing, and gym training. The Pacific synthetic-fiber lining in the forefoot adds toe-knuckle comfort, and the combination of a Slingshot Rand and opposing hook-and-loop straps gives you a locked-in fit. The Vibram® XS Grip2 rubber balances friction and support for confidence-inspiring grip on a wide variety of rock.
Average Rating based on
13
reviews
4.384615
0
5
Verified Buyer

Reviewed by Ali from NC on Tuesday, November 28, 2017

my wife has started using these shoes and so-far seems to like them! they are comfortable and have a good grip. worth the price!

Verified Buyer

Reviewed by Rissawr from Pennsylvania on Sunday, November 26, 2017

My first pair of climbing shoes was worn through after 2 years of use and I was looking for new shoes that were a little more aggressive. I also like velcro better than laces because I'm lazy and I don't feel like tying and retying my shoes between climbs at the crag. I've been climbing in these shoes for a few weeks and so far they've worked out really well! They're pretty comfortable and I don't have the issue of my heel slipping out like you sometimes do with more aggressive shoes. I noticed that with these shoes I can stand on tiny edges and barely-there footholds, which would have been sketchy at best with my old shoes (super exciting!). They fit true to size, too, which was awesome. Exactly what I was looking for as my second pair of climbing shoes!

Verified Buyer

Reviewed by Rahoohee from California on Thursday, November 16, 2017

I've had these shoes for a couple of weeks now. They're great, I have way better grip on the wall and they've really helped me to improve my climbing. The backs of them really rub against the backs of my feet which is uncomfortable, but I'm hoping they'll stretch soon. I am a size 7-7.5 street shoe women's, and I ordered a size 37.5 and it's perfect. I would definitely buy again!

Verified Buyer

Reviewed by JoJo from Bangkok on Tuesday, November 14, 2017

Love these climbing shoes. They are not too aggressive yet stick nicely to all kinds of holds on all kinds of terrain. Love them!!!

Verified Buyer

Reviewed by Balegs from California on Monday, October 9, 2017

Got 37.5 for a snug fit. Usually wear a 39 in regular shoes. I have wide feet and the shoe's velcro straps adjusted the tightness for me to make any discomfort a minimal issue. Great grip when trying to place feet on small holds. Used mainly for gym bouldering. Great for those who want to move up from the La Sportiva Mythos. Only wish this wasn't in pink. Sigh.

Verified Buyer

Reviewed by ae from Nevada on Thursday, September 28, 2017

I have been using the blue ones of these in 39 for many years. Got these in 39, and they are 1/2 size bigger than the previous iterations.

Verified Buyer

Reviewed by fabian from new york on Wednesday, June 28, 2017

will see how they work

Verified Buyer

Reviewed by Be from Las Vegas on Sunday, May 7, 2017

This is my second pair, but they do run big for the brand. My 38.5's fit more like the 40's in the women's Miura and I have a friend who wears a 42 in the Genius, and can fit into my broken in 40's for reference.

With that said, the shoe is very comfortable and works just as advertised.

Reviewed by Sandy from New York on Wednesday, February 8, 2017

I have really narrow feet, narrow heels, low volume - even Mythos didn't work well for me. It's my second pair of Katanas, and they are great. It toes and edges well, and the shoe is pretty snug when I size it down. Although the heel is still slightly loose, I trust that it won't pop off when I heel hook. I wear street size 9 (W) and size down to 37.5 for these

Verified Buyer

Reviewed by Faye the climber from North Carolina on Tuesday, January 17, 2017

As a beginner climber, this was second pair of climbing shoes after the La Sportiva tarantulas. I sized down 1 entire size from my street size. At first, the fit was painful (toes were cramped, and the back lip of the shoe dug into my heel), but after 3-4 uses the show feels great. I feel like the asymmetrical toe helps me feel more confident on slabs, toe hooks. The stiff heel has made a world of difference in heel hooking.

I mostly sport climb so this pair has been great for leading/top roping. At my gym the walls are typically 55 feet, so I can keep these shoes on comfortably for quite some time while reaching the top. They've also helped me overcome my 5.10 hump and feel more confident on some 5.11 climbs.

After a few climbs however, I did notice that the rubber on the toe has been starting to thin/wear. I don't know if it'll wear all the way through, but I will update my review if that ever happens.