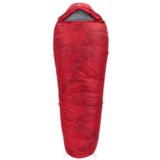 Closeouts. An excellent value in a down sleeping bag, Kelty's 21°F Cosmic down sleeping bag offers high warmth in a low-weight package, with an insulated hood baffle and two-way zipper with draft tube.
Average Rating based on
16
reviews
4.687500
0
5
Verified Buyer

Reviewed by Contender from WI on Friday, April 1, 2016

Took this bag out during a winter camping trip and it kept me warm sleeping in a snow cave in 10 degree weather. I did have a bag liner with it during this trip but feel the bag would perform well on its own at its rating of 20 degrees. The down material also stayed warm even when getting a little snow on it. Highly recommended at this price!

Verified Buyer

Reviewed by Kim Perrotta from Florida on Tuesday, December 15, 2015

I used this in South Florida on one of the barrier islands. While it was super lightweight, it was very warm. I was almost too warm at 1st, but after the winds picked up, I was glad I purchased it. It is super slippery on top of a pad- so I put a yoga towel in btw and solved the problem. I think I will bring a thin sheet to use as a liner so I don't stick to the bag or get it smelly from all the DEET and regular camping odors since showering is not a daily thing while camping.

Loved that I purchased on sale. Glad I didn't buy a bigger one. I'm 5'5 and I bought the 5'6 bag- I weight 135 (ok, 137) and I fit perfectly. It's a b$&ch to put into the carrying bag, btw. But once you do- it is a tiny ball and fits into my pack nicely.

Verified Buyer

Reviewed by Alex from ATL on Wednesday, December 9, 2015

The bag seem to be of a good quality except 2 things:
1) Zipper have to be moved carefully, or it will catch the interior lining. Not a big deal though
2) The filler (down) very easily bunches up to one side of the bag, creating spots with no down at all. This can be remedied by shaking the bag, but after you lay in it, you can still discover thin spots if you look through the light. I'm not sure how much of a problem is this as I have not slept in the bag in cold weather yet. I will update as I have tried it in cold.
Overall it seem to be warm enough, very light, very compressible, and certainly good enough for a price (got it at ~ $97 with STP coupon).

Verified Buyer

Reviewed by Steve from Vermont on Tuesday, April 7, 2015

Only have one night in this so far, but I was pretty happy with it. Temps dropped to somewhere In the 30s overnight on an early spring camping trip. I went to bed toasty and woke up a little chilled, but not too bad. I plan on using it mostly for car camping, but like that it is light enough/packs small enough that I could do a little bit of backpacking or bike touring if I wanted to. I think it will be a good three-season bag. Even if it isn't super warm right down to 20 degrees and the zipper snags here and there, I'd have had to pay 2-3 times as much for something that would be only marginally better. This will suit my needs nicely.

Verified Buyer

Reviewed by dar! from LA | California Sun in your FACE on Thursday, April 2, 2015

my brother in and law & i did some research on a couple different sleeping bags, after searching the web found it for such a perfect deal. regular fit is perfect (im 5'1). definitely light weight, which was amazing for backpacking. definitely a good buy, & so happy i purchased! looking forward to my next backpacking/camping trip :)

Verified Buyer

Reviewed by Crispy from Illinois on Wednesday, April 1, 2015

For the price I paid here, this can't be beat. I'm 5'10" and 235lbs and the bag was a bit of a tight fit for me, but not so tight as to be unusable. Haven't used it down to 20 degrees yet, and I'm guessing it would not be too cold, but this definitely is great around 30 or so.

Verified Buyer

Reviewed by Steve from Illinois on Tuesday, March 31, 2015

I am happy with this purchase. I am 5'11'' 210lbs and I fit in this bag good. I would not recommend this to someone taller/heavier than me.

Verified Buyer

Reviewed by Anonymous from San Francisco on Tuesday, March 31, 2015

Perfect bag for everything non technical. Very warm. Not worried about damaging because of the low price.
Will probably become my travel bag. Good enough for backpacking but just a little heavy.

Verified Buyer

Reviewed by RainCityHang from Seattle, WA on Monday, March 30, 2015

This is a lightweight, comfortable and warm bag. It lives up to its claims and is about as cheap as you will find a 20F down bag. The compromise is that as a 550-fill, it is bulky and will take a large chunk of space, consider a compression sack.

Verified Buyer

Reviewed by Dongjoo road finder from Seoul Korea on Tuesday, March 24, 2015

Of course, I purchased it with a promotional price but even with normal price I think it's a good deal. Especially it seems to be good 3 season except very cold winter.