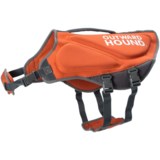 Closeouts. Keep your pooch comfortable and safe in and around water with the Outward Hound H2Go life vest. Made of soft neoprene, it offers maximum mobility in the water and is easily adjustable.
Average Rating based on
11
reviews
4.636363
0
5
Verified Buyer

Reviewed by Cat with 2 dogs and no cars. from Florida on Tuesday, August 16, 2016

I bought 2 large ones for 2 dogs that don't swim. Both dogs are greyhounds and nothing fits them well because of their slightly (OK greatly) odd figures. These vests adjust well and fit both girls perfectly. When I'm out by the pool, which is completely screened in, I make them wear the vests in case they fall in. If I can get them to let go of the side of the pool, the vest keeps them boy ant while they "swim" to the pool steps. Those very long, and very skinny legs aren't much use for swimming so wearing a life vest is very important.

I can see how these vests are important for any dog near water. Dogs instinctively know how to swim but if they're fighting choppy water or if they tire out during a long swim, a life vest could save their lives. Dogs that sink like pugs really need these.

I feel so much more at ease that should one of them fall in, especially when the water is cold, I won't have to jump in fully clothed to help them swim.

Verified Buyer

Reviewed by Athletes from Utah on Wednesday, June 29, 2016

I read previous reviews about the vest and went by them for the suggested size. I have a 65-70 lb. lab mix and ordered the large. After a few minor adjustments, the vest fit great. I have not used it in the water yet but like the handle on it to pull her into the boat if necessary.

Verified Buyer

Reviewed by Seafury from California on Sunday, December 27, 2015

Looks like a high quality product with a lot of adjustability for different dog torsos. I was able to adjust it perfectly for my 3 year Lab/Shepard mix. He is larger chested narrow waist.

Verified Buyer

Reviewed by lorraine934 from Marion, MA on Wednesday, September 23, 2015

The large fit my 70 lb weimaraner and a 60+ lb English sheepdog.

Verified Buyer

Reviewed by Catherine from Michigan on Wednesday, August 26, 2015

Haven't been in the water yet but this fits great on our 75lbs German Shepherd. I know it won't turn her into a suitcase like these do for lap dogs but the handle on top will certainly help get her back into the boat.

Verified Buyer

Reviewed by Emmy Z from Utah on Monday, July 27, 2015

We took the dog out paddle boarding this weekemd and the Life Vest was a huge help. The handle made it easy to snatch the dog out of the water when he grew tired of swimming alongside. The straps came loose a few times, between the in-and-out of the water and his "bodybuilder" disproportionately large chest this was unsurprising. They were easy to tighten back up though. For the price we are happy. If we got out more on the water another, sturdier vest might be worth the investment.

Verified Buyer

Reviewed by Golden Fur Parent from Montana on Thursday, July 23, 2015

I have a mid-size golden retriever who weighs about 60 lbs. The large jacket is a perfect fit for her. Took her rafting this weekend and she had a blast. The handle is amazing and helps me pull her back in the boat after she swims. Ships fast, great price!

Verified Buyer

Reviewed by sarah from seattle on Tuesday, July 14, 2015

Now I have to decide if I NEED these for my dogs. We aren't on the water much, but if the need arises I will be glad to have them!

Verified Buyer

Reviewed by Dog owner from Florida on Tuesday, May 26, 2015

Haven't had a chance to use it yet but seems decent construction and it it fit my 60 lb lab well. Can pick her up with the carry handle to help get her back in the boat. Time will tell if it lasts but way cheaper than the $80 ones at West Marine

Verified Buyer

Reviewed by Gwen from Colorado on Friday, January 30, 2015

I gave this four stars simply because it's winter and I haven't had the chance to use this product yet. I bought this product because it is a great price point, and I liked the look of it. I have a 60lb lab/cattle dog/pit bull mix, who is rather long-bodied and broad-chested. The large size fit her great, and she seemed comfortable in it. No fussing or trying to get it off. I had to tighten the bottom straps nearly all the way around her belly, and I'm not sure if they'll stay if she starts moving a lot. However, I'm sure I could fasten them in place if I need to. The construction seemed sturdy enough. I don't see myself using the strap on the back too often. I'm very excited for the weather to warm up to try it out in the river. She loves to swim, but I'm always nervous that a strong current could take her too far away from me. This seems like it should keep her comfortably afloat and safe.